NOTE: I have two posts today - if you are looking for my Oh, Alice! post, please scroll down.
Can you believe that we are up to week 85 of movie-inspired challenges? It seems like just yesterday I heard about this blog featuring a Jane Austen movie as inspiration. . . . and this week I have the privilege of being the
Cinema Satuday Guest Designer
! Our movie this week is the
1945 musical, State Fair
, about a family who comes from the farm for the big event! Dad has his prize hog, Blue Boy, entered and Mom has been perfecting her mincemeat pie and pickle recipes (separately, not together!) and the two kids, a young lady and her brother, are ready for romance! It is a charming bit of Americana, no depth at all but loads of sweet charm and humor.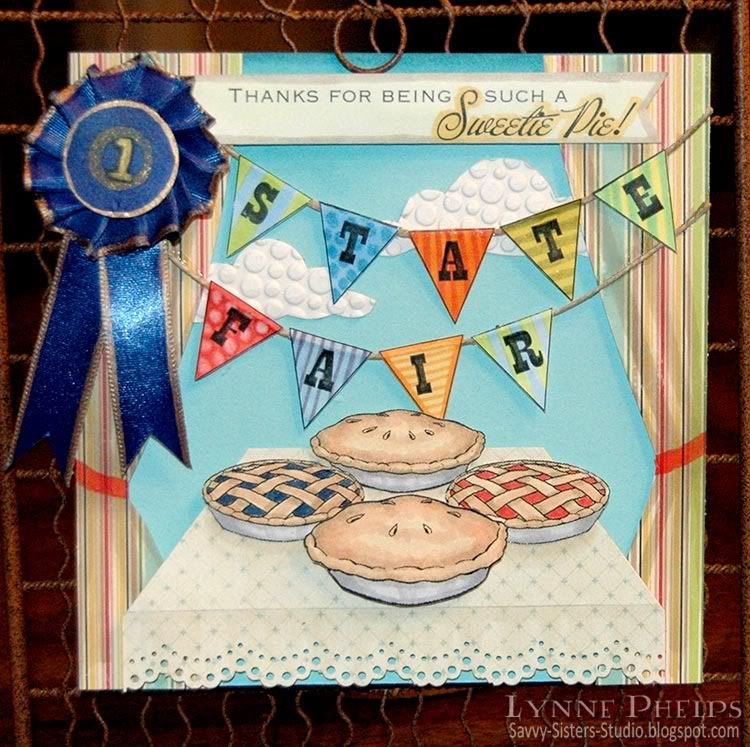 This week the challenge, other than a creation inspired by some aspect of the movie, is to use pennants! You see them everywhere at a fair!
I created mine on the computer. I drew a triangle, copied and pasted it until I had nine of them, and then put a letter into each one. Then I printed out the page on color laser printer paper (great for Copics) and had great fun coloring each triangle with a different color and pattern using Copic Sketch markers. I trimmed them out and glued each word to a piece of hemp twine using a Zig 2-way Glue paint pen.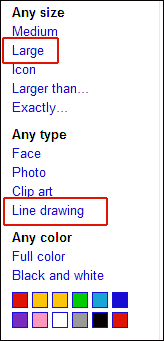 Then I needed some pies! I did not have any pie stamps so I did a
Google image search
for pie.
TIP #1: Once the Google Image Search results came back, did you ever notice that you can narrow down the results by image type? It is in the left column - just check "Line Art" and you will find drawings perfect for coloring! You should also select "Large" because you need them to have enough pixels to be able to print them at 300 dpi. You can see the settings in this screen dump I made for you at right. >>>
TIP #2: There are a lot of sites that offer free images to print - they are designed for children to color! I think we all love Copics so much because they are grown-up crayons! You can use these images without infringing on anyone's copyright because they are designed for this very purpose - to print and enjoy yourself coloring it in!!! Just search for "free drawings for kids to color" and you will find a ton of sites with great images. That is where I found my various pies!
I copied my pies into one file, sized and arranged them, then colored them in with Copics. I did the front pie separately as I knew I was going to want it popped up on dimensionals. Then I found a lovely piece of paper from a K&Co mat stack which was perfect to put my pies on. I trimmed the bottom edge with a border punch, drew a light pencil line across and shaded below it with warm gray Copics to make it look like the drape of a table cloth. Then I trimmed from my pencil line to about an inch in from the top corner on each side to give it some perspective.
Of course it's all about winning with the best pie, right? So I made a mini blue ribbon and edged it with a gold paint pen. I did not have the right color ribbon, so I colored it with Copics to the perfect shade. Love that!
I wanted it to look like you were in a tent looking out. I trimmed two pieces of striped paper from in the shape of tent flaps pulled back. I shaded again with warm gray Copics to indicate the folds of the fabric and added a red tie-back.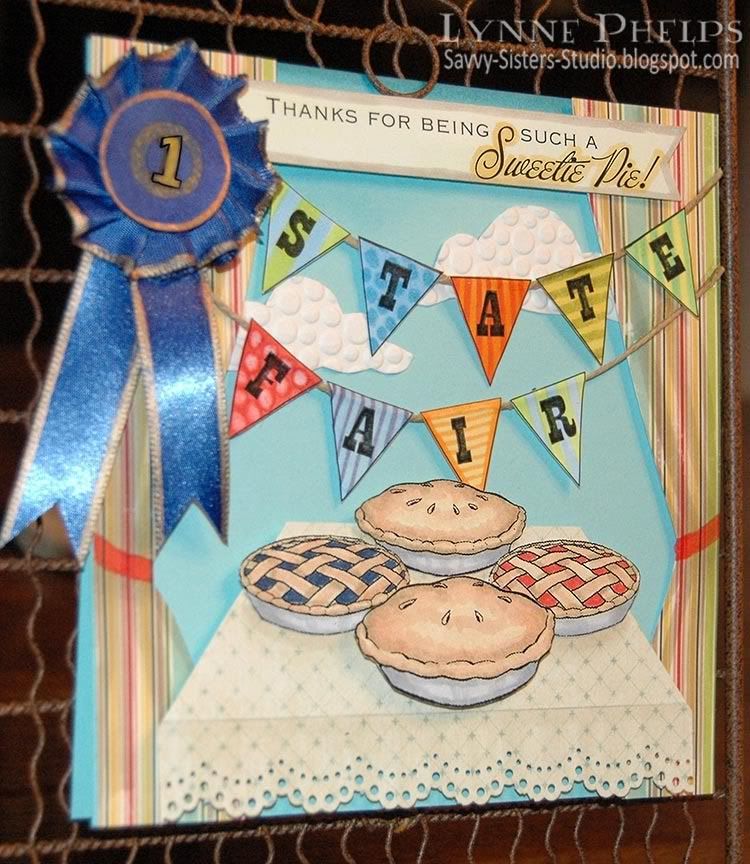 Now for assembly. You can see all the dimension in the angled shot above! The top of the card base was sponged with blue. I used 1/16th inch thick foam mounting tape for the tent flaps and 1/8th inch thick pop-dots for the table. I draped my pennants across to see how they would fit and it was missing something. I cut out a couple clouds from leftover embossed white packaging from
THIS
and
THIS
project. I put a tiny piece of foam mounting tape behind each pennant so I could control where each letter was placed, then I glued the ends of the string down with Zig glue.
I now had a good idea about the amount of space left for my sentiment - "
Thanks for being such a Sweetie Pie!
" seemed perfect! I generated it on the computer, cut it out and colored it with palest yellow, edged with warm gray, and highlighted Sweetie Pie in pale gold. Then I stuck it on (more foam mounting tape) and plunked the mini blue ribbon over the left end!
I hope you enjoyed my State Fair card! I live in Perry, home of the annual Georgia National Fair, which is absolutely amazing!!!
My favorite part is the exhibit halls where you can see quilts, artwork, knitting, spinning, photography, flowers, the creative 4-H pumpkin head scarecrows, it's great! The livestock barns, not so much for me, LOL! And of course there is the fair food - did you know you can get any kind of food you can think of mounted on a stick at the fair??? I decided to go for Melissa's mincemeat pies as my inspiration instead of Abel's gigantic hog, Blue Boy!!!
Go to the
Cinema Saturday Creative Challenge
blog and play along with us this week! It is such fun and the winner receives the prestigeous Audrey Award blog badge!
You can see mine in the left sidebar, and of course you can read my "acceptance speech"
HERE
!
Paper: Stampin' Up! - Caribbean Blue; October Afternoon - Thrift Shop (stripes); K&Co - Mat Stack (tablecloth); HP - Bright White Color Laser Printer Paper (pies, sentiment, pennants).
Ink: B&W laser printing (pies, sentiment, pennants); Copic Sketch markers.
Embellishments: Hemp twine; double-faced satin ribbon.
Tools: Cuttlebug - Tiny Bubbles embossing folder