Have you tried the
Cinema Saturday Creative Challenges
? Each week they pick a new movie - sneak peeks start Friday and the new movie is announced each Saturday. You create something inspired by the movie and submit it on their blog! It is good fun, and it is always a good movie - NO horror! I can't deal with horror movies, they give me bad dreams! This week the movie is The Greatest Game Ever Played, a Walt Disney movie from 2005.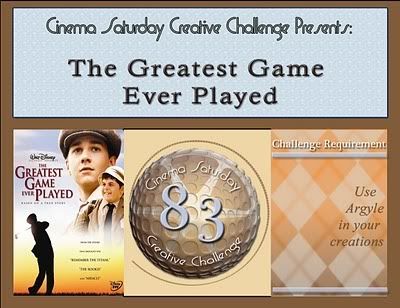 We vacation on Captiva Island every summer, and our condo is in the middle of a golf course overlooking the ocean. When I think of fun in the sun for summer I think of ocean-side golf courses, so I am submitting this to the
Shabby Tea Room Week #14 Fun in the Sun Challenge
. I am also submitting this card for
Stamping Sisters in Christ Challenge #43
, to create a masculine card.
So here is my fun-in-the-sun masculine card, inspired by the movie, with argyle!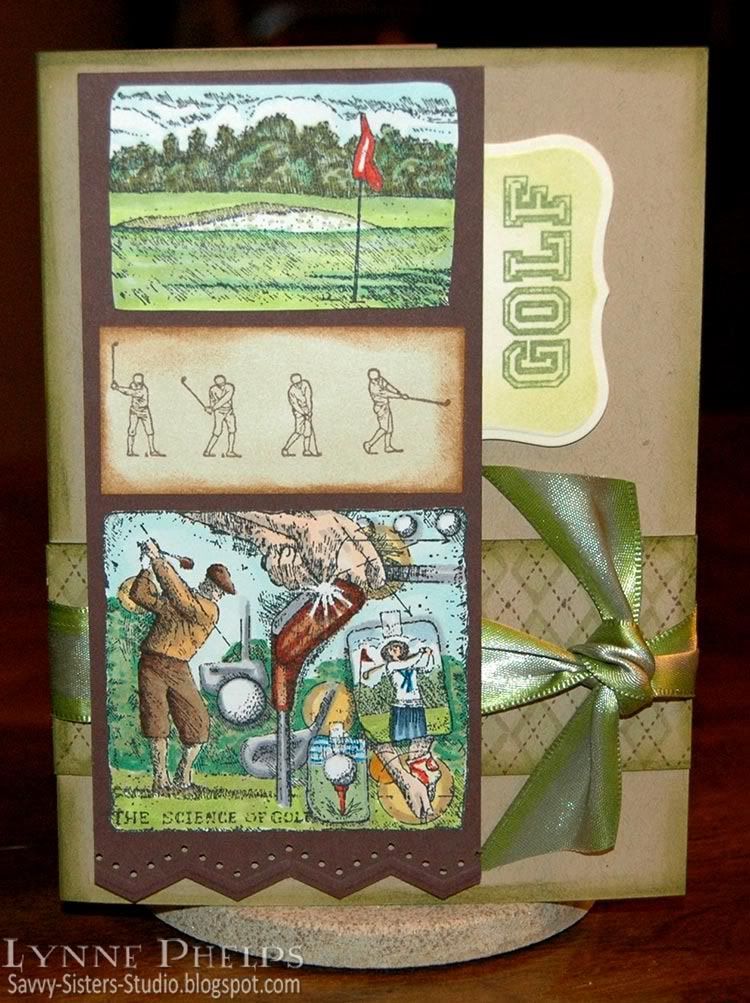 Inside it says "Go confidently in the direction of your dreams; Live the life you've imagined." I thought this quote by Thoreau truly captured the Francis Oimet's desire to play golf despite the class barriers that were holding him back. This is a wonderful movie that always reminds me of Bagger Vance - golf is the vehicle, but it is really a story about life and the human spirit. Francis is told by everyone that he can't play, he is not a gentleman, he is just a caddy. He can't even be a member in the clubs where the championships were played! It is based on the true story of the 1913 U.S. Open Golf Tournament.
I knew right away what stamp set I wanted to use: "
The Back Nine
" by Stampin' Up!. I stamped the two sketchy images from "The Back Nine" stamp set with black on color laser printer paper, and had a wonderful time coloring them in with Copic markers. The large collage image really reminds me of the movie, back in the days when you had clubs called mashies and niblicks. The man is also wearing the same kind of snap brimmed hat that Francis wore - perfect!! And there was an lovely upper-class young lady in the movie, and the lady golfer in the collage made me think of her.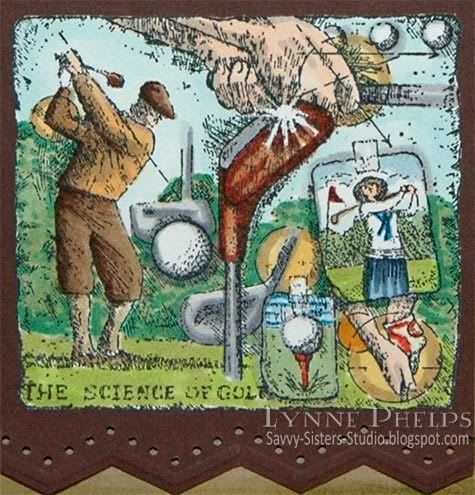 I stamped the golf swing steps image with brown on color laser paper and sponged it with distress inks. Love this image! All three images were trimmed out and mounted on a brown panel that was zig-zagged on the bottom with a border punch. The zig-zags and holes of this punch remind me of the diagram maps of golf courses that shows the layout of the holes.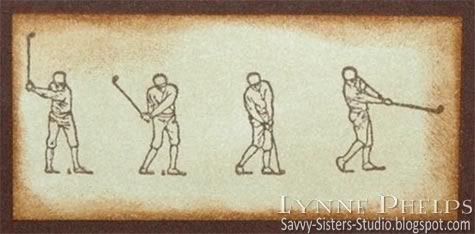 I stamped a panel of kraft card stock with a background building argyle set; I was thrilled to have a reason to use this new set! My green diamonds weren't showing up enough, so I edged the diamonds with YG91 Copic marker.
The kraft card base is a bit oversized to allow for all my images, 5 x 6.5 inches folded. I sponged the edges with green distress ink and cut a slit in the fold of the card for ribbon. I adhered my argyle panel then I edged a double-faced satin ribbon with YG03 to brighten it up a bit and knotted it around the card front and argyle panel. The brown panel with the three images was adhered with dimensional pop-dots. I stamped the word "Golf" on a die-cut panel that had been sponged with lighter green ink. This was mounted on lower dimensionals, tucking in behind the brown panel.

My Dad says golf is a game that was invented to keep you humble. You are always striving to surpass your own past performances and struggling to do better. That is a pretty good metaphor for life, isn't it, always striving to become a better, wiser, and hopefully kinder person?

I hope you enjoyed my interpretation of The Greatest Game Ever Played, and I hope it will encourage you to watch this movie yourself. I am not a huge golf fan but I love this movie - it is worth watching just to see his sidekick ten-year-old caddy! If you liked Bagger Vance you will probably like this movie - the main character reminds me so much of the little boy in Bagger Vance, only grown up a bit more but still golfing-mad!

Stamps: Stampin' Up! - The Back Nine set; Papertrey Ink - A Little Argyle; River City Rubber Works - Golf.
Paper: Papertrey Ink - kraft card stock; Stampin' Up! - Chocolate Chip card stock; HP - bright white color laser printer paper.
Ink: Memento - Tuxedo Black, New Sprout, Bamboo Leaves; Palette - Burnt Umber; Ranger Distress - Peeled Paint, Old Paper, Vintage Photo; Copic Sketch markers.
Miscellaneous: Double-faced satin ribbon; EK Success - slimline border punch.