I have always loved this old PSX stamp with the passage from Alice about believing six impossible things before breakfast! This is for three different challenges, but mainly it is to show this stamp to
Jessica
who is longing for a "Six Impossible Things" stamp of her very own. I think she is looking for a sentiment stamp, while mine is more of a focal point stamp, but I thought I would make a card with it so she could see what this old PSX stamp looks like.
Click photo to enlarge.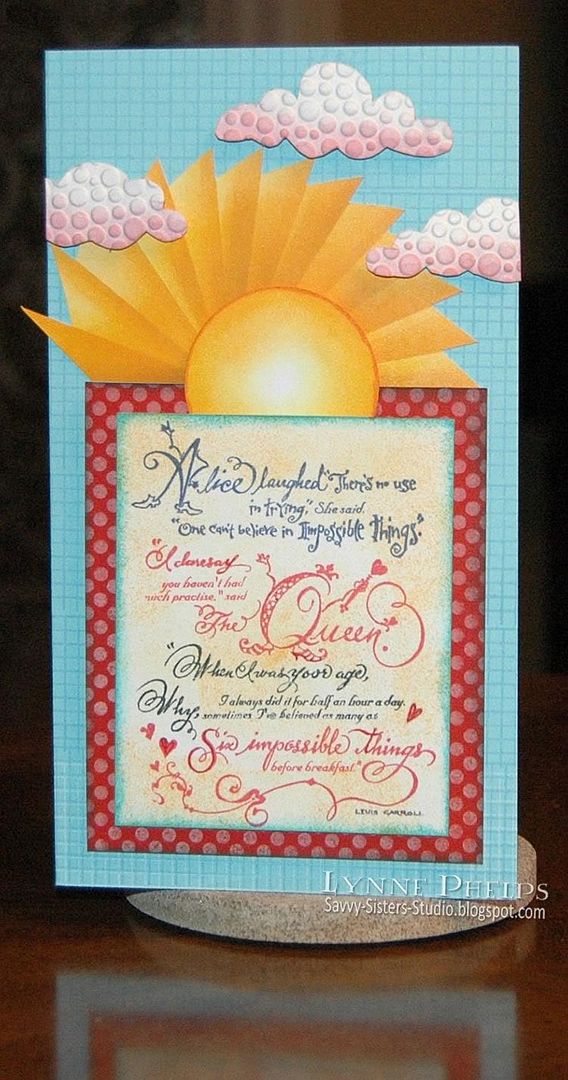 This is also for Jessica's
Diedrich Daredevils June challenge
, which was to use this beautiful image shown at left as an inspiration piece. I loved the half sun at the top, and the beautiful Caribbean blue, and the touches of red in the flowers. I may make several cards inspired by this painting - I just love it, don't you? Not to mention that there is a prize - you might want to accept the dare yourself, KWIM?
(Dad, that means "know what I mean?")
Flourishes is also having a challenge:
The Sunshine & Blue Skies (FLLCJUN10) color challenge
! You have to use a combination of any shades you like of blue and yellow. Not only does my card include these two colors, but I also have the sunshine and a blue dawn sky! It had to be a DAWN sky because we are believing six impossible things BEFORE breakfast, LOL!
Last, although I am too late to submit it, this card follows Card Positioning Systems
CPS-169 Sketch
!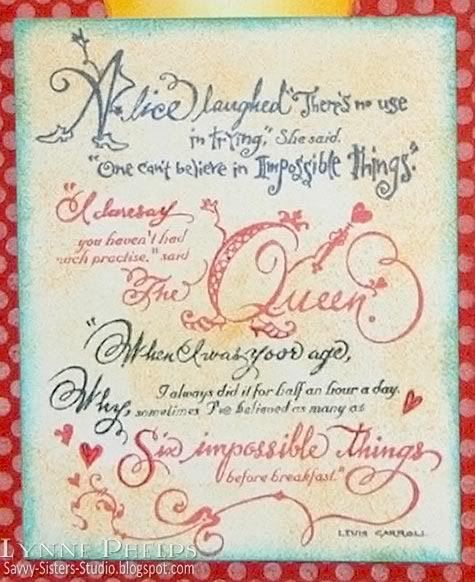 I colored the stamp with water-based markers, as I wanted different areas of the stamp in different colors. I hit a snag here, as my markers were halfway dried out. It makes me mad; I have hardly used these markers but they have no shelf-life at all. This is what makes the investement in Copic alcohol markers so worthwhile
(except that they do not work well for this technique - I would have had to mist the stamp with rubbing alcohol which
would have blurred the words.)
Anyway, some of the fine print is not as clear as it should be as the markers were not juicy enough to ink up the stamp well enough. I sponged the panel with some yellow-gold and edged it with aqua to coordinate with my sun and background.
I stamped the polka dots in white on the red panel, and the graph pattern in light blue on the aqua card base. I learned that I can't line the patterns up properly if I don't put reading glasses on!!! My crazy, crooked sun and rays were sponged in yellow, yellow-orange, and ochre, by moving a large post-it note around as I sponged. This is not an original idea; I saw a video or photo tutorial on someone's blog and I cannot find it now to give proper credit.
If the author of the tutorial (or someone who saw and it knows where it is) will contact me I will happily edit to add the credit.
The clouds are from a white cardboard package, probably a pasta box! I save chipboard boxes and some of them are lined with white, perfect for my fluffy clouds! I ran a piece through an embossing folder, drew cloud shapes on the printed package side and cut out the clouds. Then I sponged the bottom of each cloud with pink because it's before breakfast on this card!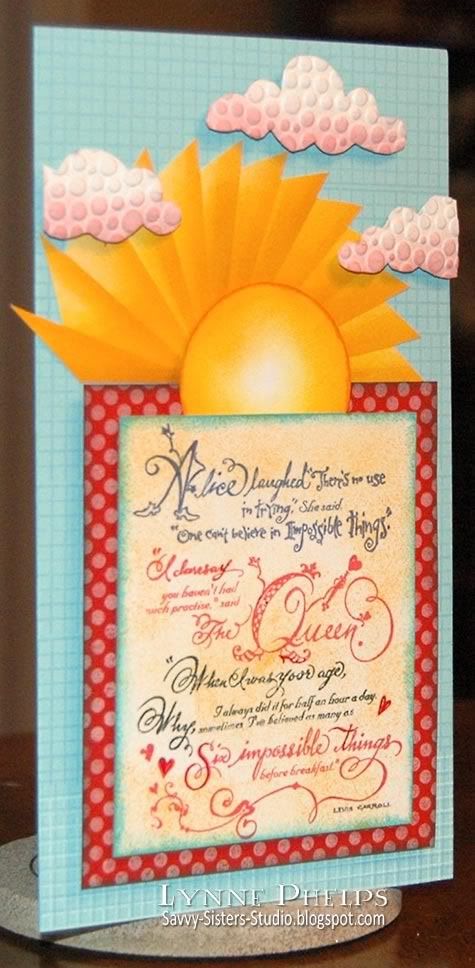 Everything was put together with dimensional pop-dots, so it has a lot of dimension; this angled shot shows the shadows and how each layer is elevated above the one below. The center of the sun is raised above the rays. The cards are floating above the surface. The sentiment is raised above the red panel, which is raised above the card base and sun rays.
I hope you enjoyed my "Sunshine & Blue Skies 169 Wild Air Dare Card!" Especially you, Jess! Please leave a comment, I'd love to hear from you!
Stamps: PSX - Sentiment; Waltzingmouse Stamps - Off Beat Backgrounds.
Paper: Papertrey Ink - Pure Poppy cardstock; Stampin' Up! - Cool Caribbean cardstock; Georgia Pacific - white cardstock.
Ink: Palette - New Canvas (white); Memento: Summer Sky, Angel Pink; Marvey - yellow, yellow-orange, ochre, Carribean blue ink pads and ALMOST DRIED OUT navy, red and black water-based markers. :-(
Miscellaneous: Cuttlebug - Tiny Bubbles embossing folder; Post-it Notes; Ranger Ink Blending Tool and foam.