March Hare: It's going mad!




Alice: Oh, my goodness!




White Rabbit: Oh dear!




March Hare: It is going mad! Mad watch!




Mad Hatter: I don't understand, it's the best butter.




March Hare: Mad watch! Mad watch! Mad watch!




Mad Hatter: Oh, look! Oh my goodness!




March hare: There's only one way to stop a mad watch!




Mad Hatter: Two days slow, that's what it is.
Greetings, everyone! A VERY Merry Unbirthday to ALL! Well, at least, that's the scene this excerpt from Disney's 1951 adaptation of Alice in Wonderland was taken from! It's ALWAYS your unbirthday here in WONDERLAND (also known as
Oh, Alice!
, a curious little challenge blog!) We are thrilled BEYOND WONDERLAND today to announce our sponsor this week, a company that we just adore:
MY FAVORITE THINGS
! We are so grateful to Kim and Jody for offering to sponsor our little challenge blog and with a HUGE prize, I might add! It really WILL be someone's un-birthday!
MFT is offering a $25 Gift Certificate to the store PLUS a scalloped scallop die from their new Dienamics line!
HOW exciting is THAT?!?
So, how can you enter to win? For this week's challenge, we have
a beautiful inspiration piece
, found on the CraftStylish blog. Your mission this week? Show us YOUR take on this "Mad" watch. You can use the colors, play off the time piece, blue flower, color combos, steampunk theme...the possibilities are ENDLESS, just like the deadline for this week's challenge, HA! To enter to WIN this awesome prize from MFT, just have your entry to the
Oh, Alice! Challenge Blog
using In Linkz by Friday, June 18th at 8pm CST! Have a VERY MERRY time creating!
The Inspiration Piece: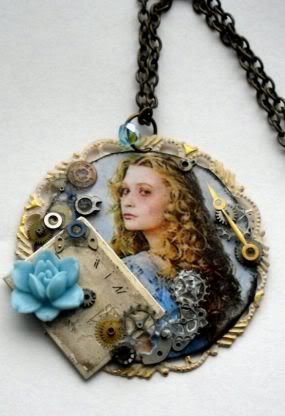 My Inspired Card: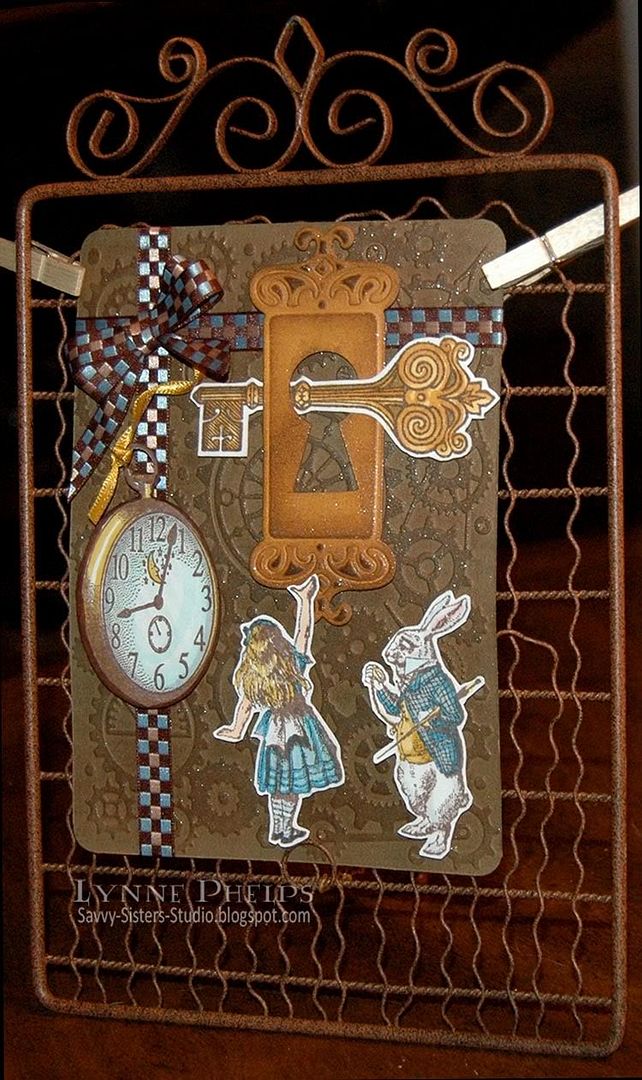 I really loved the Steampunk aspect of the necklace with all the watch gears, so I started by embossing the background with a clockworks embossing folder. A few of you are nodding right now, and I can see the rest of you saying "Steampunk? What is steampunk?" It is a sub-genre of science fiction and fantasy, usually set during the
steam
-powered late Victorian period. The sci-fi/fantasy aspect often comes in by moving later inventions back into this period. For example, what if some mechanical version of a computer had been invented in Victorian England? There are lots of movies that could be labeled steampunk. In art (and paper crafting!) is it usually involves the juxtaposition of Victorian and/or vintage elements with more techie metal elements such as gears and springs.
Back to the card! I rounded the corners, then sponged the embossed clockworks with distress ink and brushed a Versamark Dazzle pad across all the raised areas, which gave it a subtle shimmer. I die-cut, embossed, and sponged a fancy tag shape from gold card stock, and taped the back to prevent the small cutouts from coming out. I wanted this to be the escutcheon plate of a keyhole, which I created with a circle punch and a craft knife.
I stamped the key, pocket watch, Alice, and the white rabbit with brown ink on white cardstock. I colored them all with Copic markers and cut them out. I used the same colors on all of them to keep to a very limited, unified color palette.
I had some checked ribbon that went perfectly with my color palette. I wrapped the checked ribbon around the card base, cutting a slit in the fold of the card to allow the ribbon to pass through. I made a double-looped bow, and tied some fine ribbon into the back of the knot which had been colored with a gold Copic to make it match the pocket watch. The other end of the fine ribbon was knotted around the loop of the pocket watch.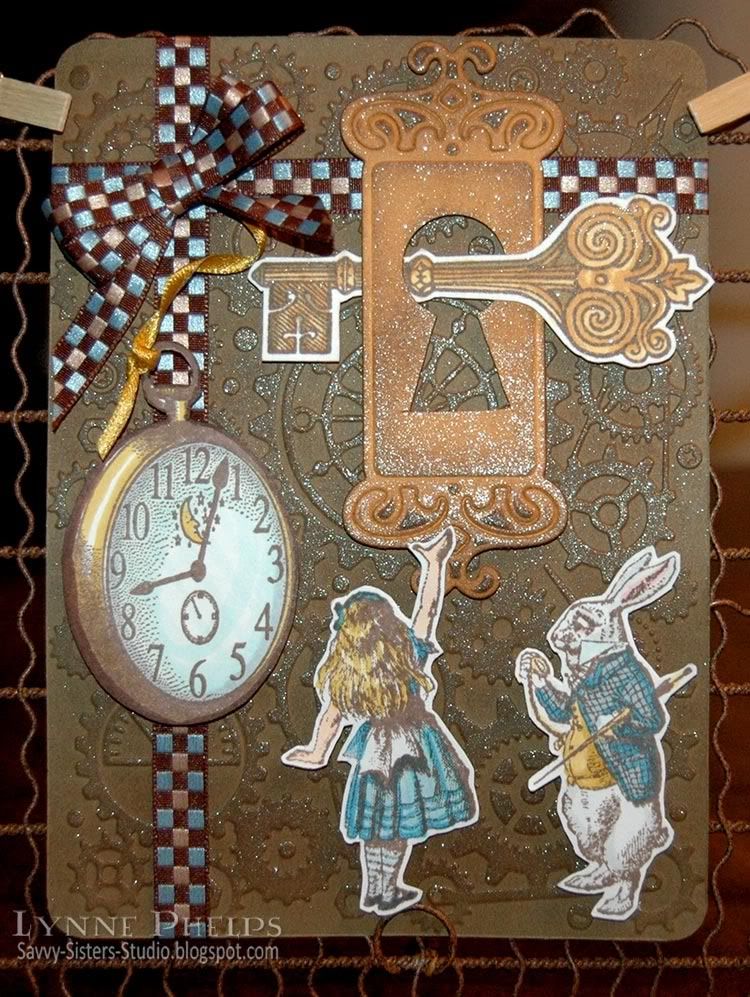 I brushed the Dazzle pad across the keyhole plate to make it shimmer also. You can see the effect in the photo above; it is really neat in real life, as though the high points only had been sprayed with Glimmer Mist! I adhered all the elements to the card base using ⅛ inch thick pop-dots for dimension.
Please go to Oh, Alice! to see more "inspired" creations from the other members of our twisted tea party!
I am sure you will enjoy the design team's various interpretations of the inspiration piece.
I have also added this card to the Gingersnapper's
Mad Hatter's Day Blog Hop
! The date for Mad Hatter Day is from the 10/6 price tag in the Mad Hatter's hatband. In England, they put day-month-year so 10/6 is June 10th, and in America, where we put month-day-year, Mad Hatter day is October 6th. Within the blogosphere, that means we get to celebrate twice!
I hope you enjoyed my "inspired" steampunk Alice card as much as I enjoyed making it for you!
Please leave me a comment, I love hearing from you!
Stamps: Stamp Francisco - Alice; Nature's Blessings - white rabbit; Another Stamp Co. - pocket watch; Judikins - key.
Paper: Stampin' Up! - Soft Suede card stock; Beckett - Expressions Radience (white).
Ink: Memento - Rich Cocoa (brown); Ranger Distress Ink - Tea Dye, Corduroy; Tsukeniko - Versamark Dazzle Pad (Champagne); Copic - alcohol sketch markers.
Miscellaneous: Ribbon
Tools: Cuttlebug - Clockworks embossing folder; We R Memory Keepers - Corner Chomper; Spellbinders - Fancy Tags dies; Fiskars - Fingertip Craft Knife; Bow-Easy.