This card has been in the making for quite a while. I had all my bits and pieces stamped and cut out, but needed a piece of 12x12 inch cardstock because I wanted to make a Tri-Shutter card, so it had to wait on a run to Hobby Lobby. I found a wonderful pad of Bazill pearlized cardstock which included this beautiful dark blue that makes me think of light sparkling on the ocean and starry night skies!
You can click on any of the photos to "embiggan!"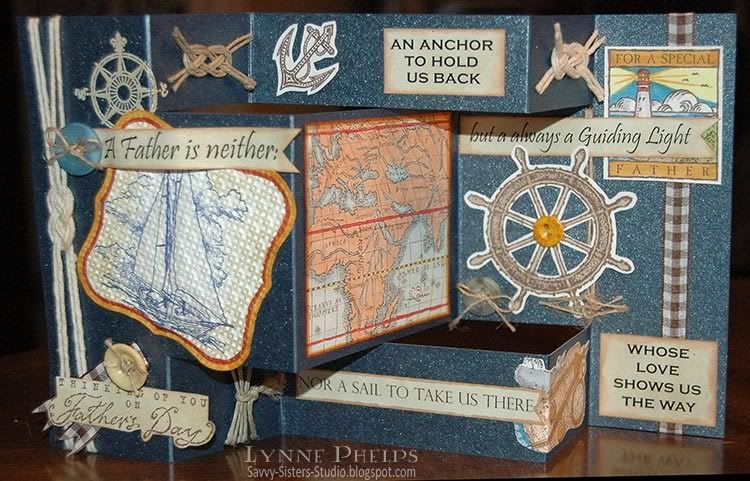 I create a lot of my sentiments on the computer, and I just print them out on my B&W laser and cut them up. Did you know that Scrapbook.com has an amazing
Resources section
, which includes
Quotes & Phrases
organized by topic, and even lets you send email with the ones you like? In the section called
Father
I found a wonderful verse that inspired this card, plus many more for future years!
A father is neither an anchor to hold you back,
Nor a sail to take you there,
But always a guiding light
Whose love shows you the way
This was my first card of this type.
Dad, I don't know why it is called a Tri-Shutter card.
There is an
awesome tutorial on Splitcoast Stampers
that even includes a video for visual learners like myself. It was so easy to make - you cut the sheet of 12 x 12 in half, then you score the long side at 2, 4, 8, and 10 inches. You cut twice down the length from the first score mark to the last. The trick is that you alternate your valley and mountain folds on each tier. Here is my card flattened out so you can see how simple the structure is.
Then I went to town decorating it with all the bits I had stamped and colored previously. Of course the verse demanded nautical elements, so I started with a sailboat stamped in blue, colored with Copic markers (gray on the sailboat and colors around the edge), textured with an embossing folder, then sponged with Distress ink. The small compass rose just above it was stamped with Versamark and heat embossed with Zing Brown Sugar embossing powder - the closest I have found to a cream or vanilla colored embossing powder so far.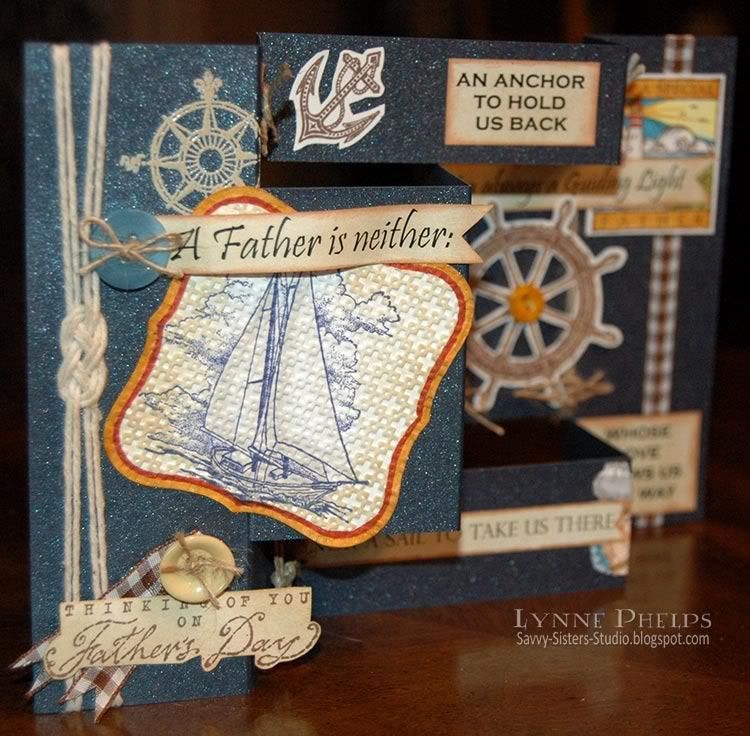 The rest of the elements were stamped with brown ink on white cardstock and colored with Copics. The verses, which started on white printer paper, were colored with and edged with Distress Inks. Buttons were added for fun and for ballast - they make the card very steady when standing on a table. Tip - I had placed the first button high on the front, but it made the card topple. I added two more buttons to stabilize it, both placed low on the card, especially the one in the section that bends back!
I filled in with Sailors Knots on the small panels where none of my elements fit. I love the look of this knot, but had to find a web resource to learn how to do it. Once you know it is so simple - just weaving over and under. I used two strands held as one for a more showy knot. I found
this page with an animated gif
that made it easy to understand! Here is what they have to say about this knot:
"The Sailor's Knot, also called The Anchor Bend, Carrick Bend and Full Carrick Bend. It's easy to tie, does not slip easily in the wet, and is among the strongest of knots - it can't jam and is readily untied."
I am submitting this card for
Stamping Sisters in Christ Challenge #43
, to create a masculine card.
Happy Father's Day to the most wonderful father in the whole world!
He is my very favorite Dad! (He is my ONLY Dad, but he always says I am his very favorite Lynne so I thought I would return the favor!)
I hope you enjoyed my first Tri-Shutter card! It was such fun to make. It would be fun to make more - they are sort of like little tiny stand-up scrapbooks. I can see this one sitting on my Dad's desk for a little while - it might even rate the fireplace mantle for the first week! ;-)
Please leave a comment, they are so much fun to receive!!
Stamps: Stampin' Up! -
Thinking of Father
,
Wonderful Woodcuts
; PSX - sailboat, anchor; Impression Obsession - ship's wheel; Stampabilities - small compass rose.
Paper: Bazill - dark blue pearlized card stock; Beckett - Expressions Radience (white); Laser printer paper.
Ink: Memento - Rich Cocoa (brown); Ranger Distress Ink: Old Paper, Tea Dye; Tsukeniko - Versamark; Copic - alcohol Sketch markers.
Miscellaneous: Buttons; hemp twine; cotton twine; thin jute string; gingham ribbon; Zing - Brown Sugar (color) embossing powder.
Tools: Ranger - Ink Blending Tool; Stampin' Up! - Square Lattice embossing folder.