Oh, Alice! CHAPTER 15 Challenge
: Use SWIRLS!
"So, resolutely turning back upon the house, she set out once more down the path, determined to keep straight on till she got to the hill. For a few minutes all went on well, and she was just saying, `I really shall do it this time -- ' when the path gave a sudden twist and shook itself (as she described it afterwards), and the next moment she found herself actually walking in at the door..."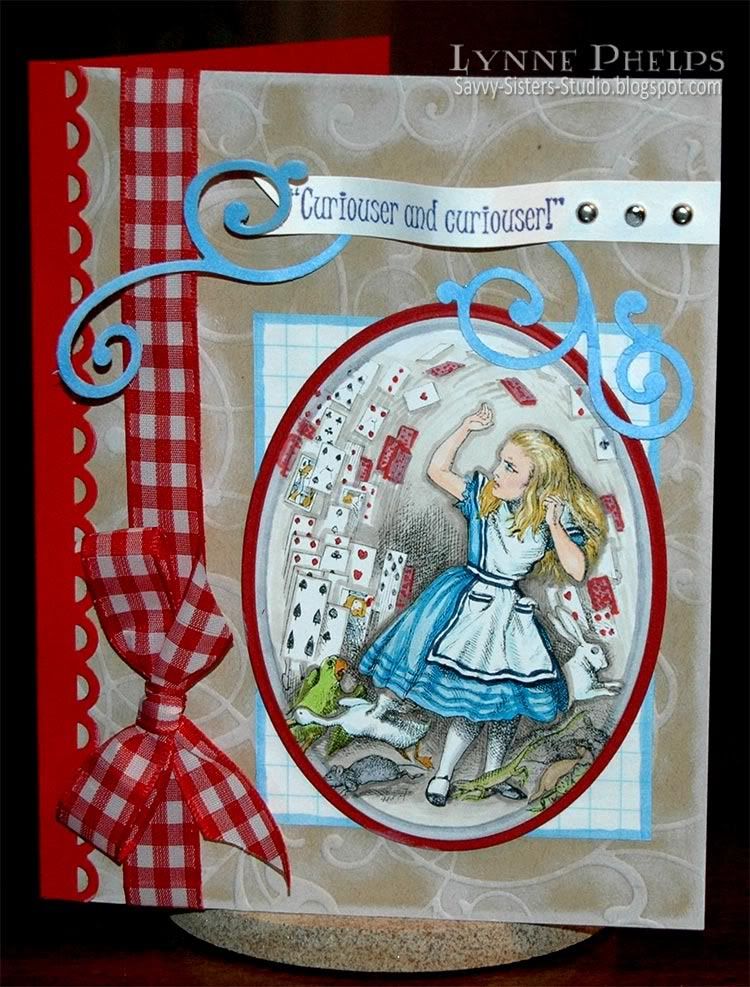 I have one more week to participate as a player in the challenges as I don't start my spot as the Oh, Alice! June guest designer until the 5th. The challenge this week is to include SWIRLS I immediately thought of the illustration at the end of Alice in Wonderland, where she tells the members of the court that they're nothing but a pack of cards, and they start swirling all around her! I am also using
Sketch 66
from the
Card Patterns
challenge blog.
I printed the digital illustration on my B&W laser printer using color laser printer paper. This paper is very, very smooth and is wonderful for coloring with Copic markers, and needs far less ink for blending. Cardstock that is of a sufficiently high quality to use with Copics tends to have an equally high price tag, so I usually color first on the color laser paper before using the cardstock. In many cases I like the paper version just fine, especially if I am matting it, and never move onto the cardstock!!
(I got this tip from the
I Like Markers
blog from the Queen of Copics herself, Marianne Walker!)
I cut out my image, embossed the edges and matted it with a dark red, and just for fun put it on a rectangle of graph paper (from the office supply store) after edging it in blue. The graph paper was originally a much larger layer to match the sketch, but I wanted more of the kraft showing so I cut it down! I used a texture plate to dry emboss swirls into the kraft cardstock, then used a sponge dauber to brush white pigment ink across the raised swirls and around the edges.
I attached the red card back to the front behind the punched fold. I like this technique as it means there is not an extra layer on the front (no extra postage), and it reminds me of the look of a book binding - most suitable for an Alice card!
To fit with the sketch, I stamped "Curiouser and curiouser" with navy ink on white, and trimmed it with a notch at the left end. I pierced it three times and attached the silver brads BEFORE I attached it to the card, so the brad backs don't show on the inside.
(I almost got that part wrong, can't you tell?)
I die-cut some white flourishes - SWIRLS, I meant swirls!! - and tucked the ends in under the banner, after coloring them with Copics to match Alice's dress. A red ginham ribbon tied in a bow and it was done!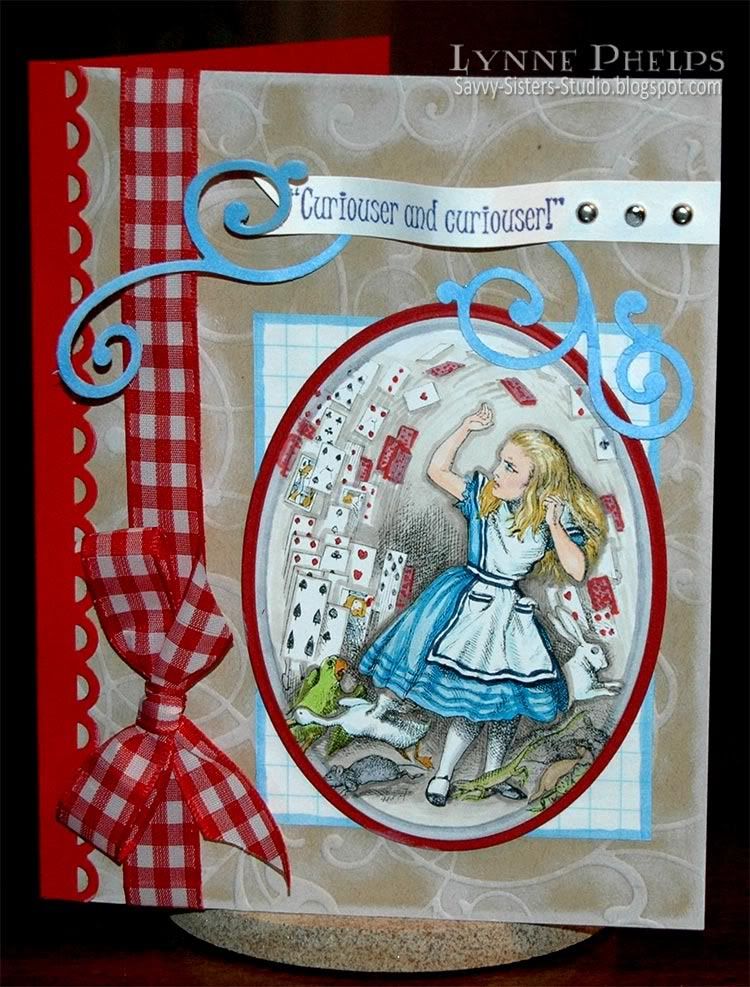 I hope you enjoyed this Alice in Wonderland card, and I would love to hear from you - your comments really make my day! My next Alice project will be as June guest designer on the
Oh, Alice!
challenge blog. I gotta warn ya, I've got something special cooked up for my debut, so be sure to check back on Saturday!!!
Stamps: Digital Alice image; Stamp Francisco - "Curiouser" sentiment.
Paper: Papertrey Ink - Kraft, Pure Poppy.
Ink: Memento - Paris Dusk; Colorbox - White pigment; Copic Markers.
Embellishments: Ribbon; Quickutz - Flourish die; Spare Parts - Silver mini-brads.
Tools: Stampin' Up! - Swirls Texturz Plate; Fiskars - Apron Lace border punch.