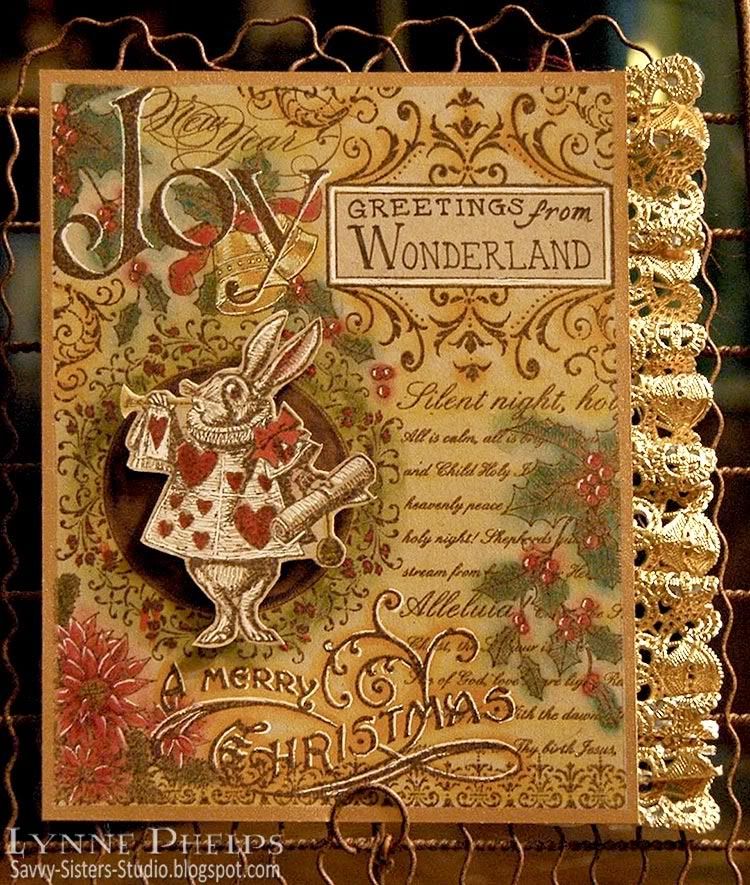 Click to enlarge; Collage stamp © Stampin' Up!
`Curiouser and curiouser!' cried Alice (she was so much surprised, that for the moment she quite forgot how to speak good English); `now I'm opening out like the largest telescope that ever was! Good-bye, feet!' (for when she looked down at her feet, they seemed to be almost out of sight, they were getting so far off). `Oh, my poor little feet, I wonder who will put on your shoes and stockings for you now, dears? I'm sure _I_ shan't be able! I shall be a great deal too far off to trouble myself about you: you must manage the best way you can; --but I must be kind to them,' thought Alice, `or perhaps they won't walk the way I want to go! Let me see: I'll give them a new pair of boots every Christmas.'
Hello from all of us here in Wonderland! This week we are Curiouser and curiouser to see if you are willing to play along with our weekly challenge. The challenge is a simple one, and one that most of us should be able to play along with, we would like to take Wonderland and turn it into a Winter Wonderland! Yes, that's right.....put your boots on, hats, mittens and lets play in the snow! Alice, with a hat on? Rabbit in the snow? Anything that reflects a Winter Wonderland. Have fun with it!
This week we are being sponsored by
SUGAR NELLIE / FUNKYKITS
. They are a fabulous company and you really should go over and take a peek.
Sugar Nellie
is a small Scottish company that brings you fantastic rubber stamps from some amazing artists.
Funky Kits
is the sole online retailer for
Sugar Nellie stamps
- so head on over to grab yourself some of that sugary goodness!
The prize for this week will be 1 set of 6, yes, I said 6 Leanne Ellis Alice in Wonderland stamps. I sure wish I was able to win this one. This set of stamps are fantastic!
My Card:

Christmas Greetings

from

Wonderland!
I just received my order from the Stampin' Up! Holiday Mini Catalog, and this fabulous Christmas Collage stamp was at the top of my list! Isn't it just gorgeous? I started with kraft card stock, inking up the stamp first with Versamark and then with dark brown before stamping, which allowed me to heat emboss the image with clear detail powder.
TIP:
by inking up the stamp first with Versamark
, I can turn any color of dye ink into an embossable ink.
Otherwise I would need to use a
Distress ink
or a pigment ink to get the ink to stay wet long enough to emboss. Then I sponged color into the image, applying Distress inks with Tsukinko Fantastix tools. I used the pointed tip for the red and green shades where I needed to pinpoint the color, and the rounded tip for the golds and yellows in the background. Highlights were added with a
white gel pen
and
Smooch
for touches of sparkle in
gold
,
pearl moon
, and
red
!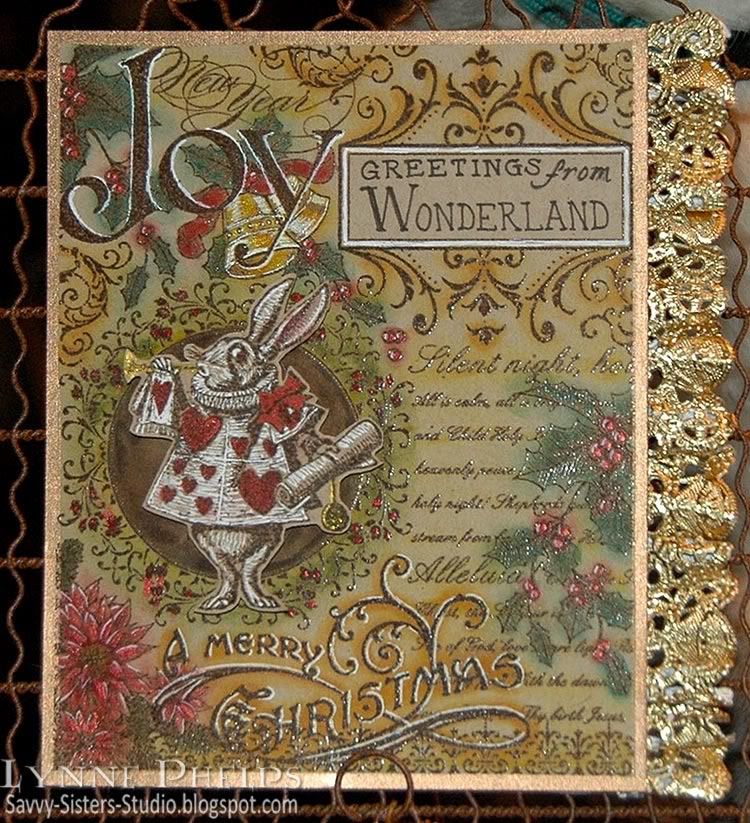 Click to enlarge
Then I stamped the White Rabbit the same way, sponging with the
Fanstastix
and highlighting with white gel pen and Smooch. I really love the way this looks on the natural colored kraft card stock. I filled in the circle on the collage stamp with sponged brown ink and then adhered the White Rabbit cutout with a ⅛-inch thick pop dot. I edged it all the way around with a
Krylon Leafing Pen
in my favorite
Pale Gold
.
I love it that this collage stamp includes an open rectangle for you to really personalize the design! I wrote "Greetings from Wonderland" in the space using a
dark brown Marvy marker
. I could have computer generated the sentiment, but with the vintage look of the collage stamp I thought handwriting would be ok.
TIP:

Draw a box on scratch paper and write in the words so you can see what kind of space each word will take. Then compensate for irregularities by changing letter style.
My "greetings" was a little wider than I planned, so the "from" would not fit. I just changed to a narrower italic style and dropped down a bit to write the "from" so it looked like I planned it that way! ;-)
The final touch was added by cutting the lacy edge from a small gold paper doily.
TIP:

Make wonderful ruffled edging with a paper doily!
When you trim the edging from the center of the doily, trim as closely to the lace edge as possible. Then straighten out the edge, carefully bending the edge back and forth about every eighth to fourth inch. As you straighten the curve, a wonderful ruffle will form as the outer edge is much fuller than the inner edge. Doesn't it look fantastic? So rich and glitzy and textured! Don't you think it adds a lot?
Check out the rest of the design team's creations at
Oh, Alice!
and enter your own Winter Wonderland card there!
Please leave me a comment and let me know what you think of my Greetings from Wonderland card, sponging, Smooch, or ruffled doily edgings!
I love hearing from you and seeing your comments always makes my day!!!