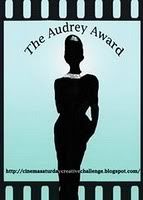 Edited to add: I am THRILLED to announce that this project won the Audrey for Cinema Saturday Challenge #82: Alice in Wonderland!
The Mad Hatter said to Alice: "You used to be much muchier before! Yes, you were much more Alice the last time we met. You've lost your muchness..."

Alice replied:"My MUCHNESS?"

The Mad Hatter pointed to her heart and repeated "Yes, your muchness..."
We have MUCH MUCHNESS to be excited about today! Our sponsor this week is the sweet
Prairie Fairy Designs
and we have a fabulous prize: the winner's choice of 5 digital images from Prairie Fairy Designs!
So, what's YOUR MUCHNESS? We want to know the HEART of your stamping style. Whether it's your favorite embellishment, "signature style", fave technique...we WANT TO SEE the MUCHNESS! Upload your card or creation to the
Oh, Alice blog
by Friday, June 11th at 8pm CST to enter to WIN the prize from Prairie Fairy! In the mean time, let us know on your blog posts or SCS description what YOUR muchness is...we can't wait to see!
MY MUCHNESS:
You know how some people make those elegant, minimalist "Clean and Simple (CAS)" cards. Others are masters of "Vintage" or "Shabby Chic."I have decided that MY MUCHNESS, or my "signature stamping style" is
"OVER THE TOP"
but I try to do it really, really well! So let's hear it for the "OTT" stamping style!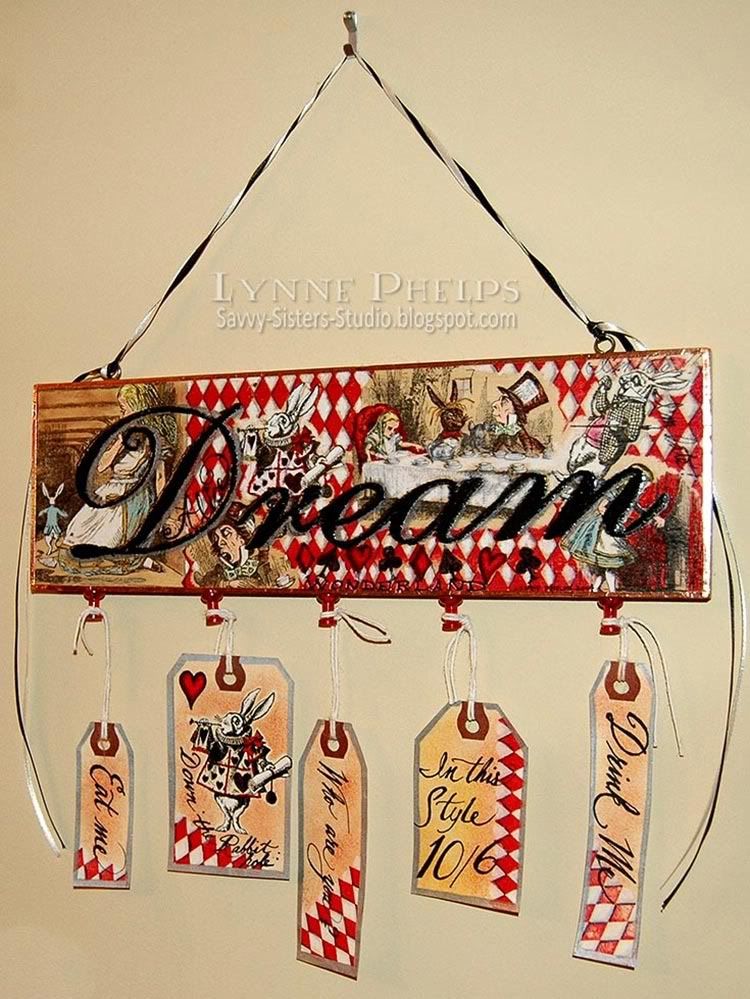 You can click the photo above to make it bigger.
I had a wood plaque in my stash that had the word "Dream" on it. The natural, unpainted wood surface was already sanded and coated with a soft clear gloss, all ready for altering!
I started by stamping various Alice stamps around the big word, coloring in each image with Prismacolor pencils.
I masked each image with cut-out post-it notes, and filled in the background with a harlequin diamond pattern stamped with red chalk ink. I thought the diamonds were very "suitable", get it? One of the card suits? The background looked too "flat" so once the ink was completely dry, I colored in the open diamonds with white Prismacolor pencil and then used a gray pencil to add a little shadow to the side of the red diamonds. This gave the background a lot of dimension!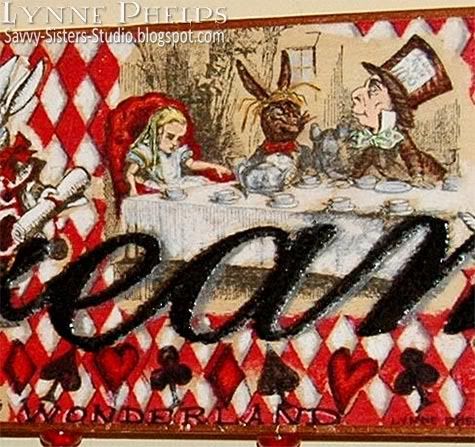 Then I added some doodles with a super-fine tipped black Sharpie! I put "Alice" inside the "D" of Dream. I sketched in a row of card suit symbols under the word Dream, filling them in with red and black Sharpies, and then printed "Wonderland" beneath that. I scribbled "I'm late! I'm late!" near the white rabbit holding a watch in the upper right corner.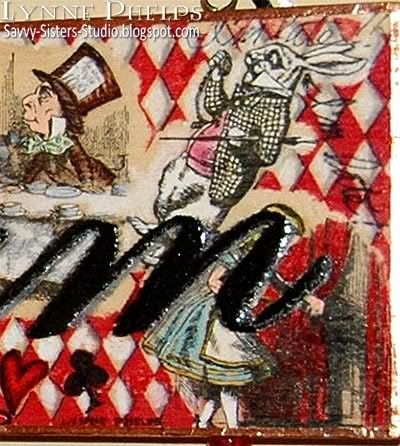 By this time the word "Dream" had diamonds all over it and was looking the worse for wear! With a silver paint pen, I added a "drop shadow" to the right side of each letter. Then I carefully filled in the letters with a Versamarker and heat embossed it with ultra-thick black embossing powder. I repeated this a couple more times until it was quite thick.

You can see the dimension of the embossing in the glare, and in the photo below. It really adds a lot! Then I added copper foil tape around the edges. The adhesive on copper foil tape is pressure sensitive, so I burnished it on firmly with a bone folder.
You can click the photo below to make it bigger.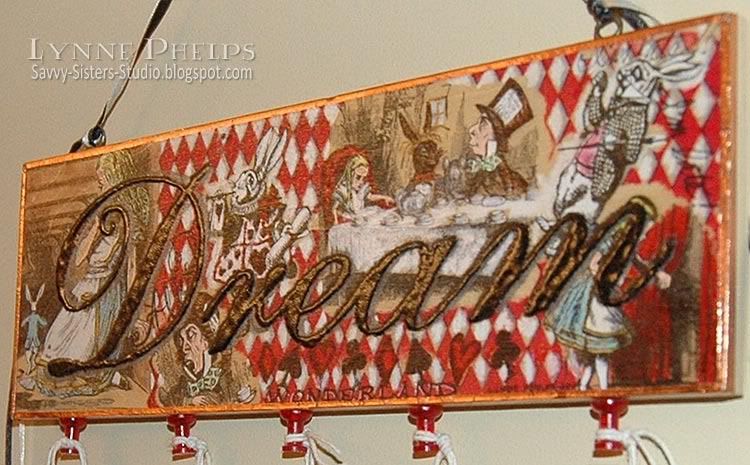 It still looked unfinished! I wanted it to be taller, not so horizontal. What to do, what to do? I was rummaging through drawers of stash and stabbed myself on a red push pin. Hmmmm. Yes, I was able to push in a row of pins across the bottom! Time for some tags! Gotta love the tags!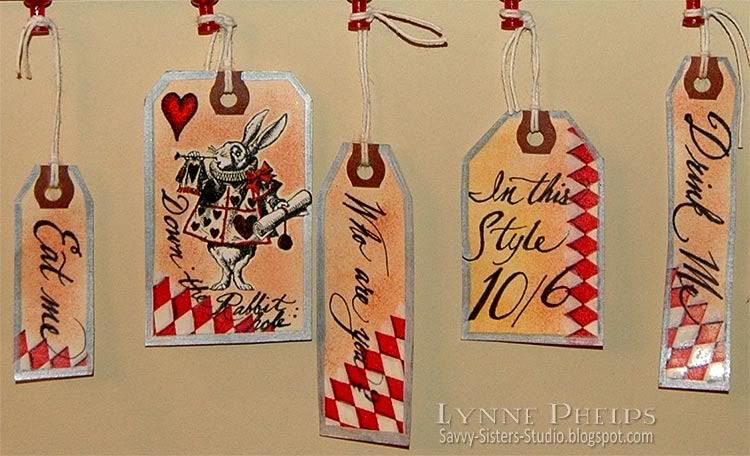 I started a bunch of manila shipping tags. I stamped the rabbit first and filled him in with Prismacolor pencils, then stamped the edge with the harlequin diamond stamp and filled it in with white and a gray drop shadow as before. I masked then stippled the background with several colors using Color Duster brushes. Then I made a tag that matches the one tucked into the Mad Hatter's hatband: "In this Style 10/6" which, for us ingnorant Yankees means ten schillings and sixpence, or half a guineau back in Alice's day! I started with the diamonds then mimicked the writing on Tenniel's original illustration. I liked the text so much I added "Down the Rabbit hole" to the first tag.
I stepped back and took a look. If I added anymore images like the rabbit, it was going to take away from the wood plaque. So text only - I thought of some short text snippets I could put on my other tags and the first one that came to mind was the Caterpillar asking Alice "Who are you?" and then of course the other size changing scenes with "Drink Me" and "Eat Me" finished it off.
I have temporarily added black and white ribbons to hang it, but I think I may look for some Tim Holtz type of chain or similar to hang it with in the future. A couple coats of clear and I was done for now.
One more view of the completed piece! Click the image to enlarge.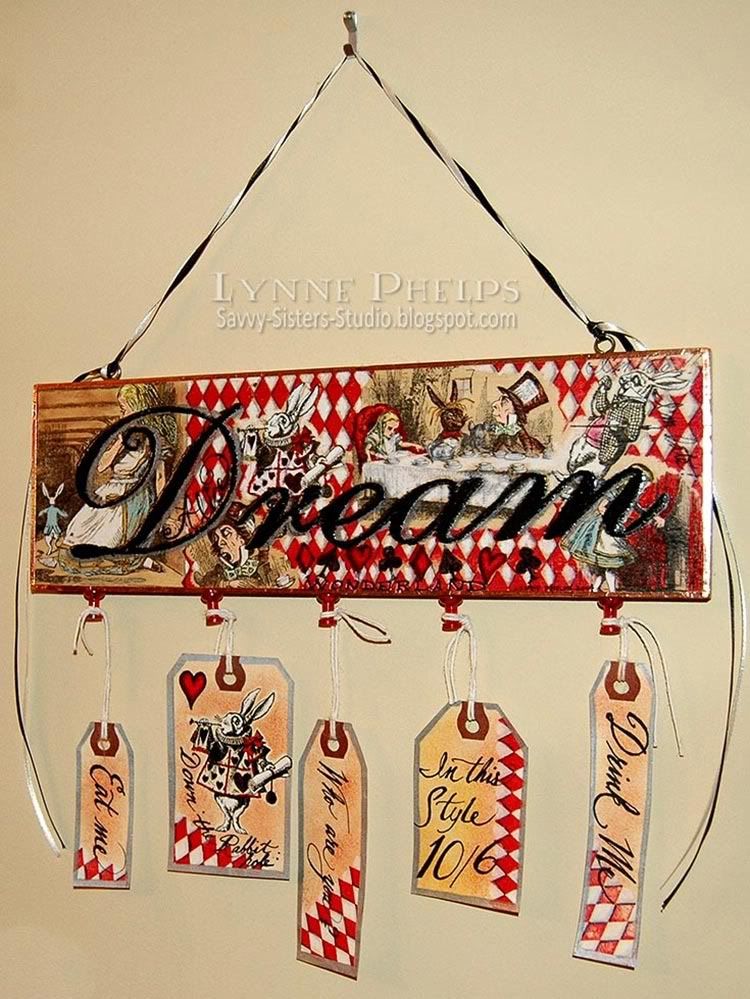 I hope you enjoyed my little journey through Wonderland and the sharing of a bit of the my creative process! I know it is not good manners to say it about your own work but I LOVE this thing!! So after all that good work, I thought I deserved a reward and bought these:
I have also entered this piece in the
Cinema Saturday Creative Challenge #82.
The challenge requirement is just to go wild and "create something out of the box" - something that goes outside of the traditional card. By happy coincidence their challenge this week is the new Alice in Wonderland movie!!!
You are also supposed to indicate which part of the movie inspired it, and I would have to say, aside from being inspired by the part where the Mad Hatter tells Alice about her missing muchness, I was completely inspired by the WHOLE movie, LOL! It was AMAZING and I've already watched my new DVD three times! I am so happy that the DVD came out right after Alice left the local theater, but I miss the 3D effect on the big screen!
Last, I am sharing it on
Gingersnaps Mad Hatter Day
post!
Happy Day! Please leave me a comment, I love hearing from you!
Stamps: Stamper's Anonymous - diamond pattern; Nature's Blessings - all other stamps.
Ink/Coloring: Stazon - Black; Colorbox - Lipstick Red Chalk; Sharpies - red and black; Assorted Marvy Matchable inks for distressing; Prismacolor pencils; Krylon Leafing Pen - Silver.
Media: Wooden Plaque; Manila Shipping Tags
Miscellaneous: Ultra-Thick Embossing Enamel - Black; Ribbon; Push Pins; Post-it notes for masking.