"Alice was beginning to get very tired of sitting by her sister on the bank, and of having nothing to do: once or twice she had peeped into the book her sister was reading, but it had no pictures or conversations in it, and where is the use of a book, thought Alice, without pictures or conversations? So she was considering in her own mind, (as well as she could, for the hot day made her feel very sleepy and stupid,) whether the pleasure of making a daisy-chain was worth the trouble of getting up and picking the daisies, when a white rabbit with pink eyes ran close by her. "
We have a fun new sketch with a twist from our very own Tasha. The Twist? Use a DAISY or some sort of similar flower and incorporate it on your card! Nothin' like a little FLOWER POWER to kick start your mojo, Alice always says!
Our friend and fellow Tea Party Member, "TWISTY KRISTY" has organized a wonderful prize from
Tickled Pink Stamps
! One lucky winner from this week's entries will receive
one rubber Lil' Lolita stamp
of their choice! Many of the design team members will be showing off their Tickled Pink Lil' Lolita Stamps today.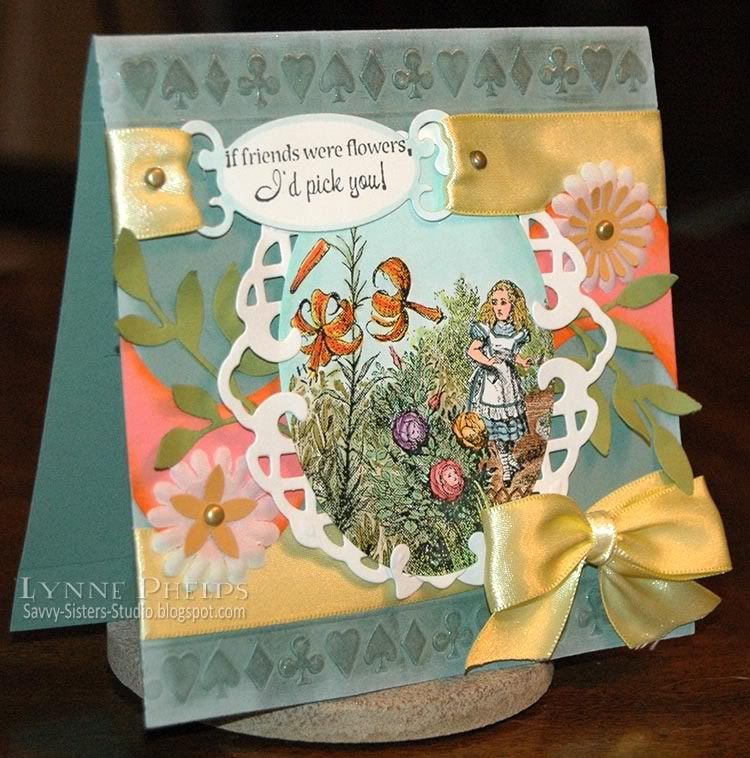 I took a few liberties with the sketch - I thought I had completely flipped it upside-down, but now that the sketch and my card are right next to each other, I see that I forgot to flip my coral "swoosh" across the middle of the card. Well you can still see the sketch in this card so I don't think Tasha is going to come gunning for me, LOL!!
I started by printing (on color laser printer paper) a digi of this original illustration from "Through The Looking Glass" of Alice in the garden of live flowers, which seemed perfect for our theme this week! I colored it in with Copic markers and then cut it out with a classic oval Nestability die. From white card stock, I cut a Lattice Pendant die and slipped the oval illustration into the pendant. I used two of the cut out pieces at the top and bottom to "clip" it to the pendant more securely.
Then I cut out the coral "swoosh" shape. I had a hard time with this as it is an unusual shape. Knowing that the middle would be covered up by the lattice pendant, I cut the two sides separately by tracing around the curve at the end of an oval nestie. Mine have more curve than the sketch but it keeps the same feeling! I sponged around the edges with orange ink to make it blend rather than clash with the tiger lily. I also die cut two leafy branch shapes out of olive card stock and punched some small gold flowers. I took two white silk flowers, stacked the little punched flower and secured it with an antique gold mini-brad.
I die-cut a Fancy Tag from white card stock, cut off the two curly pieces at the ends, colored around the edge with a pale blue Copic and stamped the sentiment in black. I thought "If friends were flowers I'd pick you" was the absolutely perfect sentiment to go with this picture full of live flowers!!! Now it was time to assemble everything.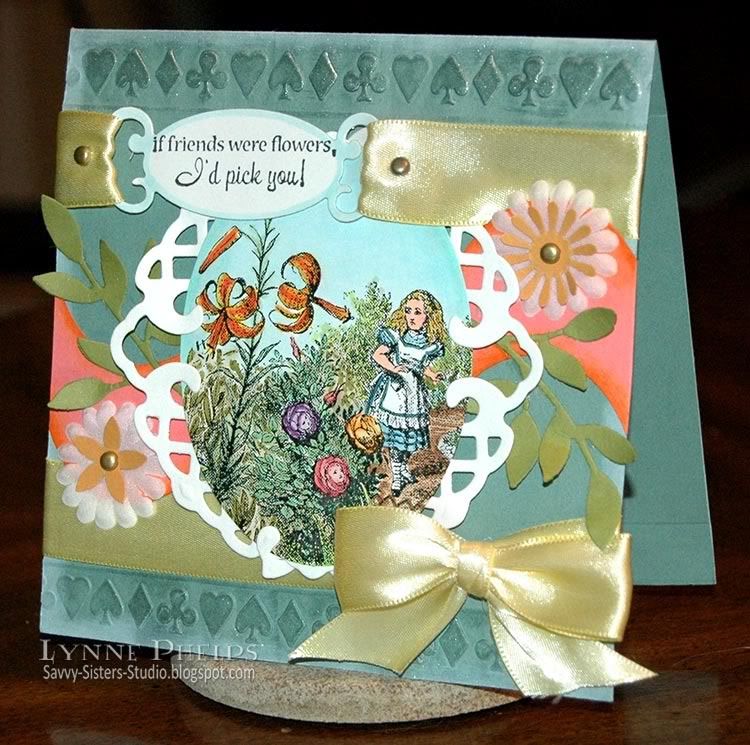 I had so much color in the garden scene, so I went with a base of Ocean Tides as it was just a little darker than the sky color and sponged all around the edges with white pigment ink to soften it up a little. I used a new border embossing folder at the top and bottom, then I scored a line to cover up where the edge of the folder left a mark on the card stock. I swiped over it with a Versamark Dazzle pad to highlight the raised areas and give it some shimmer. I think Dazzle pads were created for this technique!
I adhered all the elements but it still needed something. Ribbon to the rescue! I folded the ribbon through the looped ends of the fancy tag, secured it with double-sided tape and then added a brad. I tried it first with just the brad but it pulled too much on the one point, so I added the tape. What a fun look, I'll be doing this again! I added another piece of ribbon at the bottom and a bow tied on my Bow-Easy. TIP: I always tie the base ribbon with a tiny piece of button twine where the bow is going to go, as this really makes it look like a tied bow instead of a flat piece with a separate bow stuck on top!
Want to play along and get Crazy for Daisies and get sketchy too? Hooray! We'd love to have you!
Just upload your card or creation to the InLinkz system on the Oh, Alice! challenge blog and use the keyword OAC18 if you're using a public gallery such as SCS.
You have until FRIDAY, JUNE 25th at 8pm CST to enter to WIN this fabulous prize from
Tickled Pink!
Can't wait to see how you get twisty this week! HAVE FUN!
I hope you enjoyed my crazy for daisies Alice card! Please leave me a comment, I really love to hear from you! Also, check out
Lenny's Alice in Wonderland site
for all kinds of Alice resources, facts and trivia! It is a WONDERful site!
Please go to Oh, Alice! to see more creations from the other members of our twisted tea party!
I am sure you will enjoy the design team's various interpretations of the Tasha's sketch!
Stamps: Alice - digi stamp; Sentiment - Taylored Expressions "A Year of Sweet Sentiments"
Paper: Papertrey Ink - Ocean Tides card stock; HP - bright white color laser printer paper; Georgia Pacific - white card stock.
Ink: Tsukeniko - Memento Tuxedo Black, Versamark Dazzle Frost; Copic Sketch markers.
Embellishments: The Paper Studios - antique gold mini-brads; Hobby Lobby - double-faced satin ribbon.
Tools: Spellbinders - Fancy Tag die, Lattice Pendant die; Stampin' Up! (Sizzix) - Little Leaves die; Scor-Pal; Cuttlebug - "Measure for Measure" embossing folder borders; Bow Easy.