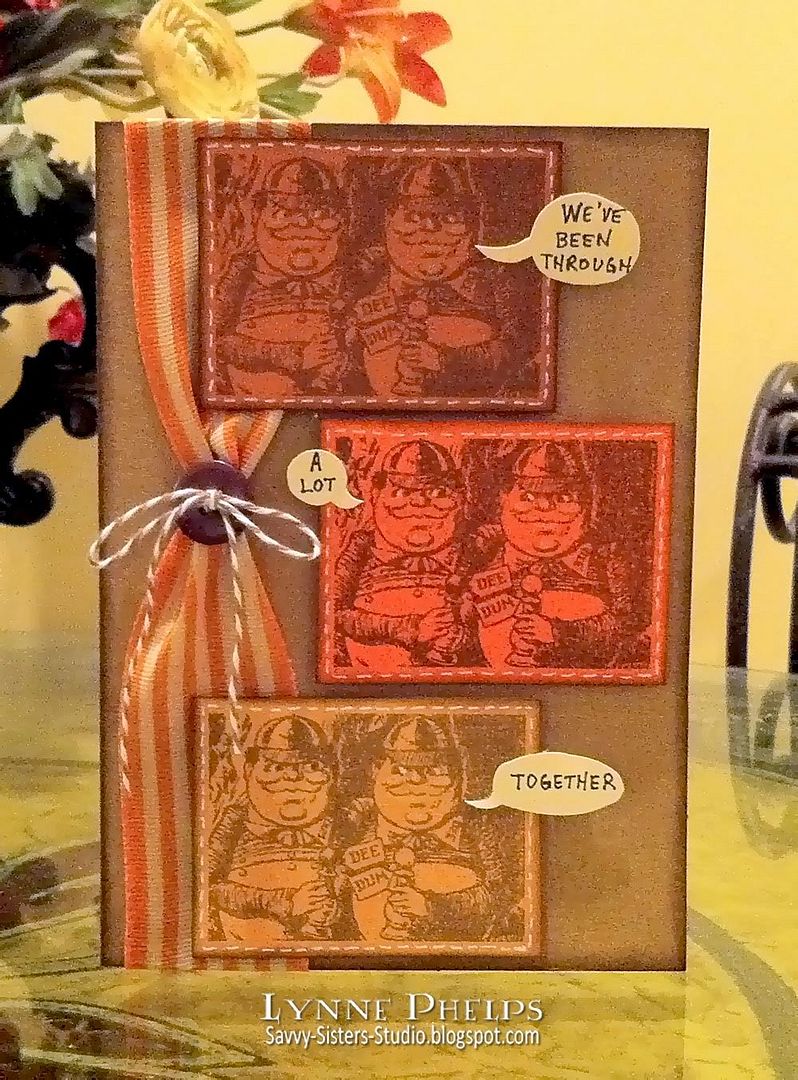 "`Off with her head!' the Queen shouted at the top of her voice.




Nobody moved.

`Who cares for you?' said Alice, (she had grown to her full size by this time.) `You're nothing but a pack of cards!'




At this the whole pack rose up into the air, and came flying down upon her: she gave a little scream, half of fright and half of anger, and tried to beat them off, and found herself lying on the bank, with her head in the lap of her sister, who was gently brushing away some dead leaves that had fluttered down from the trees upon her face."




-- Chapter 12, Alice's Adventures in Wonderland
I wonder if the Wonderland story took place in the Fall of the year? Autumn has arrived in the northern hemisphere. Just as Alice recognized the court characters as playing cards, the trees are losing their cloak of green chlorophyll and showing their true colors of gold, burgundy, scarlet, chartruese and orange.
Your challenge is to show us a project drenched in fall colors!
Our prize this month is an A5 sized unmounted stamp set from IndigoBlu (a £13 value), or an equivalent amount of A6 stamps
. IndigoBlu is a fantastic new British stamp company that makes "Quintessentially English Rubber Stamps" right there in England.
The design team will be working with these two fantastic
Alice stamp sets
, titled appropriately "Alice I" and "Alice II". Most Americans don't know what A5 and A6 mean so I'll just tell you, these sets are really big!
I encourage you to go visit
IndigoBlu.com
. All stamps are on sale right now with their introductory pricing, but that won't last forever, and the designs are all wonderful! In addition to the introductory discount, the Head Honcho Alfie says
"The Altered Alice readers can take an extra 10% OFF during the challenge
; just use coupon code
AlteredAlice
in the voucher code box at checkout!"
Thanks Alfie!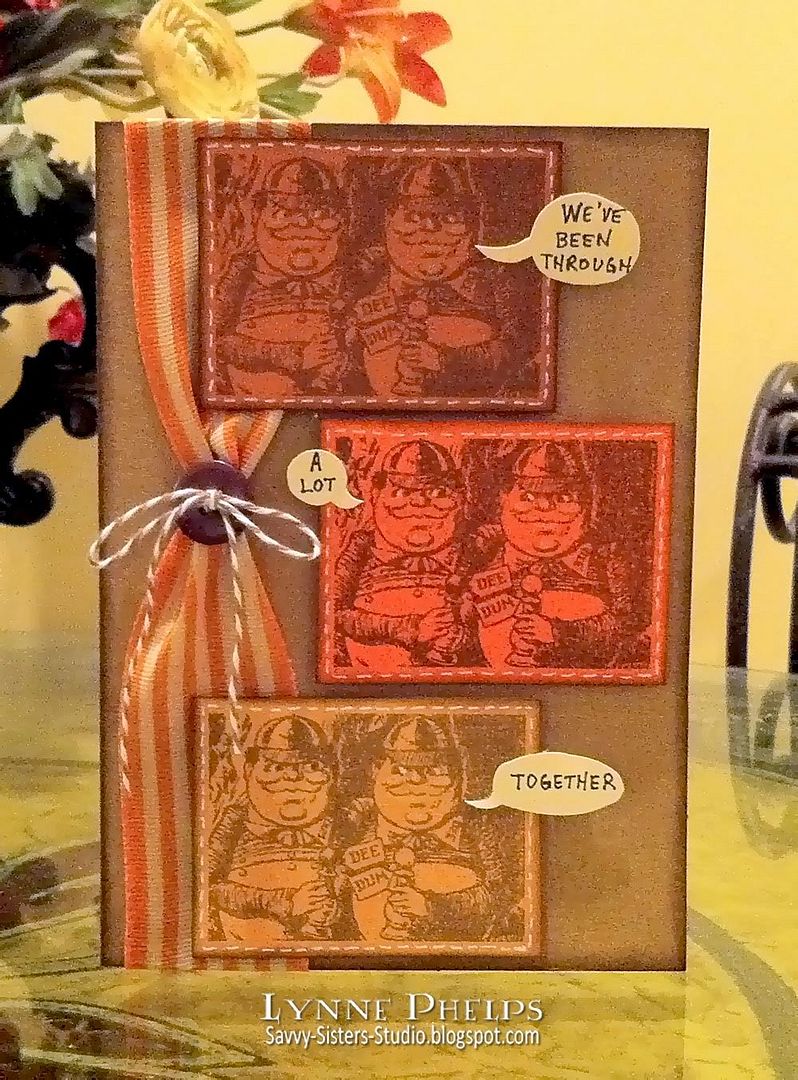 The minute I saw this great Tweedle Dum Tweedle Dee stamp, this caption sprang to mind! I stamped the image three times on gold, orange and rust paper and slightly highlighted the eyes and faces with white Prismacolor pencil. The edges were sponged with Walnut Distress Ink and a white gel pen was used to add faux stitching around each image. The edges of the kraft card base were also sponged. The striped grosgrain ribbon, a bright orange and white, was subdued by coloring it with E42 Copic sketch marker, then it was gathered with a button threaded with cappucino baker's twine. The images were mounted with dimensional foam adhesive. I wrote out the caption in three parts and cut out little comics-style speech bubbles and added them to the Tweedles!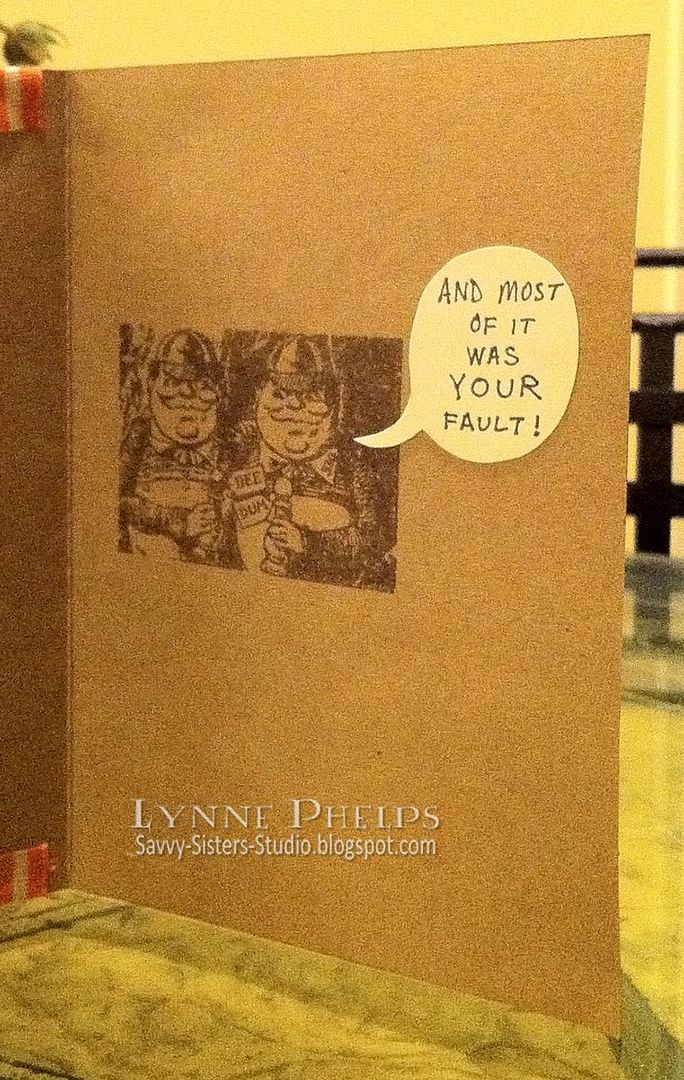 Inside, the sentiment is completed: "We've been through a lot together, and most of it was YOUR fault!" I stamped the Tweedles one last time in brown ink and added another comics-style speech bubble.
I hope you enjoyed this fall-colors challenge. Please leave a comment, I love hearing from you!