I'm a huge Twilight fan, are you? I had such fun making this birthday card featuring Jacob, Bella, and a sparkly Edward! My niece, Rebekah, is the one who introduced me to the Twilight Saga, so it seemed appropriate to use these cute character images from
The Greeting Farm
for her Sweet 16 birthday card! Twilight addicts are called twihards (twilight + diehard) or twifans. I prefer to think of myself as a Twihard!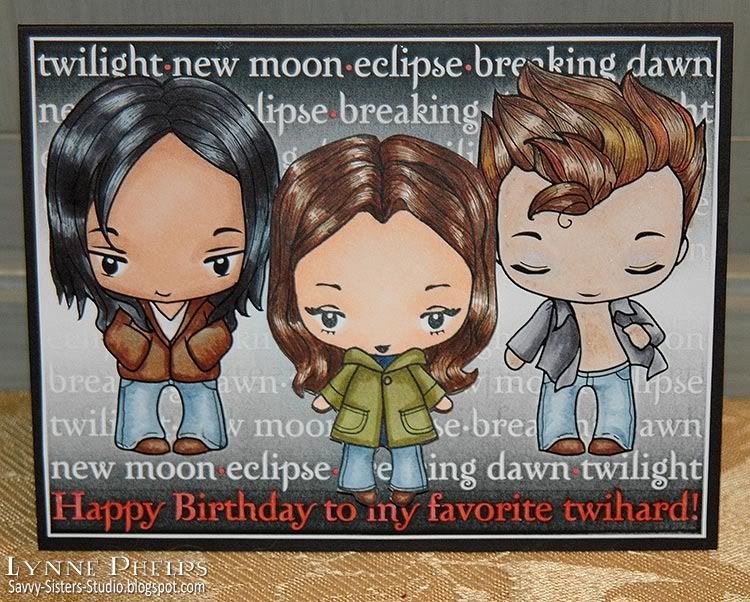 The Greeting Farm sells both digital and rubber stamps, often releasing a character in digital first, then making the rubber version when it proves popular. At that time, the digital version is removed. "Joseph" (Jacob) and "Flirty Edward" are
digital stamps
, while "Camille" (Bella) is now a rubber stamp; all three are in the Wild Sprouts series. They also have all the other Cullen family members and two other Edwards in casual and dressy versions!
I started my hybrid card in Adobe Illustrator. I made a black to white to black gradient box. Then I created a text block using the Zephyr font, which is the font that was used on the original book covers. I wrote the titles of the four books separated by a bullet symbol; each line started with a different book to stagger the titles. I moved my white text in front of the black gradient. Then I decided to change the last line to my birthday wish--Happy Birthday to my favorite twihard!. I opened Edward and Jacob in Photoshop and knocked out the backgrounds, so the characters where still filled with white but the background was transparent. I then placed these photoshop files in illustrator and put them on top of the text. Then I printed it out and took it to the craft room! One tip I got from the
I Like Markers
blog is to use color laser printer paper - the smoother, less porous surface makes it easy to blend the Copics and you do not need to use as much ink. It is also much easier than running cardstock through the paper bypass tray, as I can just put the color laser paper in the paper tray on top of the regular paper.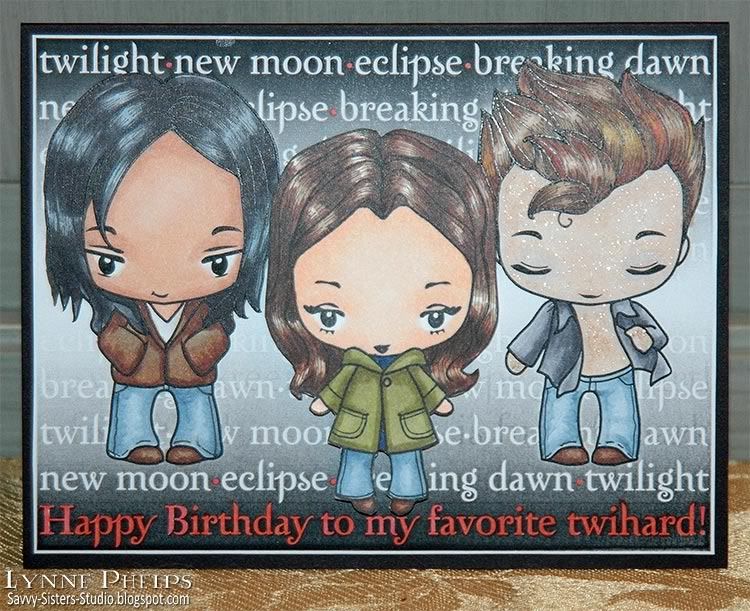 I had a blast coloring in Edward and Jacob with Copics. Of course I went over Edward's skin with a Copic Atyou Spica glitter pen in clear!! Gotta have sparkle!! Then I stamped my rubber Bella on cardstock and colored her with Copics. I used my finest Copic Multiliner to add more detail to the hair. I used a thicker Multiliner to add blue jean seams to Jacob's trousers. I trimmed out Bella and mounted her to my panel with 1/8 inch thick pop dots.
On the computer, I had also typed my sentiment in Zephyr font: Hope your sweet sixteen is full of sparkle! I trimmed it out, and then used a square punch to notch the two ends. I went around the word "sparkle" with a clear Stardust glitter pen. I used the chisel end of a red Copic marker to add a red edge. Then I decided the front needed red too, so I carefully dotted red inside the bullet symbols between the book titles, and inside all the white letters of the birthday wish on the bottom line.
I am really happy with how this card turned out, and I think my niece is going to be TOTALLY impressed! It was also my first hybrid project. Having a B&W laser printer made it easy to do the Copic coloring as I didn't need to worry about smearing the ink. I think I will use digital stamps more for items I'm going to color with Copics. Making my own sentiments on the computer is also a lot of fun!
If you want to see the rest of The Greeting Farm's Twilight-inspired stamps, here is a key to the psuedonyms! Most have dressy and casual versions - be sure to check both the
digital
stamps and the rubber
Wild Sprouts
series!
Daniel = Dr. Carlyle Cullen
Odette = Esme
Joyce = Rosalie
Jeremy = Emmett
Ebony = Alice
Hugh = Jasper
Joseph = Jacob
Michael = Sam Utely?
I've read the books several times, then I got the unabridged audio books, which I highly recommend. The narration is EXCELLENT. I have my Twilight Saga playlist and l listen to the books again and again! In fact, that's what's on my iPod right now. I downloaded mine from
Audible.com
- it's a lot cheaper if you are a member of Audible.
Let me know how you like my Twilight card! It was so much FUN to create. Comments anyone? Any other twihards out there?