I had no idea how much cool stuff was to be found in the dollar bins at Michaels! I found several sets of eight blank square cards with envelopes and thought they would be great to jazz up into something really special. I also found some neat large flourished letter stamps, so I picked an "R" and made Rebekah this cool set of personalized notecards!
The cards were all in different bold colors and graphical patterns. I chose this $1.00 deep pink and red patterned set of eight, using four so my investment is 50 cents so far! Then I found the flourished "R" stamp
(Hampton Arts - Studio G)
in a nearby bin - now I'm up to $1.50, LOL! The old dictionary cost 50 cents at the library's old book sale and I think I used one page for all this punching - less than a penny's worth! All the letters were stamped and embossed on a single sheet of card stock, and I made my own brads with my new i-Top tool. A real budget project!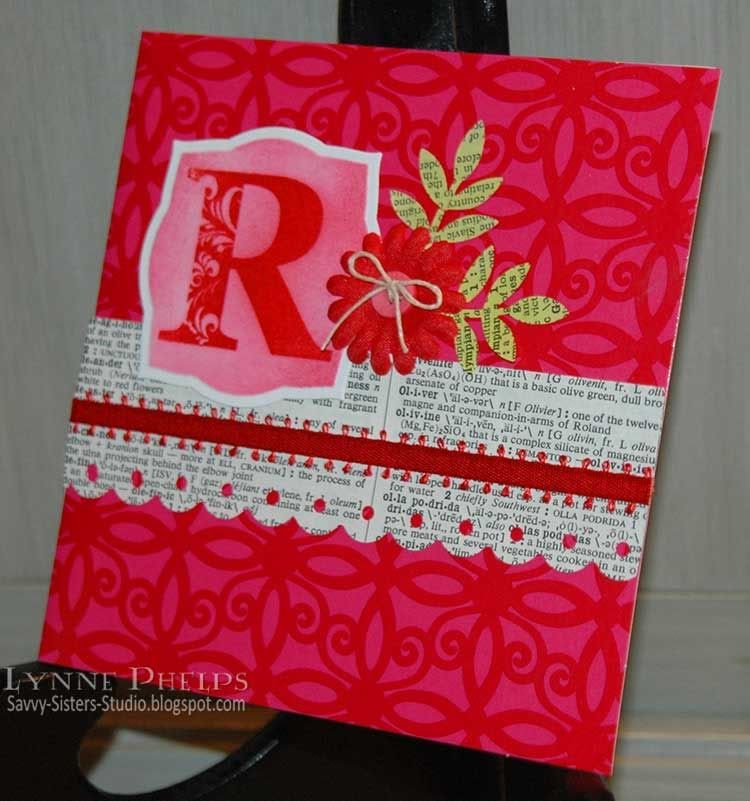 On this card, I used the Label 3 Nestie
(Spellbinders)
to cut out the initial which was stamped in Crimson Lake
(Marvy)
and heat embossed in clear. It was then sponged with Bubblegum Pink
(Marvy)
. The border punch is Threading Water
(Fiskars)
and the leaves are Frond
(Martha Stewart)
.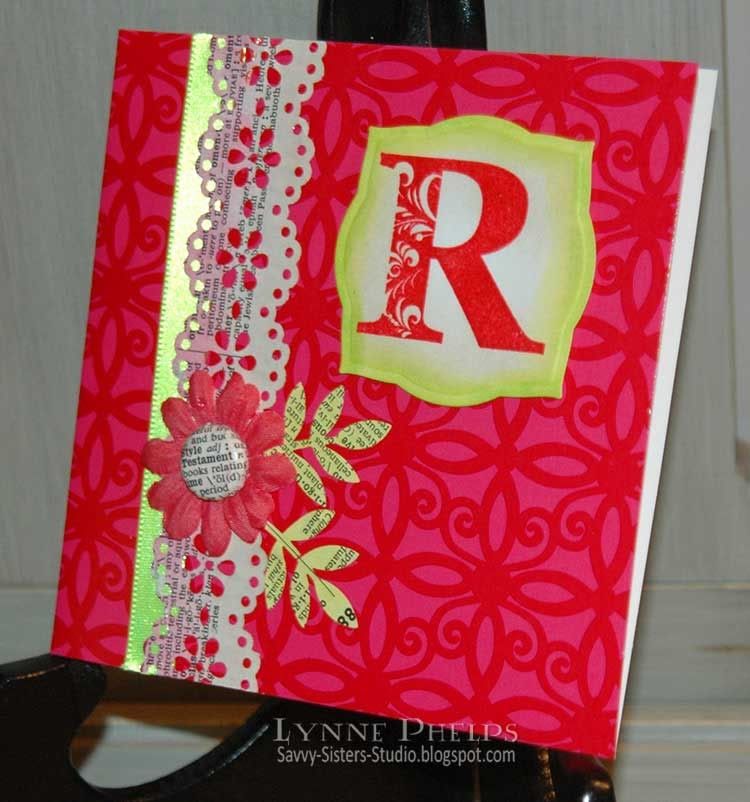 Same recipe as before, except I used the Doily Lace Trim punch
(Martha Stewart)
. The green sponging on the initial actually matches the bright green ribbon pretty well but the camera changes it. The silk flower center is a brad I covered with dictionary paper using the i-Top tool
(Imaginisce)
and coated with Diamond Glaze
(Judikins)
for shine.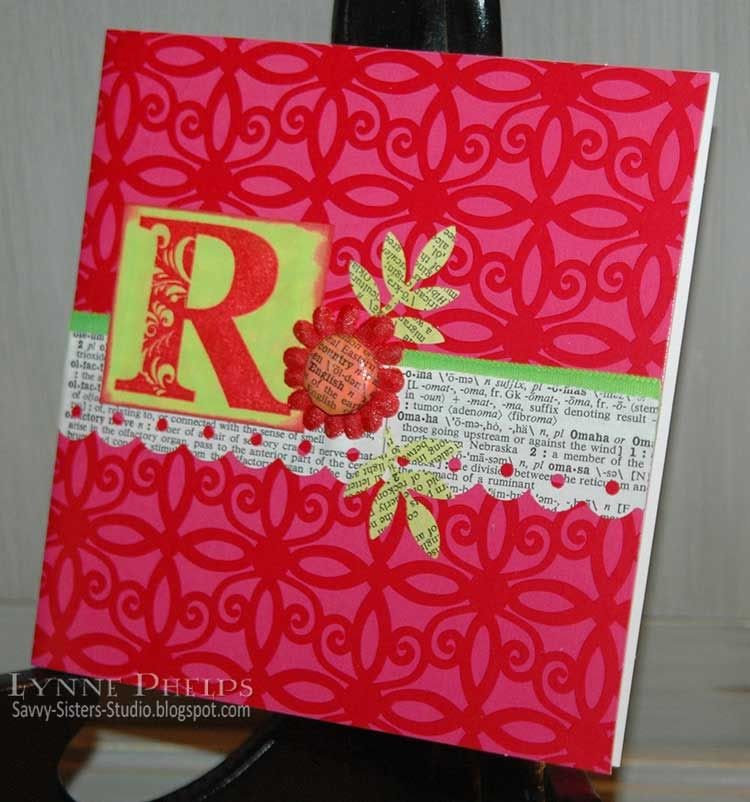 Again, the sponging and the ribbon actually match very well, but the matte cardstock and shiny satin ribbon are being picked up differently by the camera! Another home made brad, but I colored the dictionary paper with a copic first. It was covered with Diamond Glaze
(Judikins)
for shine.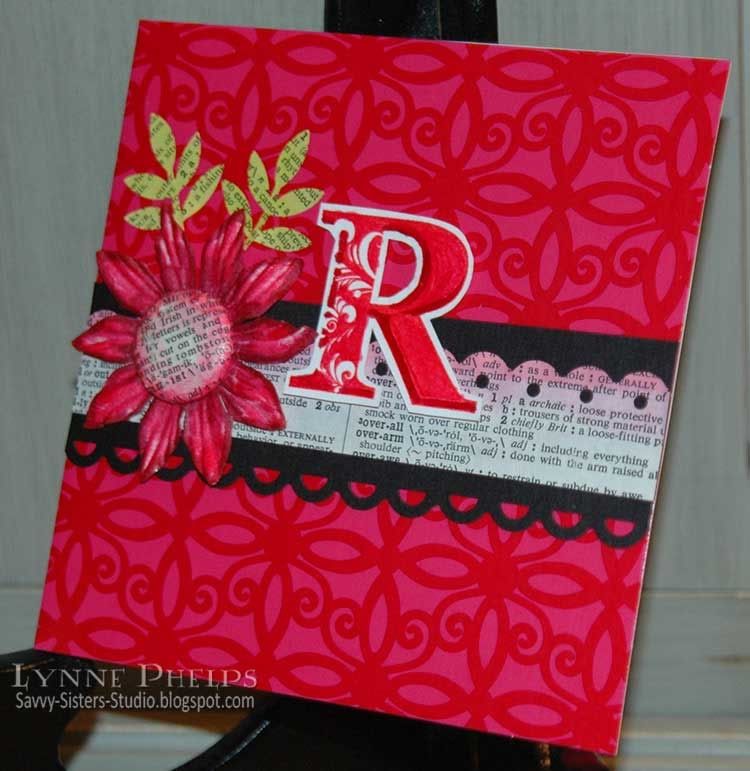 I think this one is my favorite, wish I had tried the black first - although the cards with the bright green are so FUN when you see them in real life. The flower is an off-white Prima paper flower that I colored with Copics, centered with another home made brad. I fussy-cut the initial and shaded it with a Copic marker. The black band is punched with Apron Lace (Fiskars) and the dictionary paper is Threading Water (Fiskars). One of the things I really like about these two punches is the scallop profile is the same, so they are fun to stack!
Rebekah was very pleased, and I was really touched when she told me that she knew the real gift had been to give her a bunch of TIME. And she LOVED the
metal tooled letter
, totally! That was another budget gift, as the base chipboard letter cost $1.77 at Hobby Lobby, but looked like so much more when done! You'd never guess at its humble beginnings!
I'll have another, much quicker dollar card makeover for you on my next post! What are your favorite crafty gifts to make and give? Please leave a comment and let me know!