Scroll down to read about Gingersnap Creations birthday celebration!
This card features a wonderful stamp of a wine bottle and glass in a lovely sketchy style
(Stamps Happen)
, perfect for a thank you card for a bottle of very nice wine I received from the head of the company where I work. I do not often drink, but when I do a glass of good Cabernet Sauvignon is my fave! The stamp features Merlot, but you can't have everything, LOL!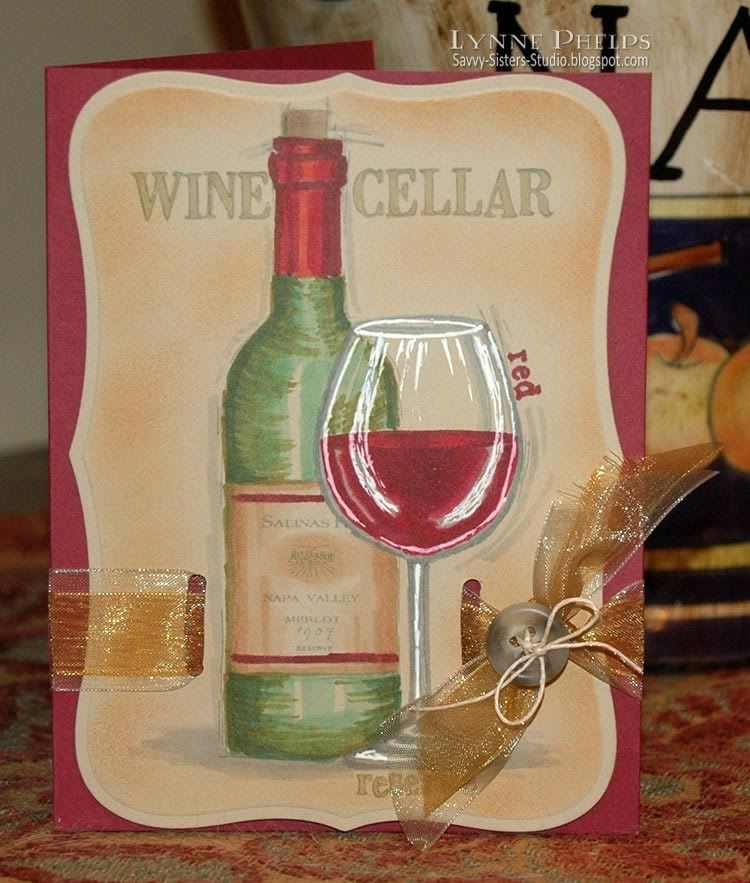 The base is Bravo Burgundy
(Stampin' Up!)
. I cut out the stone card stock panel with the largest Nestie Label 8
(Spellbinders)
, sponged it while still in the die with a muted gold (Ochre - Marvy dye ink) and had a wonderful time coloring it with Copic markers. I used a slot punch on one side
(Stampin' Up!)
to make a place for the ribbon to come to the front, and cut a slit in the fold of the card to allow it to pass through to the inside of the card. I used two layers of sheer organza ribbon - a bright gold and a narrower old gold stacked on top of each other - love that look! I used a granny knot instead of a square knot to make the tails go perpindicular to the ribbon band, and covered it with rustic button with narrow hemp twine knotted through.
I wish I'd remembered to take a picture of the inside. On the left, above the ribbon, I stamped two sentiments at different angles, one higher than the other. One said
"Life is too short to drink house wine!"
(Ann-ticipations)
(I heard someone else say that life is too long not to, LOL!) The other was a quote from an ancient Greek writer:
"No thing more excellent nor more valuable than WINE was ever granted mankind by God. --Plato"
(Serendipity Stamps)
. On the inside right I used a standard thank you sentiment.
What do you think, does it look good enough to drink? Please leave a comment!
Blog Candy Alert - Gingersnap Creations Birthday Blog Candy Bonanza!
Gingersnap Creations is a wonderful challenge blog that I enjoy reading, and I need to challenge myself to start entering their challenges, LOL! To celebrate their birthday, however, they are making it easier, no challenge entry required.
You can read all about how to enter and see the WONDERFUL birthday blog candy
in this post
. The drawing is on March 19, 2010.