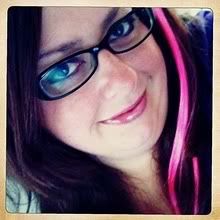 Jess Diedrich of
The Whimsical Butterfly
is the creator and coordinator of the Oh, Alice! challenge blog, where I am on the design team. She is also the Creative Coordinator for The Greeting Farm, which includes being editor of The Greeting Farm Newsletter and coordinator of their three (or four?) design teams. She's an Ippity Chick and a Unity DT gal. But most importantly, Jess is the mother of four children! Jess rocks!
When I received my digital copy of the More to Love - Let's Communicate set, I thought I saw a resemblence! I told Jess if I put glasses on her and put a pink streak in her hair, nobody would be able to tell the difference. So. . . whatcha think?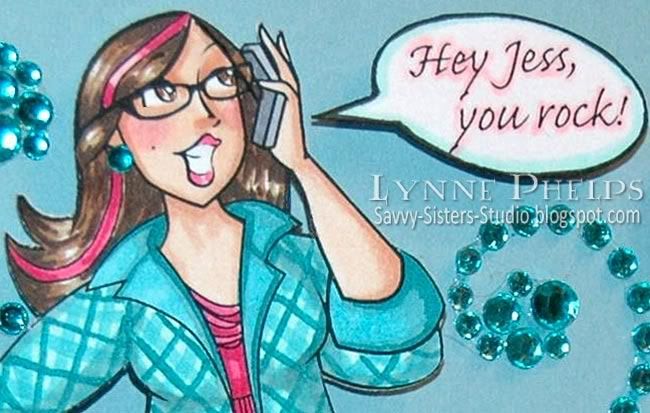 Click to enlarge
Yup, that's what I thought too! It looks just like Jess! Now you might think it is funny to have Jess saying that Jess rocks, but what is actually happening here is that Jess is
listening
to the phone and
my voice
is coming out of the phone saying that she rocks!
I thought I would make her a card, which is my second entry to the
Amber INK INKredible 21 day challenge
, where the theme this month is RAKs! You need to use at least one Amber INK product to enter. Just think - you could download this
AMAZING digi set
, which includes the figure (without glasses and pink streak), two speech bubbles and TEN sentiments, for only $7, and then you could have fun coloring her too! And if you prefer
clear stamps
, that's an option too! Just think, if you win the challenge, you too could design a stamp set with Amber!!!
Let's take a look at the whole card:
Click to enlarge
Doesn't Jess look hot in her great jeans and those super cool leather boots! Gosh, I sure love boots and Amber drew my favorite style! And I totally LOVE to color jeans - look at all the great details Amber drew , she even gave me a watch pocket, gotta love that! Instead of smooth leather like
the last card
, I gave Jess a trendier bag, gathered into soft folds. I'm thinkin' this leather came from a psychadelic ostrich, know what I mean? Last time I colored in a quick and easy flower pattern on her jacket. Today I went for plaid, which is so easy to draw and pretty forgiving - just curve the stripes a little, don't even try to make the plaid perfect and straight. (See another drawn plaid example on
this card
.) This is also an awesome set for paper piecing!
I punched a big scalloped border on the black card stock and wrapped a ribbon around it that I colored with Copics to match the pink streak in Jess' hair, adding a little triple loop bow, made on the Bow-Easy and adhered with Fast Grab Tacky Glue. I used the same pink marker to edge the polka dot paper. The twine-threaded buttons were attached with glue dots. Then I had to add the bling, because it is made up of "rocks" and hey, Jess ROCKS, right? We all agree that Jess ROCKS! These were sparkly clear crystals until I colored them with Copic markers to match the jacket. I had to cut one of the flourishes, so I used the leftover crystals for an earring and jacket buttons! The figure was cut out and adhered with thick foam tape so it has a lot of dimension, as does the speech bubble!

Click to enlarge
Lousy angle but you see how high she is popped up, which looks pretty cool when you see it head on. I thought I'd show this view as the flash destroys the shadows in the normal views.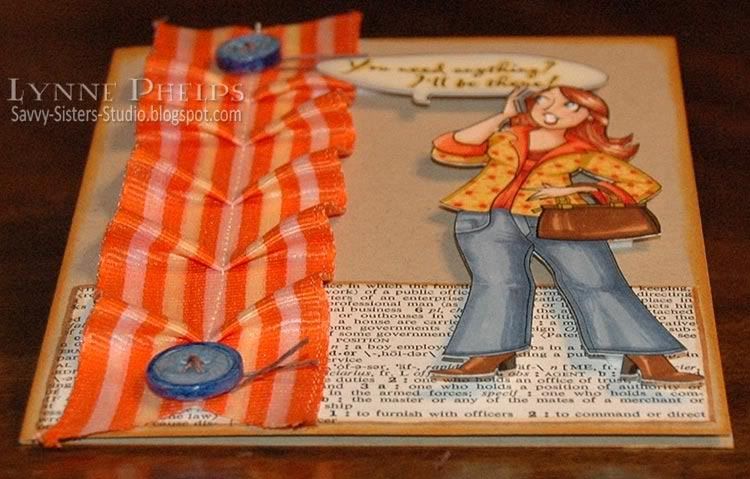 Click to enlarge
Answering some questions about my last post:
While I had the camera out for today's card, I took a "dimensional view" of
my previous card
to try to explain about the ribbon treatment. I took an inch wide strip of scrap card stock and ran adhesive down both long edges. This adhesive was just used to position the ribbon, which I pinched up every so often as I stuck it down. I used my Sew Mini to stitch right down the middle, where there was NOT any adhesive, so as not to gunk up my machine. You usually have to use a heavy duty super high-tack tape like ScorTape to get ribbon to stick securely to paper. The stitching is actually what is holding the ribbon to the strip of card stock - I don't need to worry that it will come off. In fact the ribbon has already lifted up from the adhesive at the edges, which gives it even more dimension. This allows me to use my normal (super inexpensive) Scotch ATG adhesive to stick the beribboned strip of card stock to the card front, because now I am making a paper-to-paper bond. Hope this helps!
Someone else was astute enough to
suck up
comment on how incredible I am with my super jeans coloring skills and all, so I guess I'll reveal that I use B91-B95-B99 coz I like my jeans all comfy and broken in and faded. How about you?
So, are you loving my challenge winning stamp set as much as I am? I hope it will be a huge hit for Amber INK! You can read more about it on
my last blog post
! :-)
I can't wait until Jess sees this
- watch for her to comment, LOL! The hard part actually getting it in the mail as I'm out of stamps! I already owe two other RAKs that are just waiting for me to get to the post office before they close, as I live in a small town with really short Post Office hours!
Please leave me a comment about the stamp set, my amazing jeans coloring skills, or how much Jess ROCKS, hahaha!