As you may remember, I WON the September Amber INK INKredible 21 Day Challenge and the grand prize was Amber designed my dream stamp set! So without further ado, welcome
More to Love - Let's Communicate!!!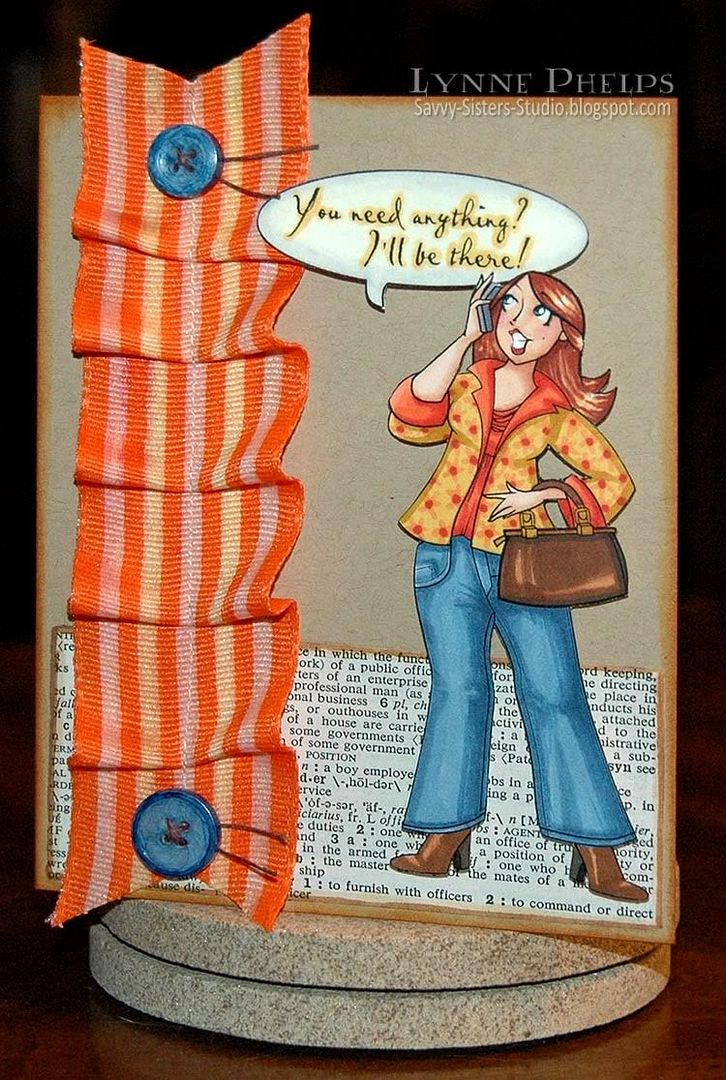 Click to enlarge

Isn't she fabuous! I told Amber I wanted a full-figured, hip, sassy, fashionable Amber
woman
(NOT a skinny Amber Girl!) talking on the phone, with all kinds of sentiments for any occasion, and I wanted to call it "Let's Communicate!" Well Amber did such a fantastic job and she liked the idea of more full-figured sets, so she is calling the series "More to Love!" I wanted jeans, and just LOOK at that fantastic jeans detailing!! I wanted simple shapes on the purse and clothes so they would be perfect for coloring and paper piecing and LOOK at how great it turned out! I wanted chunky heeled boots because they are a lot of fun to color and so much easier to cut out than the original stiletto open toed pumps (and now with one curved line on each foot I can still have pumps, but that's our secret!) and look at those GREAT boots! I am SO HAPPY! The digi set is only $7 and includes this fabulous lady and a great batch of sentiments and two sizes of empty speech bubbles, so you could easily add your own words!!!
As a bonus in the digi set, the sentiments come both solo and combined with the bubble. >>
I even got to decide on what sentiments include, so I came up with a list sure to work for almost any occasion:
Coffee?
Howdy!
You rock!
Shopping?
You need anything?
I'll be there!
Happy Birthday!
Let's get together
Thanks, you're the best!
I've been thinkin' about you!
Now I mentioned paper piecing, and that is not so much fun with digi sets. Not all of Amber INK stamps are available in clear stamps but guess what? YES!
More to Love - Let's Communicate is also available in a CLEAR SET
for $14!!!! Yippeeeee!!!
So please go buy this set in either digi or clear right now! I want this set to be a HUGE success for Amber INK, because it is my concept (brought to life by Amber's amazing talent!), and also because I have a plan! I have more ideas for some GREAT stamp sets, so I am going to try to win another challenge so I can do this again!
Let's take a closer look:
Click to enlarge
I colored the girl and the speech bubble with Copic markers and cut them out. It does not show in the photo, but they are popped up high on dimensional foam tape. Kraft card base sponged with Distress Ink in Marmalade around the edges, a piece of dictionary page rimmed with light brown Copic markers, and a bright orange and white striped grosgrain ribbon that I colored with yellow and pink Copics to better match my project. I stitched the ribbon to a strip of card stock and adhered it to the base - it is a LOT easier to adhere the card stock securely than to get the ribbon to stick with normal adhesives. Buttons were colored with Copics to match her jeans, threaded with twine, and stuck on with glue dots!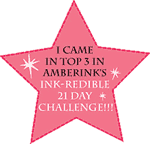 You should enter the
new challenge
also, it is so much fun! I did not win the grand prize for the
October Challenge
, but my
Creeptacular Witch
won a prize for the Top Three, so I received a $15 gift certificate to the
Amber INK store
, how fab is that?
This month's challenge
is to make a RAK for someone you don't know (random act of kindness) OR an AK for someone you DO know (act of kindness), use at least one Amber INK product, and tell about who the RAK or AK is for or why you are sending it! FUN!

So this card is my first AK entry. You can enter more than once, but you can't win more than one prize. It is an Act of Kindness for a friend who has been having a rough time with her health - shingles topped by bursitis, OUCH, and yet she remains unfailingly cheerful and generous with her time and resources. I appreciate the effort she goes to in having get togethers for our little stamping group!
I have entered this card in the following challenges:
Please leave a comment and let me know what you think about my new set and/or my card! Would you like to see more sets in a "More to Love" line by Amber? Let me know!