Whoo hoo! Amber has released a darling Happy Pumpkin digi that is free for 24 hours, so you had better grab this cutie NOW! Go to her blog,
Amber Inklings
, to read all about it right now! Tick tock, tick tock, that pumpkin won't be free for long!
Then, once you have this Happy Pumpkin, you can use it to enter the
Amber INK INKredible 21 Day Challenge
! The theme this month is "Trick or Treaty Amber Inky" and you have until Oct. 11th to get your project submitted! Remember, I won the last challenge and the grand prize was a stamp set designed to my specifications, and the other two of the top three winners get a prize too!
Speaking of MY STAMP SET (I just LOVE being able to say that, LOL!) Amber has made great progress! If you go back to my original post about this, you will see that Amber gave me three "proof of concept" drawings of my full-figured girl in a set I wanted to call "
Let's Communicate!
"
Although I had originally thought I wanted her texting, the drawing I just fell in love with was the girl talking on the phone! Changes from the first drawing include more jeans/khakis detailng, details on her FAB purse, and great chunky heeled boots! The original set had her in some snazzy open-toed high heels but I asked for boots and Amber delivered! She comes with a large and a small speech bubble, and I have a list of FUN sentiments that will fit in the bubbles!!!
Original concept sketch ( left) and tweaked sketch (right).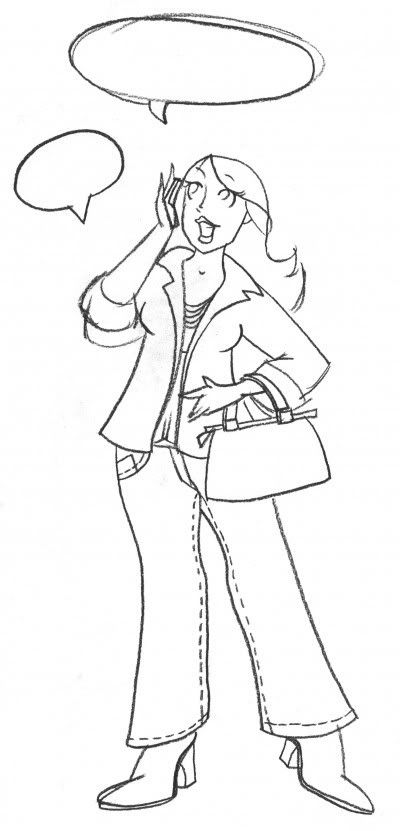 Go to
Amber's developments page
to see them full sized! The set will be available Oct. 20th and I hope that you will love her as much as I do!!!