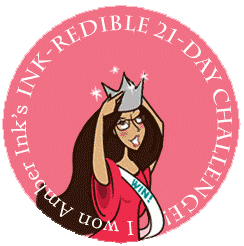 I'm singing for joy as the winner of Amber INK's very first 21 Day Challenge! Amber promised the prize would be amazing! Stupendous! Of incredible super-duper prizelike proportions! So what did I win? Are you ready?
MY VERY OWN STAMP SET DESIGNED BY AMBER!!!!!! I get to design a stamp set and Amber will draw it, and I hope scores of you will decide that you, too, must have it! Maybe it will become your favorite go-to set, as I am sure it will become mine!
So, what did I ask for, is that what you are wondering? Well, my favorite Amber INK stamps are the Amber Girls! I love them; they're hip, they're sassy, they've got style, they have great hair, and they are so much fun to color. But you know what? They are too darned skinny (and I am too darned plus sized, are you with me?) Lookee:
This is my favorite Amber INK set -
Rainy Day
- she is so much fun to color and/or paper piece! My other favorite Amber Girls can be seen
here
(my prize winning entry!) and
here
.
So when Amber told me I got to design my own set, I already knew what I wanted - an Amber WOMAN set! Full-figured and fashionable! More to love! With great hair! And communicating - I wanted the set to be called
Let's Communicate
! I sent my ideas in to Amber and she approved!
I got to see the first rough sketches today, and you can too! They are amazing! Click any one to go to
Amber's "Workroom"
where you can see the full size sketches and watch the set as it develops!
So, what do you think? Do you like my idea for a digi stamp set? Do any of you out there like the idea of a fun, fashionable and full-figured stamp line? Also, what sentiments do you think should be included for the bubbles? PLEASE comment - I really REALLY want to know what you think!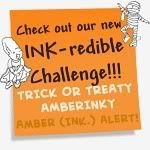 Is this the most amazing challenge blog ever or what? I think you need to enter - the challenge this month is Halloween and with 21 days to enter (followed by three days of voting) you've got time! Trick or Treaty Amber Inky! The three runner-ups get goodies too, so get crackin' - and check out all of Amber's adorable
Halloween iPaper and digi stamps
! After all, the grand prize will be really and truly extremely INKredible!