Click to enlarge
"Alice laughed so much at this, that she had to run back into the wood for fear of their hearing her; and when she next peeped out the Fish-Footman was gone, and the other was sitting on the ground near the door, staring stupidly up into the sky.

Alice went timidly up to the door, and knocked.

`There's no sort of use in knocking,' said the Footman, `and that for two reasons. First, because I'm on the same side of the door as you are; secondly, because they're making such a noise inside, no one could possibly hear you.' And certainly there was a most extraordinary noise going on within--a constant howling and sneezing, and every now and then a great crash, as if a dish or kettle had been broken to pieces.

`Please, then,' said Alice, `how am I to get in?'
~Chapter 6, Alice's Adventures in Wonderland
Have you ever felt like Alice? Not sure which door, window, or keyhole will be opened or closed next? Not sure which direction you're going but curiouser and curiouser about them all?
What a PERFECT opportunity to explore some new avenues,and walk through new doors we bring you at
Oh, Alice!
this week. Thats right! Your challenge this week is to create a card or project using a Door, Gate, or Keyhole. Now, you can also get creative and do a gatefold technique, etc. As long as we can see it's a "Gatefold" or that there is a door, gate, or keyhole somewhere on your project! How FUN is this?
The best part? There's no time limit to play this week, so have fun and here's to opening lots of new doors in the future!
My Card: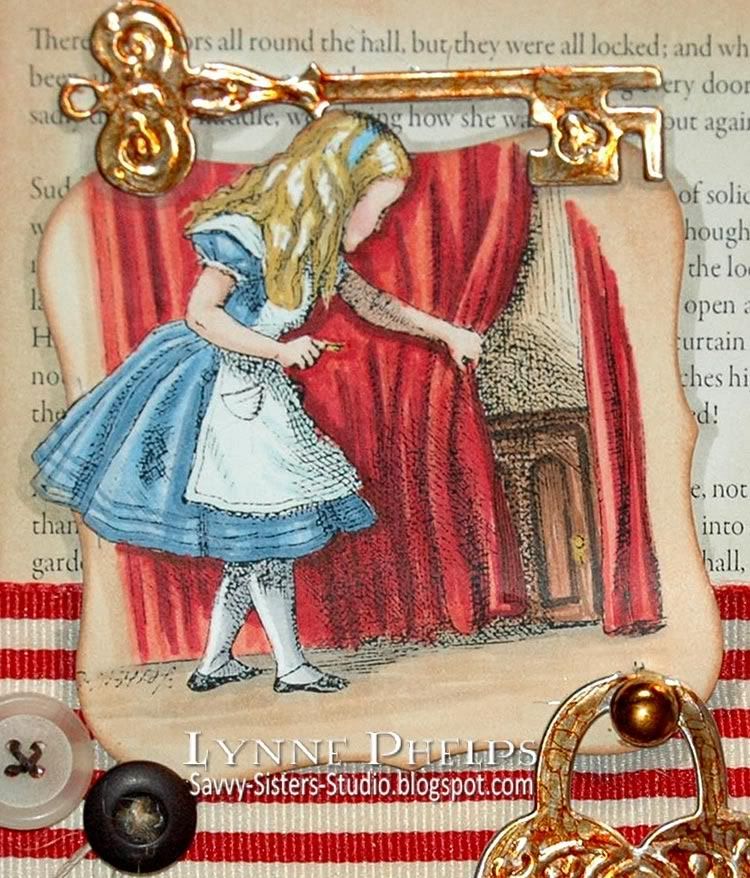 Click to enlarge
Of course I immediately thought of the original Tenniel illustration of Alice trying to figure out how it get through the tiny locked door into Wonderland! I printed the illustration on color laser printer paper with a black and white laser - the toner is heat fused to the paper so it is perfect for coloring with Copics! I then did some creative snipping to allow me to cut it out with a Nestability with her head and skirt extending beyond the die.
Then I glued a piece of heavy aluminum to card stock and die cut and embossed a key and heart-shaped padlock and colored them with Copic markers. I copied the text of this chapter from
Lenny's Alice in Wonderland site
(this is also where I get my illustrations) and set it with an old-fashioned Garamond font to look like book text. I trimmed it out and sponged the whole thing with Old Paper Distress Ink, with Tea Dye color sponged around the edges. I love this touch as I don't actually have a copy of Alice that I'm willing to sacrifice to the cause, LOL! It makes me happy that the text behind my image is actually describing the scene in the image; you know how I love the little details!
Click to enlarge
I glued the psuedo book text to the red card base. The padlock was attached through a hole pierced in the image and ribbon by splitting the brad legs around the hasp of the padlock, then squeezed back together to go through to the back. The back of the ribbon and image were covered with ATG adhesive, as was the key. Twine was laced through buttons which were then adhered with glue dots. A warm gray marker was used to add some shadows around the different elements on the card.
Of course this image is one of my favorites - I used it on the header for my new blog,
The Altered Alice
. Stop by and see some great Alice artwork in this virtual art gallery, and grab the blog badge while you are there! We are on a countdown to Halloween between now and the end of October and I have all kinds of artists lined up for your Alice viewing pleasure!
Check out what the rest of the Oh, Alice design team has done with this gatefold-key-keyhole challenge.
I hope it will inspire you to enter your own new creation using the link system on
Oh, Alice!
Lynne (me!)
And Emma, our Dormouse!
Plus Donna, our amazing October Guest Designer
I hope you enjoy all of our efforts to inspire you! Please leave me a comment before you hop on to your next blog! Your comments are what make all the effort worthwhile!