I have a tendency to hoard patterned paper; after all, if I use it, I won't HAVE it anymore, now will I? So I really love stamping my backgrounds as I can endlessly recreate the pattern, or create endless variations of the design!
My dear little sister Janet (see how cute she is in the left sidebar!!!) has just started a Stampin' Up! business, which you can see at her nifty new blog,
And She's Still Stamping
.
To celebrate the "grand opening" she is offering 15% on all solid colored cardstock, ink, and markers.
Basically, if it is in the Shop by Color section, it's on sale.
Click here
to see the Sale details!
To celebrate the special, I thought I would do some stuff with cardstock and ink, and I have had this design in mind since I first saw the fabulous Artistic Etchings stamp set. Once I had my sheet fully stamped and clear embossed on kraft (Crumb Cake) card stock, I sponged part of it in rich deep Christmas colors and the other part just highlighted with white for a lacy look .
Go to And She's Still Stamping for the details
!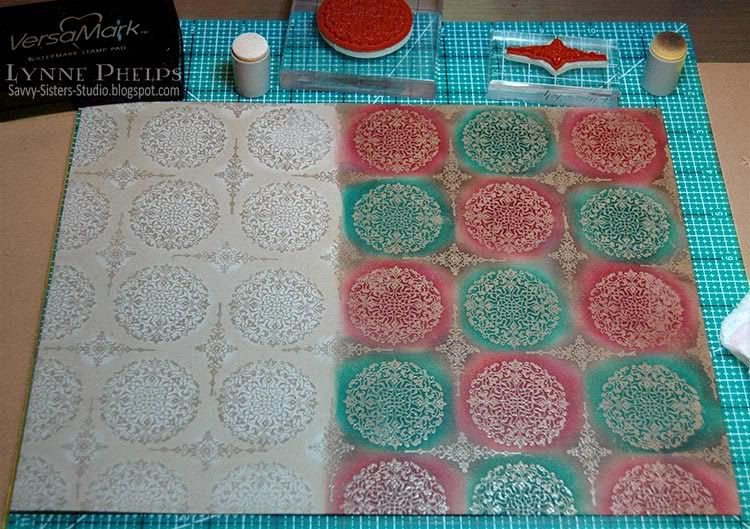 I really love Stampin' Up!'s cardstock. I think they have one of the most sophisticated color palettes out there, and the perfectly matching inks and markers are so cool! I have a big wish list - I know I *need* Cherry Cobbler, which is such a fabulous rich red for Christmas! I LOVE the new Cajun Craze, which is a wonderful paprika color! They brought back River Rock, Pink Pirrouette and Baja Breeze and I'm pretty happy about that too. And Concord Crush is the most amazing deep violet-blue, a really imperial purple! They also have the most inexpensive re-inkers in the business, so I have all the new color family ink spots (love those little ink pad cubes) and refills on my wish list as well. The ink spots are a really inexpensive way to get a ton of colors at a great price.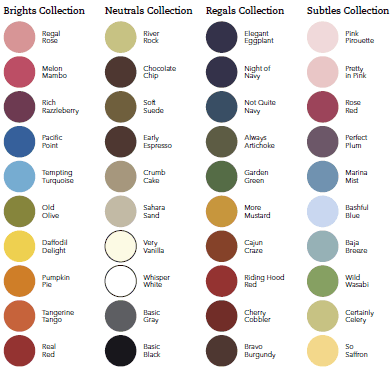 2010 In Colors

Well, I am sure hoping some of you need to stock up on paper and ink with the Christmas card-making season looming ahead! We live in a very small town, so we are hoping to get Janet's SU business launched through the internet with the
Grand Opening Sale
.