Click to enlarge
Alice didn't dare to argue the point, but went on: `-- and I thought I'd try and find my way to the top of that hill -- ' `
When you say "hill,"' the Queen interrupted, `I could show you hills, in comparison with which you'd call that a valley.'
`No, I shouldn't,' said Alice, surprised into contradicting her at last: `a hill can't be a valley, you know. That would be nonsense -- '
The Red Queen shook her head, `You may call it "nonsense" if you like,' she said, ` but I've heard nonsense, compared with which that would be as sensible as a dictionary!' --
-- Ch. 2: Through the Looking Glass
Greetings from Wonderland! Before we commence this week's challenge, LOTS of tea-toasting to our FABULOUS new October Guest at Tea:
DONNA BUDZYNSKI
! Donna's amazing work caught our eye a while back and we are thrilled to have her joining us! A VERY MERRY unbirthday to you, Donna! WELCOME!

This week I am challenging you to use TEXT in a NONSENSE way - not to read, but as a pattern in your card. Use a page from an old dictionary or other book, stamp a background text stamp or use a text-patterned paper in your creation. Link up your NEW CREATIONS and the design team will stop by to do some CREATIVE READING as we look at your entries this week!
The Greeting Farm
is our SPONSOR this week, and not only are we thrilled to have them again, the prize just got sweeter! There is a RUBBER SINGLE OF CHOICE up for grabs for this challenge AS WELL as the highly-sought after "
Wonderland
" digital stamp set!
My Card: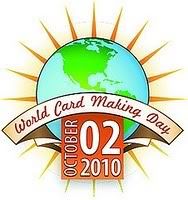 Happy World Card Making Day! I am going out for crafty shopping and brunch with a stamping friend, followed by playtime in her stamp room! Hope you have some stamp-related plans too! I also hope you are enjoying our nonsense text, because this is the very first challenge that I've framed for Oh, Alice! I was thrilled when our Mad Hatter, Jess, asked for input from the design team and even more excited when she accepted this challenge for the blog! I am showing off the wonderful
Wonderland digi stamp set
that is part of this week's prize. The only stamp in the set that I didn't use was the mushrooms, just couldn't figure out how to wedge them into my usual kitchen sink style!
Click to enlarge
I adhered a dictionary page to a piece of white card using a gluestick. I like gluesticks for this application as it does not wrinkle the paper. I put the gluestick on the card and then smooth on the thin paper, then I run over it with a brayer and some pressure to ensure that I have a good bond. I punched my scallop border and sponged around the edges with, of course, Tea Dye Distress Ink!
I printed the images onto color laser printer paper using my black and white laser printer. In keeping with our "text as pattern" theme, I did a little bit of editing to put text into the Mad Hatter's hat, Alice's apron, and the White Rabbit's ears. If you look very closely you will see that the text in each case refers to the character it is on. What can I say; I am easily amused and these little details make me happy! I colored each character with Copic markers, adhered them to white card and trimed them closely with a fine sharp scissors. I also colored the row of cups I had created, adding shadows and coloring the background an eggshell color to match the dictionary paper.
I trimmed the row of teacups and sponged the edges with Tea Dye. I sponged Tea Dye around the edges of the card base, but it needed something - it looked too flat. I stamped a large flourish with Versamark Champagne Dazzle and it was just the touch I needed. I mounted the teacups and scallops with foam mounting tape. I tied the brown gingham ribbon around and tied a knot. Hmmm. Everything was too horizontal. I added a vertical strip of ribbon which really helped, not only be added a vertical element but it also served to connect the teacups and scallops. I arranged my characters this way and that but there was no room for my "Time for Tea" sentiment that I had generated on the computer, no matter how closely I trimmed it. Then I had a brainwave and trimmed each word very closely and adhered one word in the center of each scallop. Perfect! I adhered the three characters with thick mounting foam squares. It still needed something. I added a punched strip of green card stock, sponged with Tea Dye, to the very top of the card. Now it is finished!
Check out what kind of nonsense the rest of the Twisted Tea Party has created for you!
Lynne (me!)
And Emma, our Dormouse!
Plus Donna, our October Guest Designer
Nonsense you say? Believe it! You have through Friday, October 8th at 8pm CST to enter to WIN the above prizes by linking your card at
Oh, Alice!
We'll announce our lucky winner on Saturday, October 9th along with the next challenge. Good luck to all who enter our little Challenge here in Wonderland!
Please leave a comment - I'd love to hear what you think about my card and about the challenge!
Your comments are what make blogging worthwhile and it makes my day everytime a new one arrives! Thanks so much for visiting!
Stamps: The Greeting Farm - Wonderland digi set; Hero Arts - large flourish stamp.
Paper: Stampin' Up! - Mellow Moss card stock; Georgia Pacific - white card stock; HP - color laser printer paper.
Ink: Copic - Sketch markers; Ranger Distress Ink: Tea Dye; Versamark Dazzle - Champagne.
Miscellaneous: Ribbon.
Tools: EK Success - scallop border, pinking hearts border punches.