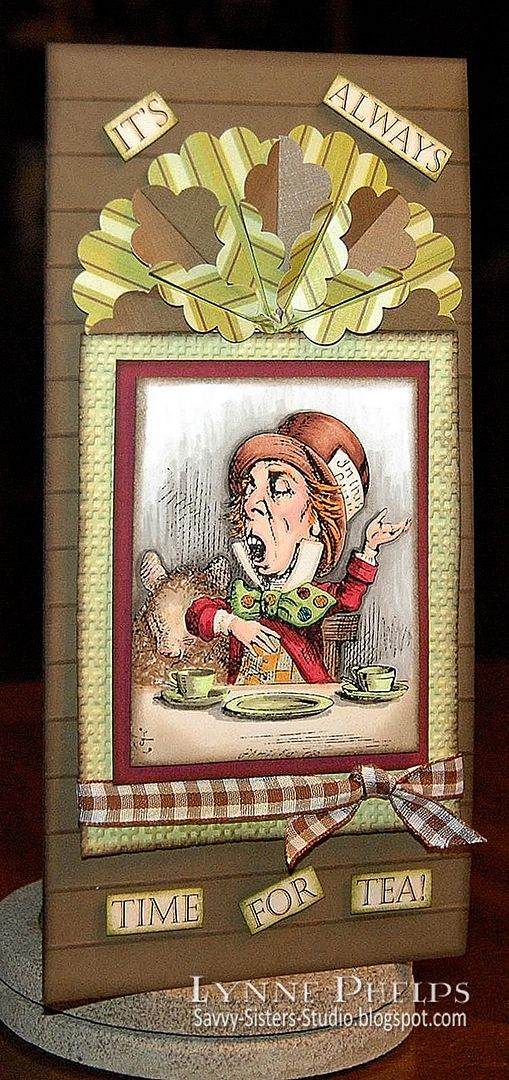 Click to enlarge
`And ever since that,' the Hatter went on in a mournful tone, `he won't do a thing I ask! It's always six o'clock now.'

A bright idea came into Alice's head. `Is that the reason so many tea-things are put out here?' she asked.

`Yes, that's it,' said the Hatter with a sigh: `it's always tea-time, and we've no time to wash the things between whiles.'

`Then you keep moving round, I suppose?' said Alice.

`Exactly so,' said the Hatter: `as the things get used up.'

`But what happens when you come to the beginning again?' Alice ventured to ask.


~Chapter 7, Alice's Adventures in Wonderland
Can you believe summer is fairly over? It's time to change from iced teas over to hot teas. I love autumn and all the wonderful warm drinks, wonderful sweaters and gorgeous colors it brings. In Wonderland, it was perpetually tea time and I could live that life for a long, long time!
Your challenge this week is to explore things that could make up your tea-time activity.
Use tea bag folding in the construction of your project
. This is a great resource:
Tea Bag Folding
(not only do they show the folds, but you can also print tiles at your specified size and color).
Anything relating to time would pair perfectly with this challenge, but isn't a requirement
! Show us your fab folding abilities, doing it Alice-style!
My Card
I thought this image of the Mad Hatter proclaiming during the Mad Tea Party scene was perfect for today's chapter! I had a good bit of fun coloring him in with Copics after printing him on color laser printer paper on my black and white laser. I glue-sticked it to white card, trimmed the panel and edged it with Walnut Stain Distress Ink. I adhered it with mounting foam to a burgundy panel, also edged with Walnut. Then I ran the green layer though the Cuttlebug with a textured embossing folder, edged with Walnut and lightly brushed Walnut over the high points of the embossing to accentuate the relief. I tied some brown and white gingham ribbon around the base of the panel and tied it into a knot.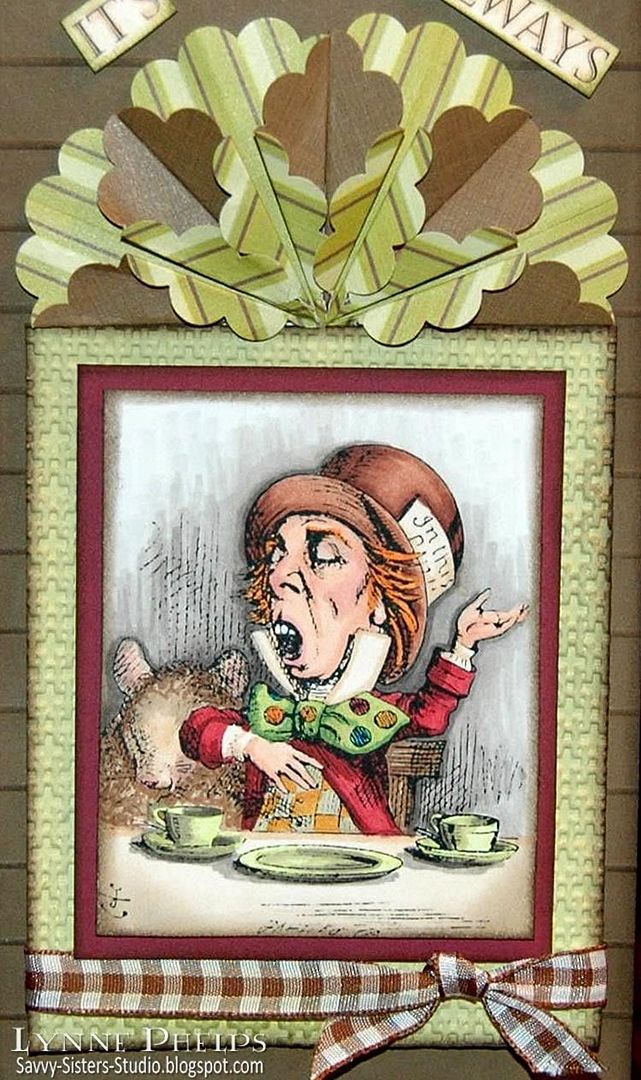 For the teabag folding, I chose to make a half- medallion using four 1¾-inch circles folded in the Dahlia fold. You can see a
dahlia fold tutorial
on Splitcoaststampers. The stripe was a little tricky to work with as I had to be sure the scallops lined up to the stripes exactly the same way each time I punched, but I love the effect it gives as it creates chevrons where the pieces meet! I mounted the four pieces to a circle I had cut out and covered with adesive. The panel had been folding in half in both directions, so the quadrants where clearly marked with the score lines. Then I just had to make sure that each two pieces filled a quarter of the circle. The whole circle had been covered with adhesive and the four dahlia pieces were only covering up half, so the other half of the circle is what is sticking it to the textured green panel. The whole thing was mounted with pop dots onto the base.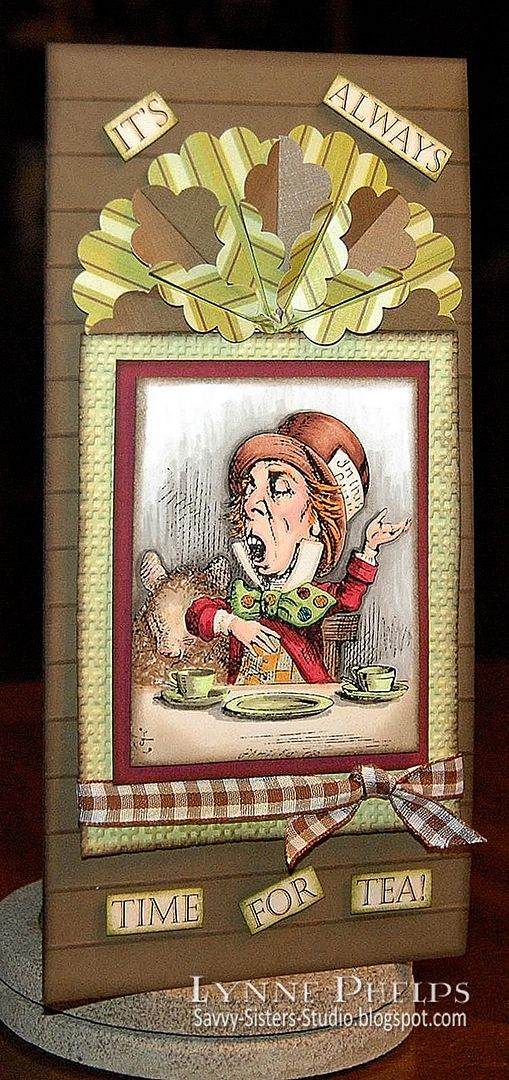 Click to enlarge
The base is an odd shape - The same width as an A4 but longer. The front was scored each half inch, then Walnut was brushed around the edges and across the raised scored lines. I love the look this gives, like clapboards on the side of a building. It makes the whole Mad Hatter panel with the fan above look kind of like an old-fashioned sign, which is the look I was going for.
I have been really inspired by
design team-mate Tasha's
use of single word stickers to make up the sentiments on her fabulous cards! The sentiment was computer generated, colored eggshell with Copics and a bit darker on the letters, then each word was trimmed closely and sponged round the edges with green Peeled Paint Distress Ink. These were mounted deliberately askew on the scored base using foam mounting tape..
Now, here's what the Twisted Thirteen have to inspire you!
Lynne (me!)
Plus Emma, our Dormouse!
And Donna, our October Guest Designer!
Now for some more personal news! Have you noticed that new blog badge in the right column? I'll be making a more formal post about it later, but I couldn't wait to tell about my newest blog,
The Altered Alice
! On our beloved Oh, Alice!, the challenges come FROM Alice in Wonderland and Through the Looking Glass. On The Altered Alice, the artwork must FEATURE some aspect of Alice in Wonderland, and it is
not a challenge blog
but rather an online art gallery of Alice in Wonderland pieces!
There is so much GREAT Alice artwork out there, but it can be hard to find again as you are going from blog to blog. I wanted to make a place where I could showcase great Alice artwork by various artists, and also to centralize the links into a big virtual art exhibit! I have already had a GREAT reception in less than a week of being live. I have some AMAZING Alice projects by several wonderful artists and lots more is on the way! I hope you will visit and be inspired! Several of the artists have played in the Oh, Alice challenges before, and more Oh, Alice! players will be featured soon. Please take a look, it is a labor of love and I hope you will enjoy it!
Please leave me a comment, they mean the world to me! I'd love to hear what your thoughts are on tea bag folding, my card, mad tea parties, drinking hot tea (I'm a PG Tips addict!), and The Altered Alice!
Stamps: Free alice digi from Lenny's Alice in Wonderland site, computer generated sentiment.
Ink: Copic - Sketch markers; Ranger Distress Ink - Walnut Stain, Peeled Paint.
Miscellaneous: Gingham brown & white ribbon
Tools: 2-inch scallop circle punch; Stampin' Up! - Square Lattice embossng folder (available through my sister!!!); Ranger - Inksentials Blending Tool and foam pads.