Click to enlarge
"They don't keep this room so tidy as the other,' Alice thought to herself, as she noticed several of the chessmen down in the hearth among the cinders: but in another moment, with a little `Oh!' of surprise, she was down on her hands and knees watching them. The chessmen were walking about, two and two!

`Here are the Red King and the Red Queen,' Alice said (in a whisper, for fear of frightening them), `and there are the White King and the White Queen sitting on the edge of the shovel -- and here are two castles walking arm in arm..."
--Ch. 1: Through the Looking Glass
The challenge this week is again the brainchild of DT member Lynne (me!) - to use some aspect of the game of chess! You might want to use a checkerboard pattern, or feature a King, Queen, Knight or Castle (Rook), or some other aspect of the game we haven't thought of - we just need to be able to clearly see CHESS in your creation!
We are THRILLED to announce that there's a prize this week, too! Thanks to our generous sponsor,
PAPER MANIAC
, we are giving away a set of Artistic Outpost Alice in Wonderland mini-stamps AND a sheet of E.A.D. Designs Stickerz! How awesome is that?
My Card: Sometimes you play the GAME, and sometimes the game plays YOU!
I almost used
the image
which actually illustrates this week's chapter today, but I kept coming back to this image of the king, so indignant and outraged when Alice scooped him into the air! I printed out the image of the king and the knight and colored them with Copics. I used a glue stick to adhere the colored images to white card stock and trimmed them out.
Click to enlarge
The card is kraft card stock (PTI). I did not have a checkerboard stamp, but I thought the diamonds (Stampers' Anonymous) resembled a checkerboard viewed from an angle! I stamped the chess pieces (Hampton Arts), trimmed them out and glued them to th ebackground. The knight and king were popped up on thick foaam mounting tape, but I used glue to stick the edges down flush to the card. I did not have a sentiment to go, and I don't know if I heard this one before or not, but I thought it captured the way the king feels! I wrote it down on a piece of punched and sponged card stock. For embelliishment, I made a sailor's knot, adhering it to the card with fast grab tacky glue.
Here's some inspiration from the DT before we 'pawn' you off on your own to create this week:
Lynne (me!)
And Emma, our Dormouse!
Plus Donna, our October Guest Designer
Checkmate! Have YOU met your match? You have until FRIDAY, October 29th to enter your creation on Oh, Alice! and throw your hat (or should I say, crown?) in the ring for this awesome

PAPER MANIAC prize this week!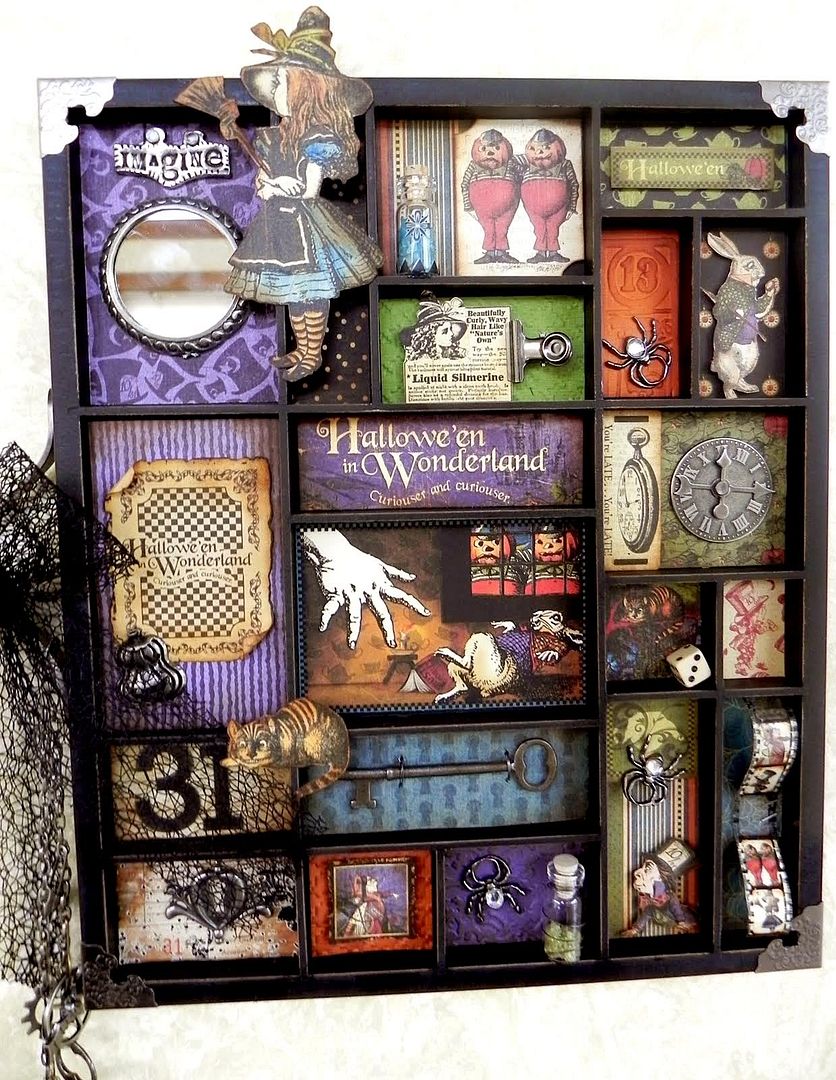 Also, there is amazing Alice blog candy on The Altered Alice.
Go take a look to see how you can enter for a chance to win this incredible Printer's tray, created by Donna, our October guest designer! You have until Oct. 30 to enter the drawing, winner announced on Halloween! Be sure to hurry on over, don't be late for this important date!
Please leave me a comment, they really make my day!