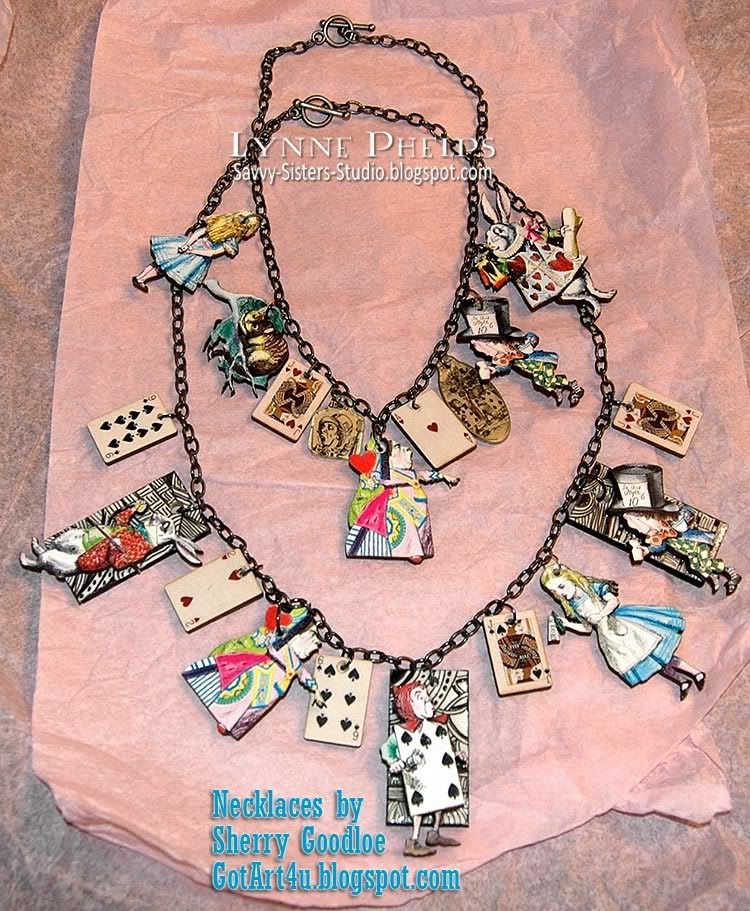 `Let's go on with the game,' the Queen said to Alice; and Alice was too much frightened to say a word, but slowly followed her back to the croquet-ground.

The other guests had taken advantage of the Queen's absence, and were resting in the shade: however, the moment they saw her, they hurried back to the game, the Queen merely remarking that a moment's delay would cost them their lives.

All the time they were playing the Queen never left off quarrelling with the other players, and shouting `Off with his head!' or `Off with her head!' Those whom she sentenced were taken into custody by the soldiers, who of course had to leave off being arches to do this, so that by the end of half an hour or so there were no arches left, and all the players, except the King, the Queen, and Alice, were in custody and under sentence of execution.
Welcome back to the land of wonder and where the saying, 'Off with her head' is a regular statement! Well here in wonderland this week, that is exactly what we want you to do. This week we want you to take your stamps and yep you guessed it,'Off with their heads'. So we are asking you to alter your stamps and mix it up a little by giving them a new head or body. Ohhh this is going to be sooo much fun seeing what you come up with!!!
Well, I have to admit that I did not come up with anything at all, but I did spend a good bit on my two newest treasures so I thought I'd share them with you! I have another blog, The Altered Alice, which features various artists and their Alice in Wonderland creations. Someone suggested I visit
Sherry Goodloe's "Got Art?"
blog because of her mixed media necklace workshops and her own necklace creations, some of which feature Alice in Wonderland! I won't say too much as I'll be featuring her on The Altered Alice a little later, but I asked her to let me know if she rounded up anymore Alice charms or necklaces. I was THRILLED when she emailed me to say she had just added two necklaces to her Etsy store. I couldn't decide so I bought BOTH, LOL!!! I figure they are great as my inspiration for this week's Off with their heads challenge as they feature the Queen and they are worn around the neck!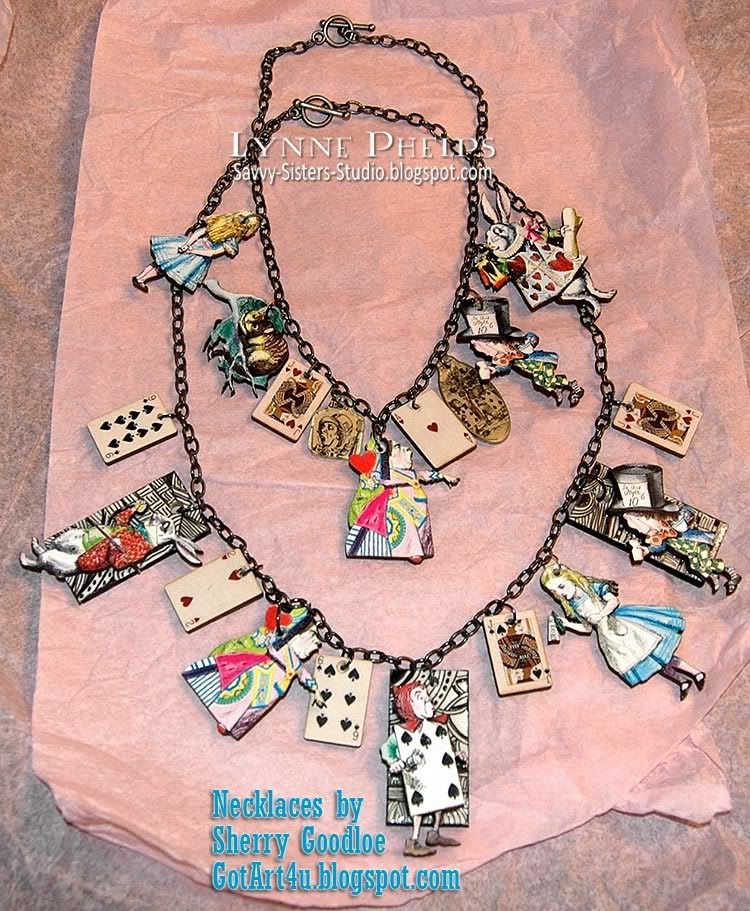 I also finally got LAST week's challenge entry completed, which uses "Mad Fancy," one of the whimsical creations of Maigan Lynn that was provided to the design team as black and white line art by last week's generous sponsor! The challenge, besides the coloring of this fantastically detailed image, was to use a butterfly. Better late than never, right?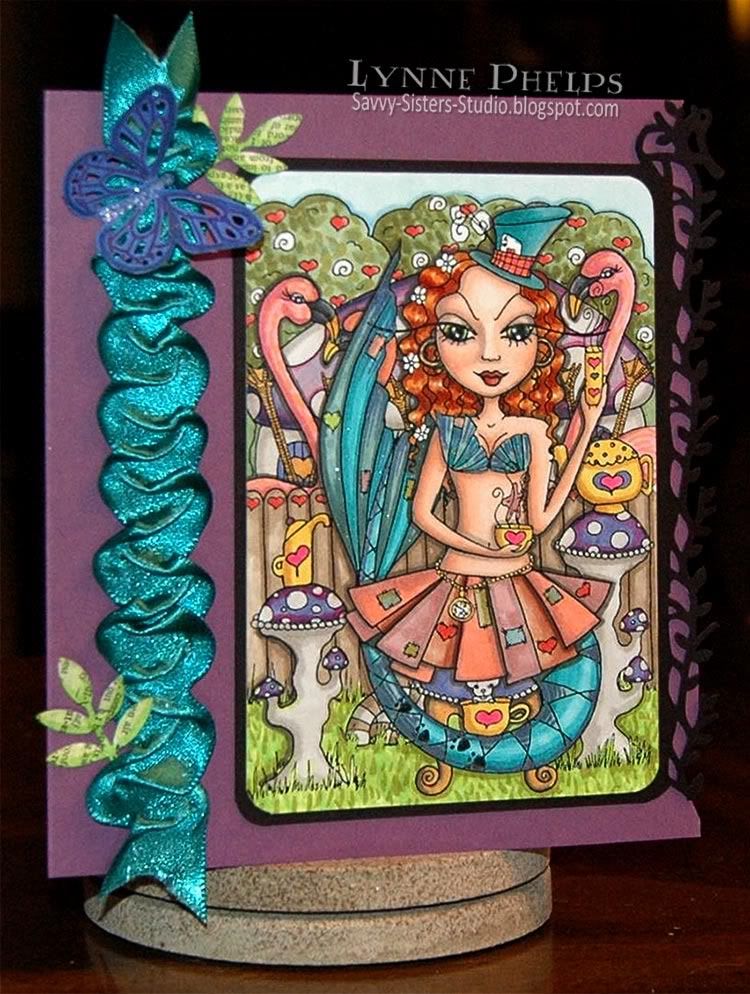 Coloring Tips:
It was quite a job - a fun job! - to color in this image as the foreground, focal point, and background are all equally detailed. I had a lot of shading within each area but it was all just merging together into a bright pattern. To help the viewer to focus where I wanted them to, I outlined just outside major elements with a dark warm gray (W7) which helped to lift key elements out of the background. You can see the outining better on this closeup; look around the flamingoes, mermaid, skirt panels, and mushrooms. I can't tell you how much it helped to add depth of field to this charming, hectic image! Then to lift the mermaid even more, I colored her tail and shell top with glitter pens in clear and dark blue. I wish you could see all the shimmer, she really gleams!

Check out the other amazing creations by the design team, you won't be disappointed! There were some very creative submissions to this week's challenge!
Lynne (me!)
And Traci, our Nov./Dec. Guest Designer
And be sure to submit your own creation for a chance to win a SCORE-BUDDY from the lovely people at
Srappin' Great Deals
!!!. So go chop off some heads for your chance to win this awesome prize. You have until the 3rd of Dec to enter your creation at
Oh, Alice
!
Please leave me a comment before you go, I love hearing from you!
It has been so busy I have not had much time for blogging, and I have missed you terribly!