'Tickets, please!' said the Guard, putting his head in at the window. In a moment everybody was holding out a ticket: they were about the same size as the people, and quite seemed to fill the carriage.

`Now then! Show your ticket, child!' the Guard went on, looking angrily at Alice. And a great many voices all said together (`like the chorus of a song,' thought Alice), `Don't keep him waiting, child! Why, his time is worth a thousand pounds a minute!

`I'm afraid I haven't got one,' Alice said in a frightened tone: `there wasn't a ticket-office where I came from." And again the chorus of voices went on. `There wasn't room for one where she came from. The land there is worth a thousand pounds an inch!'
-- Chapter 3, Through the Looking Glass
Greetings friends in Wonderland! We are FULL STEAM AHEAD into November and today's
Oh, Alice!
challenge is JUST the ticket! Our ride this week is sponsored by our own
Tasha who is generously donating a $15 gift certificate to Stamping Bella
(in honor of their cute
new Alice stamp
) to one randomly selected winning traveler!
But before we get started, there are some changes at our twisted tea party table!
We are bidding farewell to longtime design team members
Jen
and
Suzi
, so please leave them some extra love as you visit their last Oh, Alice! DT posts. We will really miss their superb talents!
Donna
, our amazing October guest designer, is stepping up to the table so we are back to our twisted thirteen. Welcome Donna, we are so glad you are staying where it's always time for tea! Be sure to check back next week for to find out who our guest designer will be for the holiday season!
So, do you have YOUR ticket ready for a ride on the Wonderland Express?
I am the conductor this week and I say you can't travel with Oh, Alice! if you don't show us your ticket! You can make a ticket, use a ticket stamp, use a real ticket. Use one ticket or a whole row of tickets! So hop on it and get ready to take a journey through Wonderland!
She's Got a Ticket to Ride!
As I was making my card the Beatles song kept playing in my head. Luckily it's a good tune because I'm not sure how long it will take to get it out! I had to use the Tenniel illustration from just a few minutes later in this week's train scene.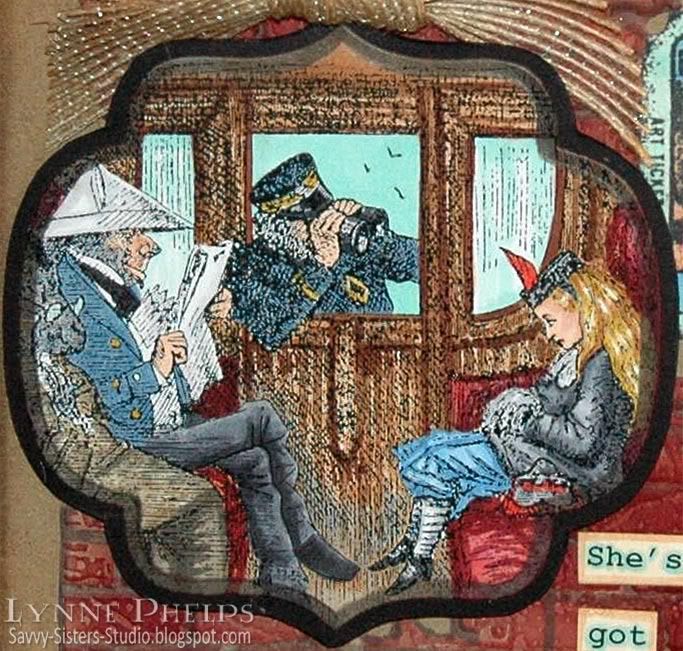 Click to enlarge
I printed the image onto color laser printer paper using a black and white laser. The toner is fused onto the paper with heat, so this method is perfect for coloring with Copic alcohol markers! I then used a glue stick to adhere the colored image to white card stock and I cut and embossed it with a Label 9 Nestie. I ran a warm gray marker around the embossed rim to empasize it. I wanted another mat, but this was the largest nestie in the set. My usual technique when I need a mat for the label nesties is simple: I took the same sized nestie that I used to cut out the image, and used a pencil to trace around its outer perimeter with a pencil onto the black card stock and cut it out. This gives the perfect sized mat every time with any label nestie! I got that tip from Becca Feeken of
Amazing Paper Grace
who is the ultimate queen of nesties!
Next I stamped the tickets onto cream card and colored them with Copics and cut them out. I colored the computer generated sentiments with Copics and glued them to white card stock and cut them out.
Next I used my new treasure - the brick embossing folder! I used it on kraft card stock and colored the grout lines with medium gray Copics, then sponged with Tattered Rose and Aged Mahogany. I trimmed out the brick areas and glued it in two sections onto my 5x7 inch kraft card base using Fast Grab Tacky Glue. I sponged the edges of the kraft card base with Walnut Distress Ink. Then I assembled everything on top of the bricks, and I wish you could see all the dimension! The matted image panel is adhered with 1/8-inch thick pop dots. The tickets and "The Wonderland Express" are mounted with 1/16-inch foam tape. The cut-out typewriter style words are adhered with Fast Grab Tacky Glue. The finishing touch was a knot of wonderful jute ribbon I found at Wal-Mart, adhered with the same glue.
Get more inspiration from the rest of our Twisted Tea Party:
Donna (promoted from October Guest Designer to full-time design team)
Emma (promoted from Dormouse position)
Jen (last week - farewell!)
Lynne (me!)
Suzi (last week - farewell!)
It's time for you to get those tickets ready so you can travel with us on the Wonderland Express! You don't want to be left behind as this train leaves the station, so
enter your new creations by 8 p.m. on Friday, Nov. 12 at Oh, Alice!
Good luck, or maybe we should say Bon Voyage, as we can't wait to see where your creations will take us!
Please leave me a comment before you go. Also, there is still time to leave a comment on
THIS
post for a chance to win a "Let's Communicate" digi stamp set!
This is the stamp set I got to design with Amber as my prize for winning the top place in the Amber Ink Challenge!
Stamps: Alice digi from Lenny's Alice in Wonderland site; Invoke Arts - ticket stamps.
Ink: Memento - Tuxedo Balck; Ranger Distress - Tattered Rose, Aged Mahogany, Walnut Stain.
Paper: Recollections - 5x7 inch kraft card and envelope; Papertrey Ink - kraft card stock; Stampin' Up! - black card stock; Georgia Pacific - white card stock; HP - color laser printer paper.
Miscellaneous: Wal-Mart - Jute Ribbon.
Tools: Tim Holtz embossing folder; Spellbinders - Label 9 Nestabilities; Ranger - Inksentials blending tool and foam.
All Stampin' Up! items can be ordered through my sister - please visit her blog to order