Remember I had offered a digi stamp set of my challenge winner set,
Let's Communicate
, in honor of my Dad's birthday?
There were 17 comments on that blog post and Random.Org selected #14, which corresponds to Sammi!!!
Sammi, please contact me within a week and I will send you instructions on how to get your download from the Amber INK store!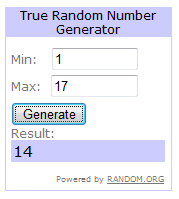 Sammi said...
Happy Belated birthday to your Dad! I just love the cards you've been making with this set! Well.. If I used this set I think I would make lots of birthday cards for friends.. and I think I would have to try CASEing your card where she looks just like Jess! LOL!
(hugs)
xxx
I hope Sammi does make lots of birthday cards and I would love to see them on her blog,
Stuff by Sammi
; I'll be watching to see what happens! Here are three cards I made with the set, for inspiration! Clicking on an image will take you to the original post:
Congratulations Sammi, I look forward to hearing from you!