LADY dear, if Fairies may
For a moment lay aside
Cunning tricks and elfish play,
'Tis at happy Christmas-tide.
We have heard the children say—
Gentle children. whom we love—
Long ago, on Christmas Day,
Came a message from above.
Still, as Christmas-tide comes round,
They remember it again—
Echo still the joyful sound
"Peace on earth, good-will to men!"
Yet the hearts must childlike be
Where such heavenly guests abide;
Unto children, in their glee,
All the year is Christmas-tide!
Thus, forgetting tricks and play
For a moment, Lady dear,
We would wish you, if we may,
Merry Christmas, glad New Year!
Christmas, 1867.
Welcome down the rabbit hole once again my friends! DT sister Erin found this poem by Lewis Carroll in the back of a copy of Through the Looking-Glass and What Alice Found There. In researching the history of this poem, Erin found the
The Lewis Carroll Memorial Window
at Daniell Chapel in England.
The 3 center panels contain verses from the Lewis Carroll poem used as today's inspiration! The window was designed by the stained glass artist Geoffrey Webb and depicts a Nativity scene. This is a must see for anyone that loves Wonderland. Notice Lewis Carroll and Alice in the left panel, and the bottom section of each panel includes characters from Wonderland - the White Rabbit, Dodo, the Caterpillar, Mad Hatter, and more!
For our Oh, Alice! challenge this week let's get into the Christmas spirit. The challenge is to use red, green, + one color.
You can still use other colors for hair and skin. Just make the main use of color red, green, + one.
Our wonderful sponsor this week is Pixie Dust Studio. The lucky winner will win their choice of 2 digital images.
My "Touch of Depp" Card
I am using one of the charming
Pixie Dust Studio Wonderland images
called "A Touch of Depp" and it is so much fun to color - and how can you go wrong with a Johnny Depp inspired image! I printed this Mad Hatter image with a black and white laser onto color laser printer paper and colored with Copic markers. I tried to match the look of Johnny Depp in the Alice in Wonderland movie, but shifted his outfit into various colors of rich reds and greens in keeping with today's challenge. I also made the sentiments and banners on my computer and printed and colored them the same way. I covered the back of all my colored images with glue stick and adhered them to cheap white card stock and trimmed them out.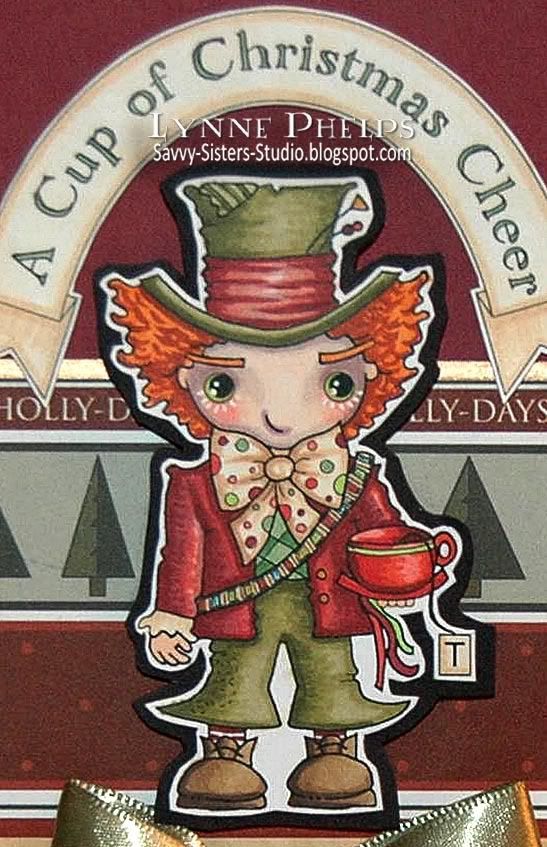 Click to enlarge
My colors were inspired by this great patterned paper from
Nikki Sivils
. I love the rich muted colors of this
Happy Holly-Days
Christmas collection, and this page of border patterns was the inspiration for this week's card. To help the Mad Hatter stand out better against the bold prints, I mounted my cutout on black and then trimmed it again and mounted it with pop dots. The banner sentiments were adhered with foam mounting tape that gives it dimension but not as high as the pop dots.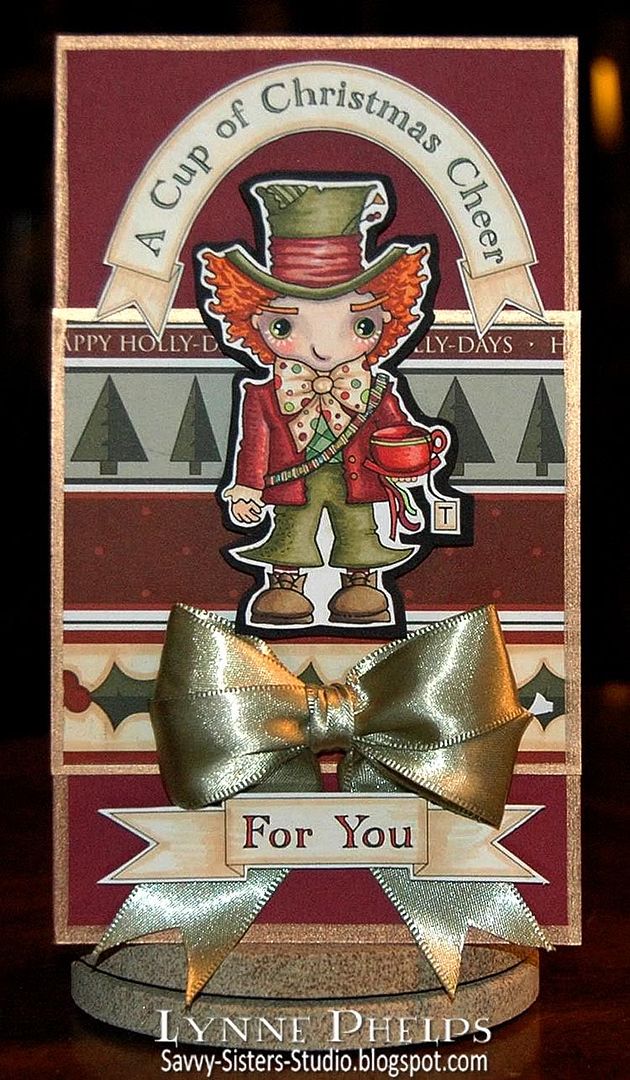 Click to enlarge
Finishing touches included rimming all the edges with a Krylon Pale Gold Leafing Pen, and a double-looped bow of soft sage green satin ribbon made on my Bow-Easy.
Now let's see what the rest of my design team sisters have created for you this week!
Lynne (me!)
And Traci, our Nov./Dec. Guest Designer
So get your Santa hat on, turn on your favorite holiday music and get crafty for your chance to win your choice of 2 digital images!
You have until 8 p.m. on Friday the 17th of Dec to play along by entering your creation at Oh, Alice!
Please leave me a comment, they really make my day!