"The Caterpillar was the first to speak.
`What size do you want to be?' it asked.
`Oh, I'm not particular as to size,' Alice hastily replied; `only one doesn't like changing so often, you know.'
`I DON'T know,' said the Caterpillar.
Alice said nothing: she had never been so much contradicted in her life before, and she felt that she was losing her temper.
`Are you content now?' said the Caterpillar.
`Well, I should like to be a LITTLE larger, sir, if you wouldn't mind,' said Alice: `three inches is such a wretched height to be.'
`It is a very good height indeed!' said the Caterpillar angrily, rearing itself upright as it spoke (it was exactly three inches high).
`But I'm not used to it!' pleaded poor Alice in a piteous tone. And she thought of herself, `I wish the creatures wouldn't be so easily offended!'
`You'll get used to it in time,' said the Caterpillar; and it put the hookah into its mouth and began smoking again..."
Hello! How is everyone here in Wonderland today? We are sizing up a GREAT sketch by JEN and the main panel just HAPPENS to be
THREE. INCHES. TALL.
:) Now, of course you don't have to stick to this if your image won't fit, but we didn't want to anger Mr. Caterpillar by saying that Three inches wasn't a respectable height, so here's the sketch:
Now, I have to admit that my dimensions are not the same as Jen's sketch, but I am using the original Tenniel illustration of this conversation to show due respect to Mr. Caterpillar! Also, as a nod to the final scene in the new Tim Burton movie, I have included Absolem the caterpillar after he metamorphed into the blue butterfly. After the excesses of last week, there is not one bit of embossing or punches on the whole thing!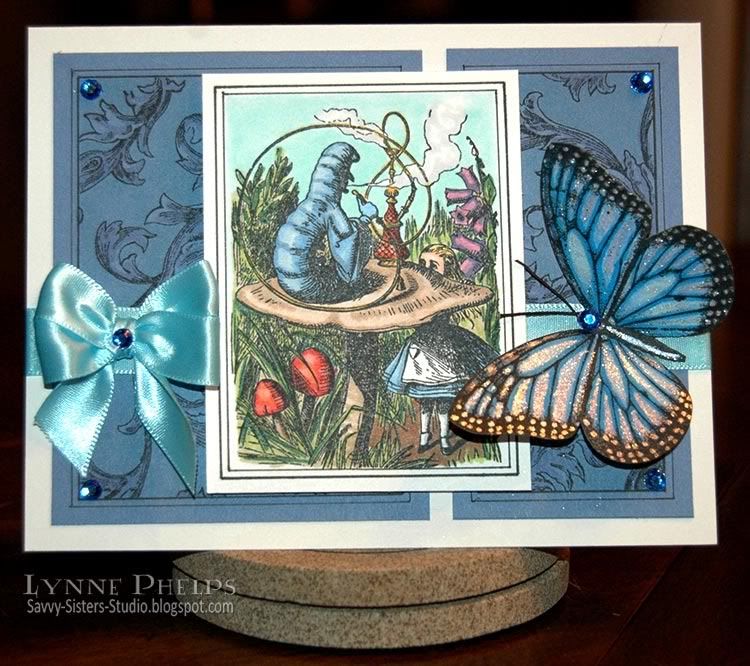 Click to enlarge
I started by stamping the image on white card and coloring it with Copics. I love this illustration, don't you? Then I trimmed it and outlined it with two different widths of multiliners to give it a bit of a border. I wanted to do the same thing to the background panels to give it some consistency. After I drew the double outlines around the blue panels, I masked the edges with Post-it notes and stamped an antique background design in the center of the panels. I thought the pen and ink style of the background stamp with its hatched shading was a good match for the style of the illustration. Click to look at the bigger version to see better. It looked a bit flat, so I colored a blue green in the background and a violet on the swirling leafy flourishes. It is a very subtle tone-on-tone alteration but it adds depth and interest to the otherwise flat background panels.
I adhered the background panels then ran an aqua blue ribbon around the card front - the ends are taped under the image. The background blue matched the caterpillar, and the ribbon matches the sky so it provides a nice balance! I made a double-looped bow on one side, then I stamped and colored the butterfly on a scrap of white card. I shaded the veins of the wings with deeper blue and colored the centers light blue and violet. The center of each veined area was highlighted with a clear Stardust Gelly Roll pen, love the shimmer! I colored the highlight on the body with a dark blue Stardust pen. I attached the main image with foam mounting tape and used Glue Glider to attach the body only on the butterfly, lifting the wings to give it dimension.
It still looked like it needed something, so I colored some self-adhesive rhinestones with a dark blue Copic marker. I put one in each outer corner of the background panels. I cut some very fine black hemp twine and stuck it down under another blue rhinestone for the butterfly head and antennae. I had more left that I'd colored, so I stuck it in the middle of the bow. Not sure about that last bit of bling!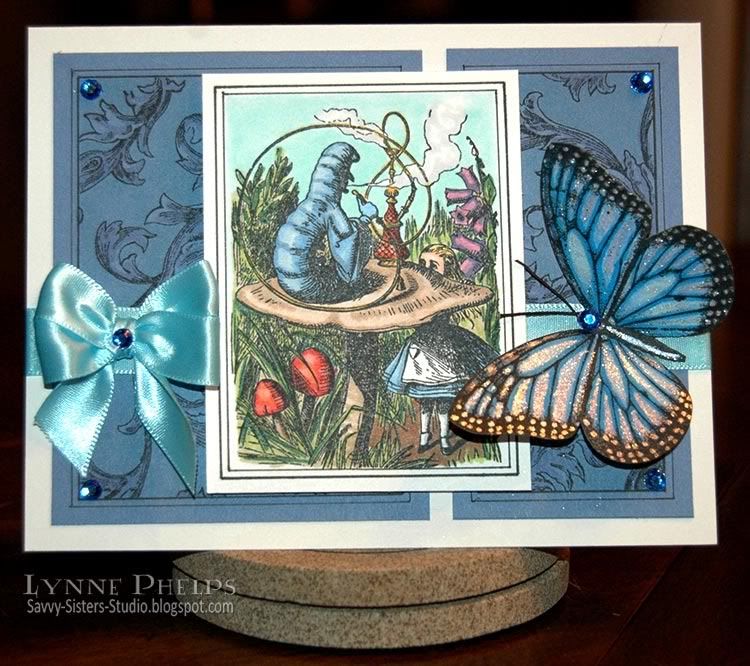 Click to enlarge
I hope you will play along by submitting your creation on the
Oh, Alice! blog
.
It is always fun to see what others do with the same sketch, so be sure to visit the other members of the Oh, Alice! team for more inspiration from our Twisted Tea Party:
I hope you like my card! Not quite so OTT as many others; I was going for a more tailored architechtural style with the lined panels. Of course I couldn't achieve a minimalist card to save my life, so it's still not too plain!
Leave me a comment and let me know what you think; it makes my day when I hear from you!
Stamps: Nature's Blessing - Caterpillar stamp; Stampin' Up! - Wonderful Wings, Antique Background.
Paper: Value Pack - white 5x6.5 inch card and envelope; Stampin' Up! - blue card stock; Beckett - Radience (white) card stock (for coloring with Copics).
Ink: Memento - Tuxedo Black; Copic - Sketch markers, Multiliner SP pens; Sakura - Stardust Gelly Roll pens in clear and dark blue.
Miscellaneous: Ribbon; Paper Studio - adhesive rhinestones; Black hemp twine.
Tools: Tim Holtz - Design Ruler; Bow-Easy.