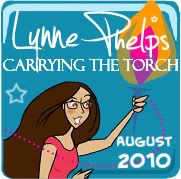 Check out the name on this custom design team badge! I have been invited by the brilliant (but not patient) Amber to carry the torch for
Amber Ink
for the month of August! Amber Ink features digital stamps, digital "iPaper" and clear stamps. We are saying farewell to
Karin Martin
,
Nicole Anderson
,
Patricia O'Hagan (Pinky)
,
Suzi McKenzie
, and
Taylor Usry
.
Shannan Tuebner
, the design team co-ordinator, is providing some continuity as we welcome the August leg of the th(INK) Tank relay!
We are starting the sneak peeks for the August release. Today I am sharing three darling first-day-of-school kiddos that will be available in the Amber Ink shop on August 20th. It is so much fun working with digital stamps because you can do all the compositing of images without having to do any masking. This card includes New Girl, Gossip Girl, and the Turned Head Boy; I don't know their official names yet!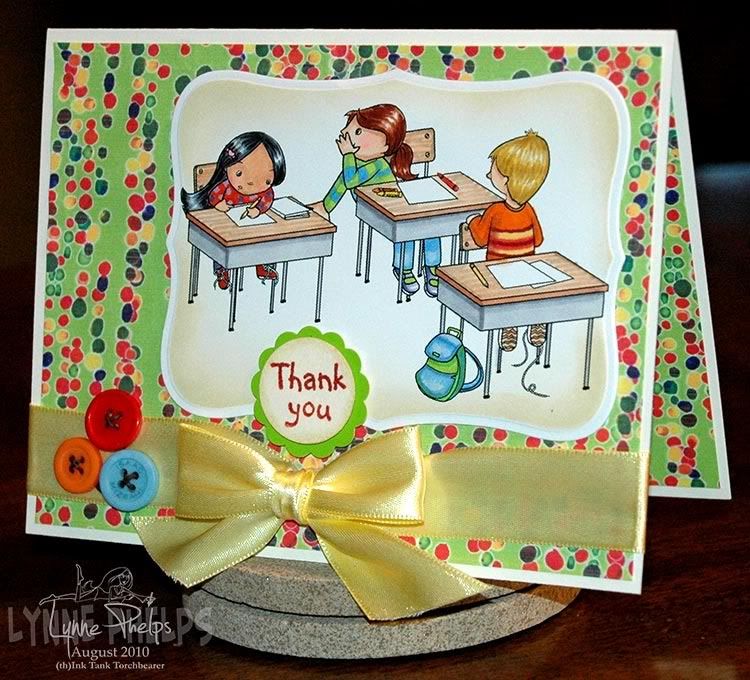 Notice that fun background paper! Amber has wonderful
iPaper designs
that coordinate with each of the stamp lines, or you can mix and match! This design,
Clutter Dots-Green
, is actually from
The Little Top Collection
of circus-inspired designs, but I thought the primary colors really suited my first-day-of-school kiddos! Another really different feature is each design is available in three levels of brightness from full strength, as shown above, Whisper, which is paler, and Hint which has the faintest pattern.
I put my three kiddos together in Photoshop. The first thing I like to do with digital images is to select only the background and delete it, so the inside of each kiddo and desk, etc. still has white inside. I then save the files as a PNG, which allows transparency, as opposed to a JPG or TIF which does not. This makes it so easy to put the images together. I create a new 300 dpi document that is 8x10.5 inches (letter-sized minus a quarter inch margin all the way around) then I copy or place each PNG file into the new file. It is easy to rearrange them, and I can change the order of what is in front or in back. Because each image is solid and the background is clear, there is no special masking needed.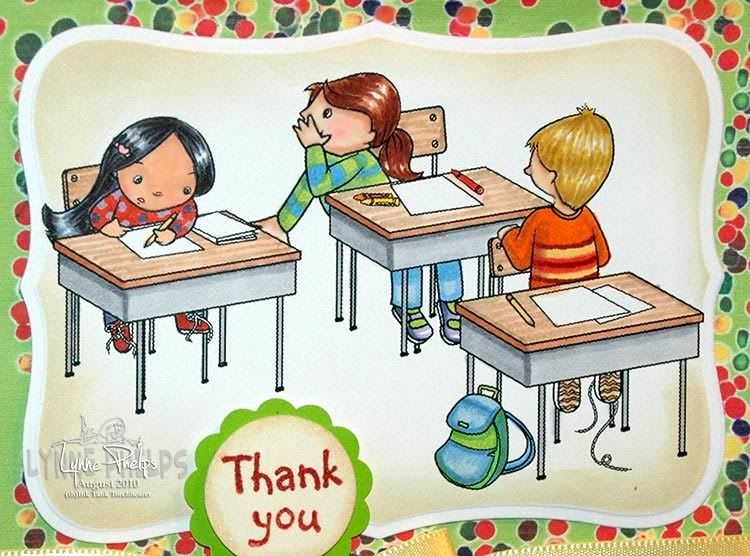 I fill up the whole page with images, and it makes it easy to judge how to size each one and how much space to leave. I like to print on my B&W laser printer onto color laser printer paper. The laser printer fuses the toner onto the page with heat, so the markers will not smudge the ink. The color laser printer paper is ultra smooth and thicker than regular copy paper, and it is easy to blend Copic markers and so much less expensive that a good quality card stock, plus it takes a lot less ink to saturate the paper. I die cut the image and sponged around the edges while it was still in the die.
After that I just added ribbon, buttons, and a thank you sentiment. Remember to recycle - the bright green scalloped circle behind the sentiment is punched from a Windstream DSL broadband flyer that came in the mail! I think this would make a fun teacher thank you card, and with a different sentiment it would make a fun birthday card, invitation, or thinking of you card.
Challenges:
The challenge is "Back to School" at


"Anything Goes" is this week's challenge at



And "Create a Scene" is the challenge at Stampin' B's Design Team
Hope you liked my first-day-of-school kiddos, and I'll be sneaking peeks at another Amber Ink stamp collection in a couple days! Please leave a comment, I LOVE hearing from you!