"After a time she heard a little pattering of feet in the distance, and she hastily dried her eyes to see what was coming. It was the White Rabbit returning, splendidly dressed, with a pair of white kid gloves in one hand and a large fan in the other: he came trotting along in a great hurry, muttering to himself as he came, `Oh! the Duchess, the Duchess! Oh! won't she be savage if I've kept her waiting!'
Alice felt so desperate that she was ready to ask help of any one; so, when the Rabbit came near her, she began, in a low, timid voice, `If you please, sir--' The Rabbit started violently, dropped the white kid gloves and the fan, and skurried away into the darkness as hard as he could go..."
~Alices Adventures in Wonderland, Chapter 2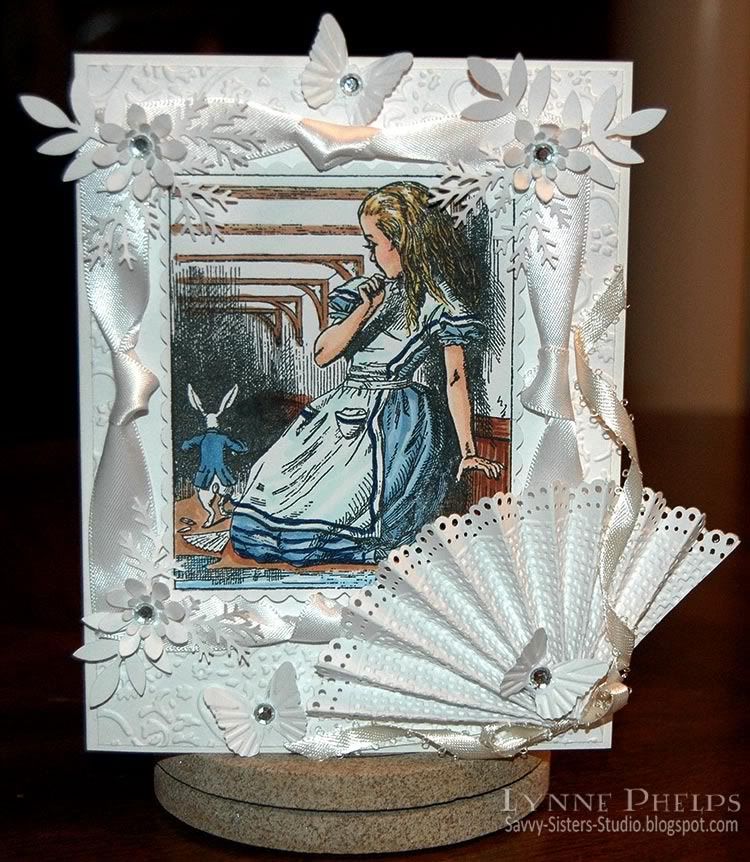 Click to enlarge
We are back in the WHITE heat of August with another fabulous challenge for you today! This week at Oh, Alice we are trying to BEAT that heat, and you know, they say you shouldn't wear dark colors this time of year to keep cool! In the spirit of that, along with our WHITE Rabbit and his WHITE kid gloves, guess what our challenge is for you today? That's RIGHT. WHITE WONDERLAND. And we're not talkin' about Christmas! Your mission today, should you choose to accept it is to create (WITH the exception of your main image panel) an ALL WHITE card or project!
We have some fun news today and before we go I'd like to thank
EMMA EADS
for being our July Guest Tea Party member. You did an WONDERFUL job, and we are gonna miss you here on the team! Since it's the beginning of the month, we are also excited, as it's time to welcome
STEPHANIE JONES
as our August Guest! Stephanie is SUPER excited to be a guest at our twisted table and we are so happy to have her!
We are also THRILLED to announce a standing sponsorship today with
Tickled Pink Stamps
! Kellie has offered Oh, Alice a generous monthly sponsorship and we are thrilled to be able to give away such wonderful images to our awesome fans and players! Tickled Pink Stamps is offering 1 RUBBER LOLITA of choice to one lucky winner this week!
Here is my White Wonderland card. As you can see, I have gone for my signature OTT (over the top) style again! I lived in New Orleans for 25 years, so when I think of gloves and fans it brings back memories of elaborate Mardi Gras balls and the royal courts of the carnival krewes. Hence the very ornate, elaborate OTT style of this card!
I could not resist using this image of the White Rabbit running away after he dropped his gloves and fan! I stamped it with Memento and colored it with Copic markers.
For my card this week, I have one thing to say: Cuttlebug! With only one color to work with, I went over the top with TEXTURE via Cuttlebug embossing folders. I also made a
Waltzingmouse-style mitered ribbon border
to frame the main image, although it was partly covered by punched flowers and foliage. I punched a strip with a lace border and embossed the remainder, then scored it every half inch. I punched the base of each scored section with a hole punch and ran a ribbon through to gather it up into a fan. Bling was added to the flower and butterfly centers and it was done!
Since Alice's pinafore is white and there's loads of embossing, I have entered this in
Here's some more inspiration from our twisted tea party:
Well, it's time to STOP treating these challenges with kid gloves and get crackin! You have until Friday, August 13th (our FAVORITE number!) at 8pm CST to enter your creation on the
Oh, Alice! blog
. Good luck!
I have to tell you, I only blog to get your comments, so please leave me some love! I can't thank my readers enough for taking the time to make this effort so much fun!
Stamp: Nature's Blessing.
Paper: Georgia Pacific - white card stock.
Ink: Memento - Tuxedo Black.
Miscellaneous: Ribbon; Adhesive Rhinestones.
Tools: Cuttlebug - Textile, Stylized Flowers embossing folders; Stampin' Up! - Square Lattice embossing folder; Martha Stewart Crafts - Butterfly, Branch and Foliage punches; Marvy - small and medium Daisy punches; Scalloped edge scissor.