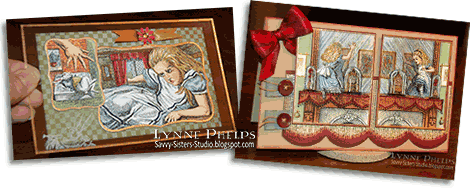 `Now tell me, Pat, what's that in the window?'
`Sure, it's an arm, yer honour!' (He pronounced it `arrum.')
`An arm, you goose! Who ever saw one that size? Why, it fills the whole window!'
`Sure, it does, yer honour: but it's an arm for all that.'
`Well, it's got no business there, at any rate: go and take it away!'


There was a long silence after this, and Alice could only hear whispers now and then; such as, `Sure, I don't like it, yer honour, at all, at all!' `Do as I tell you, you coward!' and at last she spread out her hand again, and made another snatch in the air. This time there were TWO little shrieks, and more sounds of broken glass. `What a number of cucumber-frames there must be!' thought Alice. `I wonder what they'll do next! As for pulling me out of the window, I only wish they COULD! I'm sure I don't want to stay in here any longer!'
Hello friends...it's CRYSTAL CLEAR that today you're all joining us for a fabulous challenge here at
Oh, Alice!
We have all sorts of lovely techniques for you to try today! Your mission today with Oh, Alice!, should you choose to accept it, is to try a technique using cracked glass, crystal effects (or glossy accents), or a window stamp/technique. There are TONS of possibilities with today's challenge and we are SO ready to see all of the fabulous creations you enter!
Here are my two takes on the challenge:
Clear Postcard: Alice has a really bad day!
I used a piece of clear packaging that held clear stamps for this one! I edged it with a gold leafing pen and stamped the Herald Rabbit in the corner in white ink. I printed both images with my B&W laser printer on color laser printer paper, which works really nicely with Copic markers. I die-cut them and edged them with the same gold leafing pen and adhered them to the front.
This is a postcard type flat card, no fold. I stamped a checkerboard in white on olive card stock and adhered it to the back of the clear acetate, being very careful to place ahesive where it would be covered by the images on the front side of the plastic. I cut a couple slots and threaded a ribbon through, then added a small punched flower and stuck a bit of bling in the center! By having the olive card stock on the back side of my clear postcard, it gives me a place to write a message!
This photo is a little sharper, and I laid it on top of some brown and ivory card stock so you could see the clear areas. Fun!
Going Through the Looking Glass
But I also HAD to use the two images of Alice going through the Looking Glass for this challenge! I printed both with my B&W laser printer on color laser printer paper and colored them with Copic markers.
Then I used a glue pen to follow the reflective streaks across the glass and used an icy blue glitter. I colored over the whole surface of the mirrors with a versamarker and heat embossed with clear detail powder, repeating this step three times. I used detail powder so it would not spread into the areas like her face when it melted. Next I gave the glass domes over the clock and vase the same treatment but used three or four layers of clear Ultra Thick Embossing Enamel.
Sure wish this glorious shiny finish was easier to photograph! Neither photo gives a good feeling for how glassy the finish is and how 3D the glass domes feel!
Remember to go to Oh, Alice! to enter your own creations in our Glass/Clear challenge! Here's some more inspiration from the DT:
I would love to hear your comments, it really makes my day when I hear from you! Everytime a comment pops into my email I get the biggest smile!
Clear Postcard:
Stamps: Free digi images from Lenny's Alice in Wonderland site; Waltzingmouse Stamps - Off Beat Backgrounds; Nature's Blessings - white herald rabbit.
Paper: Stampin' Up! - Old Olive card stock.
Ink: Palette Hybrid Ink: New Canvas (white).
Miscellaneous: Krylon - Pale Gold Leafing Pen; Ribbon.
Tools: EK Success - small daisy punch; Spellbinders - Labels Eight Nestability dies.
Looking Glass Card:
Stamps: Free digi images from
Lenny's Alice in Wonderland site
.
Paper: Papertrey Ink - kraft; Stampin' Up! - burgundy card stock; Old dictionary page.
Ink: Ranger Distress Ink - Scattered Straw, Aged Mahogany, Walnut Stain.
Miscellaneous: Ribbon; Buttons.
Tools: EK Success - scallop border punches; Bow Easy