"At this moment the King, who had been for some time busily writing in his note-book, cackled out `Silence!' and read out from his book, `Rule Forty-two. ALL PERSONS MORE THAN A MILE HIGH TO LEAVE THE COURT.'

Everybody looked at Alice.
`I'M not a mile high,' said Alice.
`You are,' said the King.
`Nearly two miles high,' added the Queen.
`Well, I shan't go, at any rate,' said Alice: `besides, that's not a regular rule: you invented it just now.'
`It's the oldest rule in the book,' said the King.
`Then it ought to be Number One,' said Alice. "
Hello everyone! Today we have a fun and rather rebellious challenge for all of you out there in WONDERLAND! We start out with a lovely sketch by Sammi. The catch? You must RE-CREATE this sketch somehow. Switch out a panel or two, flip on its side, upside down, etc. There are no rules except to BREAK them, meaning you can't follow the sketch exactly! Makes no sense right? GOOD. :)
Today we also are thrilled to announce another wonderful sponsorship from SPESCH DESIGNER STAMPS! [
Blog
|
Etsy Store
] Thank you so much to Tracey Feeger for allowing the DT to work with your adorable images! Tracey is offering a prize of a VERY generous $10 Gift Certificate to the Spesch Designer Stamps Store! Be sure to check out all of her cute designs and be sure to play along this week for your chance to WIN! Go ahead...BREAK all the rules...you KNOW you want to! Just go to the
Oh, Alice! Challenge Blog
and link your creation!
I was totally inspired by the new movie - I loved the mushroom landscape and wanted to capture some of the feel of this poster on my card. I also adored the Cheshire Cat and the way he swam through the air. As soon as I saw this adorable cat and saw that it would work well horizontally, I knew exactly what I wanted to do! I traced the mushrooms from the poster, and added the text from chapter six, when this scene takes place. Then I colored in the scene with Copic markers.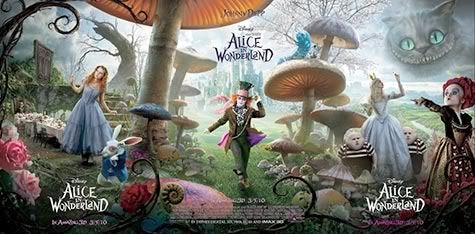 I colored the cat to be similar to the Cheshire Cat in the movie, warm gray with turquoise stripes and eyes! I cut both figures out after coloring and mounted them on thick dimensionals - they actually are raised quite a bit above the background. Then I added some light blue-green swirls to indicate the Cheshire Cat's "swimming" trail -- or maybe I should say the wake left by swimming through the air! The flowers I made by coloring circles of color on cardstock and then punching them out with two sizes of daisy punches. I curved the petals by hand, which gives them so much dimension!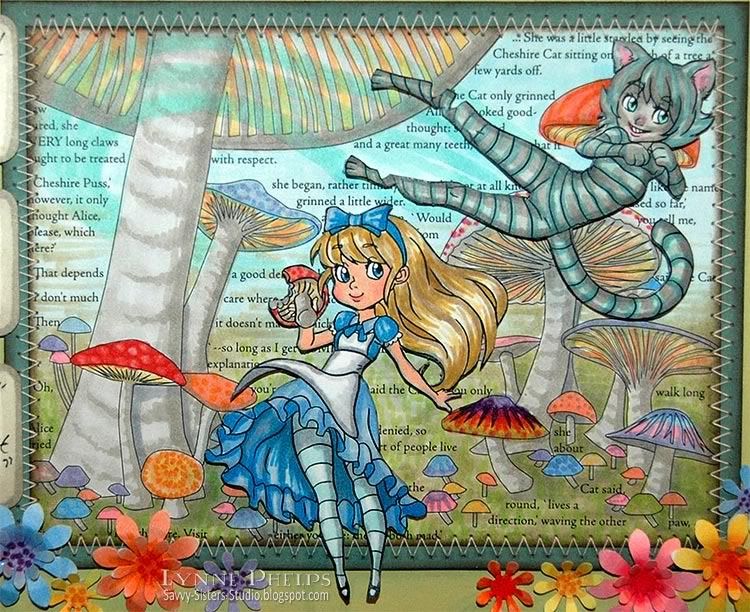 So how did I break the rules? I ditched the diagonal background, the mat for the focal image goes all the way around, and instead of having my sentiment in the corner, I spread it across the three embellishment spots. I edged three tags with light and medium warm gray, slipped ribbons into the holes, and handwrote the quoted text from chapter six with a Copic Mulitliner SP pen. To be sure the coversation bounce was clear, I decided to write the name of the speaker across the end of the tag, which added a more graphical element. They are mounted on the cards with really thick dimensional foam.
Here are some samples from the rest of our amazingly Twisted Tea party:
Good luck to all you rebels out there, and be sure to link your creation on
Oh, Alice
before July 16th at 8pm CST to enter to win!
Please leave me a comment and let me know what you think about my movie-inspired card!
I love to hear from you. And be sure to check out all the WONDERful images from Spesch Designer Stamps. Other Wonderland images available include the Rabbit, Mad Hatter, White Queen and Queen of Hearts. They are all great, and I *NEED* them ALL for my collection, LOL!
Stamps:
Spesch Designer Stamps
- Alice and Cheshire Cat digi stamps. Background by me!
Paper: Papertrey Ink - Spring Moss, Ocean Tides card stock; HP Color Laser Printer paper; Manilla card stock (unknown).
Ink: Copic - Alcohol Sketch markers, Multiliner SP pens.
Embellishments: Ribbon; Marvy Daisy punches - hand colored flowers.
Tools: Janome - Sew Mini sewing machine; Marvy - medium and small Daisy punches; Tag Punch (unknown).