As a plus sized person who likes Weight Watchers when I can afford it (rarely, too bad) I could not resist this House Mouse stamp I found at Hobby Lobby! My sister is a lovely and slim WW receptionist, so I thought she would get a kick out of this thank you card!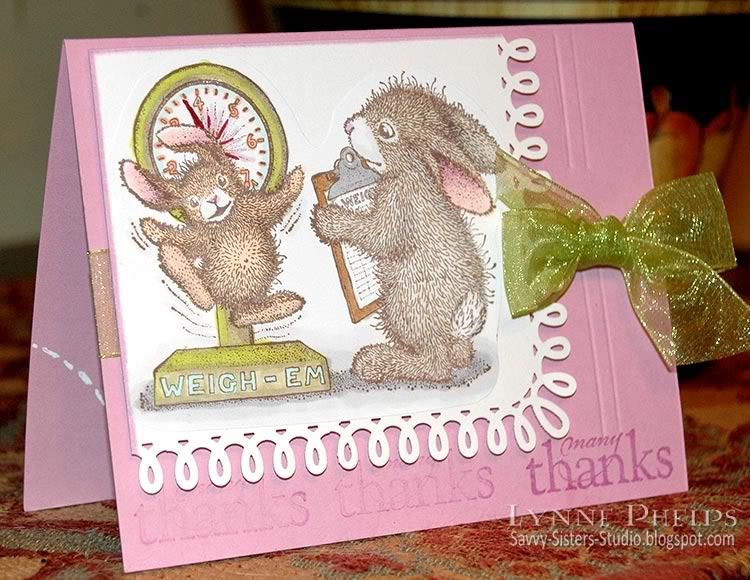 I stamped it onto color laser printer paper and colored it with Copic markers. I had a cat related mishap when Beignet made the leap onto my table, resulting in a huge blob of ink on the background! What to do? I was still really pleased with how the coloring turned out, especially the effect on the dial of the scale with the spinning needle! LOVE this image! I had just spent all that time coloring it, so I decided to trim it out close to the image and glue-stick it to white card stock, which I decorated with border and matching corner punches.
After the ink mishap I had lost a lot of energy around this card. The multiple stamping of the thank-you sentiment did not turn out as I had imagined - I had
hopped
hoped for dark - medium - light and what resulted was dark - light- lighter. I was trying to echo the way I had colored the spinning needle on the scale. Oh well! I'll do more experimenting next time and I won't try it on the card base that already had the image panel firmly adhered! Some green organza ribbon and a few score lines finished it off.
Inside I took a white gel pen and drew a bouncing dashed line representing the path of a hopping bunny, which ended in the words "Your gift made me very HOPPY!"
Do you have any stamping disaster stories and creative solutions? Leave me a comment, I'd love to hear about it!
Stamps: House Mouse - bunny image; Stampin' Up! - Sincere Salutations set.
Paper: Stampin' Up! - orchid card stock; Georgia Pacific - white card stock.
Ink: Memento - Rich Cocoa; Copic - alcohol Sketch markers; Marvy Matchables - purple.
Embellishments: Organza ribbon.
Tools: Martha Stewart Crafts - Loops Punch Around the Page border and corner punches.