I know many of you are not Alice addicts, so I want to assure you that I have some projects coming that are more varied! To start, I thought I would share an 8 x 8-inch scrapbook layout I made for Beverly, a dear stamping friend! Another stamping friend, Terrie, had organized a fabulous surprise birthday party, and we were each to bring a written memory or scrapbook page. What fun, and what a memorable gift for Beverly!
Do you remember Stella Stamper? She was a very early stamp set from Stampin' Up!, and look at these great sentiments! I initially tried to use just a few, but it was way too hard to decide which ones to leave out, so I have used every single stamp in this very large set!
I started with an 8-inch square of kraft card stock, with edges sponged with dark pink. I stamped all the small sentiments and images with a 1-inch square punch, and sponged each with beige and the edges with dark pink or blue. I trimmed out the larger image and sentiment and sponged them the same way.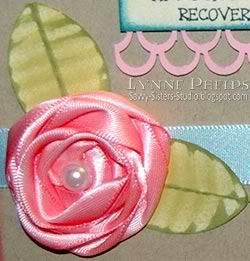 Notice the ribbon flower! This was my first time making a coiled ribbon rose. It was SO EASY! I punched a circle of card stock and covered it completely with my Glue Glider Pro so the entire surface was covered. Then I took some 5/8-inch pink satin ribbon and stuck the smallest possible piece of the end of the ribbon down in the center of the circle to anchor it. Then I twisted the ribbon into a loose coil and tacked it down to the adhesive in a spiral going out from the center. Easy peasy lemon squeezy! It does not show in the photo, but I edged the ribbon with a darker pink Copic marker so it has some variegation in the coils. The leaves are made with a circle punch and a paper crimper. I put a large plastic pearl on my paper piercer so I could control where the hole was as I lowered it into a little pool of Diamond Glaze (Crystal Effects) glue.
Then I had a glorious time coloring in Stella Stamper! I gave her Beverly's blonde hair and labeled her with a little alphabet set from the bargain bin at Michaels, and used the same to say it was from me and my sister, Janet. Stella has got it all goin' on, and she is prepared for any stamping emergency! I greatly admire the coloring of
Mary Giezma
, and one of the things that makes her style distinctive is the dark shadow outline she puts around things. I have been working on adding shadow outlines to my own colored images, but I have a long way to go before I achieve Mary's artistry! I sponged the white areas remaining with beige and edged with blue.
The punched frame was made with a border punch. I punched a long strip and then trimmed it to leave just over a quarter inch of solid paper. I ran adhesive down the length, and whenever I got to a corner, I clipped the solid paper so I could turn a corner with it. I saw this technique demonstrated by Heartfelt Creations at a show, and you can see it
HERE
on their blog. This technique works best on curved shapes, and would have worked better if I had curved the corners more. Live and learn!
I have not done much scrapbooking and that probably shows. My memories with Beverly are all stamping related, so I treated Terrie's "assignment" as an oversized card! Beverly is a Stampin' Up! demo, so I thought this stamp set was extemely appropriate. All the sentiments took the place of any journaling I might have done.
I hope you have enjoyed this blast from the past! You can often find a Stella Stamper set on eBay, which is where I found mine. Her fashion may be a bit out-dated but the sentiments (and bunny slippers) are timeless, LOL!
Please leave me a comment, I love hearing from you!
Stamps: Stampin' Up! - Stella Stamper.
Paper: Papertrey Ink - kraft card stock; Beckett - Expressions Radience (white); Stampin' Up! - pink and dark periwinkle card stock.
Ink: Memento - Tuxedo Black; Copic - Sketch markers; Ranger Distress Ink - Worn Lipstick, Broken China, Faded Jeans, Antique Linen, Peeled Paint.
Embellishments: Ribbon; buttons; plastic pearl.
Tools: EK Success - 1-inch square and 1¼-inch circle punch; Stampin' Up! - Curly Label, Modern Label and Word Window punches; Martha Stewart - double loops border punch.