The Hatter opened his eyes very wide on hearing this; but all he said was, "Why is a raven like a writing-desk?"
"Come, we shall have some fun now!" thought Alice. "I'm glad they've begun asking riddles. — I believe I can guess that," she added aloud.
"Do you mean that you think you can find out the answer to it?" said the March Hare.
"Exactly so," said Alice.
"Then you should say what you mean," the March Hare went on.
"I do," Alice hastily replied; "at least--at least I mean what I say--that's the same thing, you know."
Hello everyone! We are ready to FLY with this week's challenge here at
Oh, Alice!
This week, we challenge you to use
BIRDS
on your card or papercrafting project! We may never know the answer to the riddle above, but while we're pondering that and life's little mysteries we may as well make a great card or two in the process, right? Link your creations on the
Oh, Alice! challenge blog.
Alice in Wonderland has never been out of print since it was published in 1865, and the Mad Hatter's riddle has been one of the most discussed parts of the story ever since. Charles Dodgeson (Lewis Carroll) was a mathmetician and a logician who wrote many wonderful puzzles and riddles! According to
Lenny's Alice in Wonderland site
, the author had no answer for the riddle at the time of writing, but later said this:
"'Because it can produce a few notes, tho they are very flat; and it is nevar put with the wrong end in front!' This, however, is merely an afterthought; the Riddle as originally invented, had no answer at all."
-- Charles Ludwidge Dodgson (Lewis Carroll)
Certainly the caw of a raven can be said to be flat as it is not a melodic birdsong, and you don't get much flatter than paper!
At the time it was written, a writing desk usually had a sloping top surface, and often referred to what we would think of as a lap desk. It had space inside for paper, pen nibs and pen handles, a compartment for an inkwell and perhaps a "wax jack" to hold a seal and sealing wax. So Carroll's response is even more clever than it appears, as "nevar" in his response is not a misspelling of never, but rather RAVEN spelled backwards! Because a writing desk always had a sloping top, you would never use it with the back in front!
I love this answer to the riddle written by Clare (
found at the
Lewis Carroll Society of North America
) also referring to the sloping surface:
Eat your supper off a writing desk and you will find,
The experience can be rather UNKIND.
For into your soup you might sink your bread,
And find it is covered in black ink instead!
So if you are RAVENous -
(And rather unstable),
You will find it is best to eat off a table.
The collective noun for a group of ravens is an unkindness: "an unkindness of ravens" (like a pride of lions or a pod of whales). Don't you love collective nouns? When we are hungy, we say we are
raven
ous, and trying to eat with your soup bowl set on an unstable slope on your lap could result in an unkind (and uncomfortable) experience!
Many others came up with answers to the riddle. A favorite by Loyd is "because Poe wrote on both of them," referring to Poe's poem "The Raven" which was presumably written upon a writing desk! And Lenny's mentions another: "Because there's a B in both and an N in neither". Very tricky to answer a riddle with another riddle! And John DeHaven wrote: "One contains a river that runs forward (Esk) and the other contains a river that runs backwards (Neva)."
Needless to say my card was inspired by all the responses to the riddle.
The card base is folded to a 5½ inch square and sponged around the edges with a deeper shade. I glued a dictionary page to a piece of white card stock and punched it with this great card suits border punch! Then I colored red and black squares on a strip of scrap paper and adhered it so the color shows through the punched holes. Love that - my favorite new "Alice" punch! Then I adhered a strip of "raven black" ribbon parallel to the border.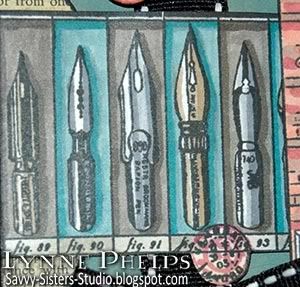 I thought this stamped image of various pen nibs was perfect to represent the"writing" part of the riddle. I stamped it twice so I could form a band across the middle of the card front. I left the little postmark but trimmed away all the writing underneath that was part of the stamp image, so I was left with only the pen nibs.
Next I stamped this great building! Although it looks more
Rococo
than Victorian, there certainly would have been buildings like this around during Carroll's lifetime. I enjoyed coloring in the brickwork in warm rose shades. Then I carefully trimmed out the window and door openings using my new favorite fingertip craft knife, which gives you so much more control than a regular Xacto knife handle.
Then I took the page of the dictionary that contained the word "Riddle" and trimmed out pieces to adhere behind the openings. I was careful to position the pieces so the four different definitions of riddle show through the door opening. I am probably easily amused but this little detail makes me really happy! I used a muted blue-green marker to draw some shadows around the openings and then sponged a gold color in the center to give each window a glow. I liked the golden glow so much that I sponged the punched card suits border with the same. I positioned it so the building extends above the top of the card front and adhered it with dimensional foam tape.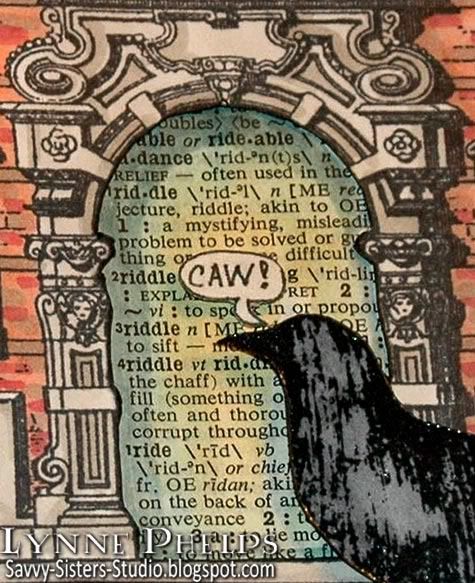 I stamped the bird, which I think looks like a crow or raven, on a scrap of card stock and colored it in with a gray marker. Then I colored over the whole thing with a clear Versamarker and heat embossed it with clear detail powder, then carefully trimmed it out. I mounted it over the building with foam tape. Then I wrote the word "CAW!" on a scrap and drew a cartoon style speech balloon around it, trimmed and mounted it. This is to serve as a reminder about the "flat notes" produced by the raven!
I computer generated the riddle and my multiple choice favorite answers! I sponged each of them with beige to age them and burgundy around the edges. The riddle is on foam mounting tape and the answers are stuck on with glue dots. I ran jute string through the button holes and added the buttons with more glue dots. I positioned it so it appears that the raven is standing on the answer strip.
Here are some samples from the rest of our amazingly Twisted Tea party - enter your own creation at Oh, Alice! to play along with us:
I have to admit this is my favorite card that I've created for Oh, Alice! so far, as all the little details make me really happy! OTT style again (over the top) but I really get into detail. I guess I'll never be a "less is more" person; more = more in my little world! ;-)
Please leave me a comment and let me know what you think about this post; about riddles, about ravens, writing desks or my card! I'd love to hear from you!
Stamps: Stampington (Michelle Ward) - bird; A Stamp in the Hand - building; Limited Edition Rubber Stamps - pen nib collage; sentiments were computer generated.
Paper: Papertrey Ink - Ocean Tides card stock; Beckett - Expression Radience (white); Old dictionary pages.
Ink: Memento - Tuxedo Black; Copic - Multiliner SP, Sketch markers; Ranger Distress Ink - Broken China, Scattered Straw, Antique Linen, Aged Mahogany.
Miscellaneous: Buttons; Ribbon.
Tools: EK Success - Card Suits border punch; Stampin' Up! - Curly Label punch; Fiskars - Fingertip Craft Knife; Bow-Easy; Ranger - Inksentials Ink Blending Tool and foam pads.