(Note - edited post to add some missing links!)
One of the things that really sets the beautiful Prima flowers apart is the petals are usually ridged from center to tip, and the petals are really curved - they have a lot of dimension. I started thinking about what I could do with some much humbler home-made flowers created with paper punches!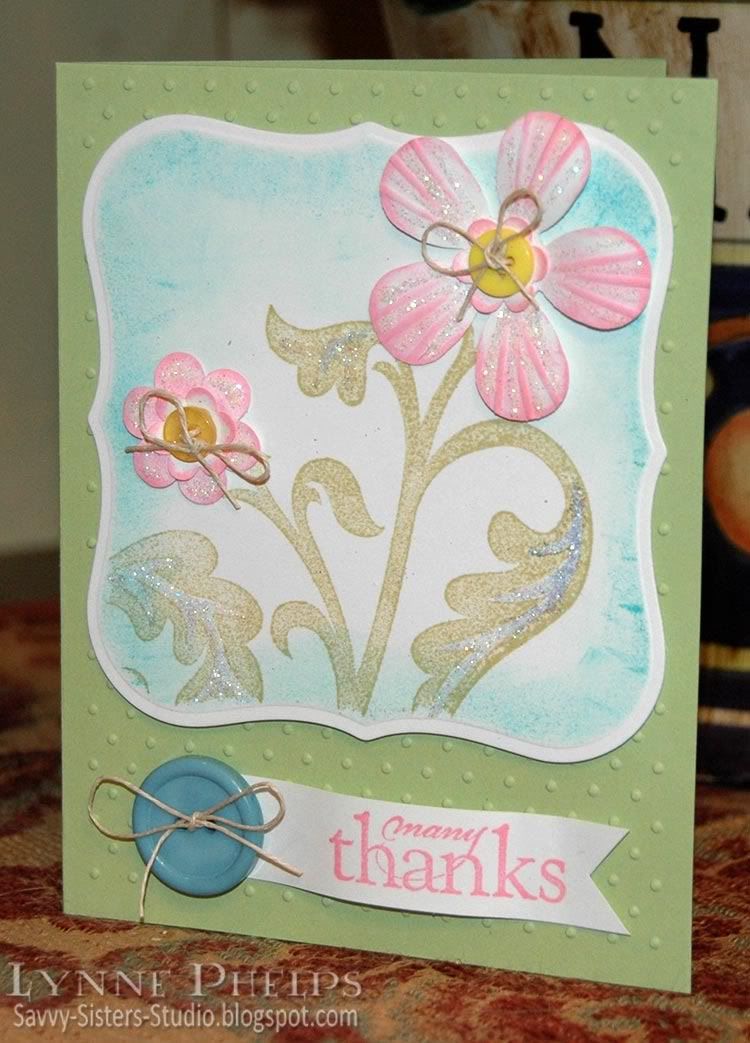 I started with a soft green card base
(Stamin' Up!)
which I embossed with Swiss Dots (Cuttlebug). Then I cut a Label 1 Nestie
(Spellbinders)
from white cardstock
(Georgia Pacific)
and sponged the edges with turquoise dye ink
(Marvy)
. I stamped a bold stylized flourish for the stems
(Brocade Basics - Stampin' Up!)
with muted green dye ink
(Marvy)
. The larger flower was punched
(Retro Flower - EK Paper Shapers)
, and then I ridged each petal three times using my Scor-Pal. Smaller flowers were punched
(Marvy)
, I sponged all the petals
(Bubblegum Pink - Marvy)
and then curved them around a paint brush handle. I stacked the flowers, and added a button to the center of each with a glue dot. Hemp twine had been tied in a bow through the holes of the button.
(I found this very fine twine in Michaels in the jewelry section, near the leather thongs. It comes with four colors on a card, or four sections of natural)
.
I wanted some sparkle, so I used a two way glue pen to add coarse crystal glittler to various areas. I like the "sugar-coated" look of the coarse glitter. I am getting a lot better with glitter control, as I sparkled at the end of the exercise but the cats escaped relatively unscathed!

I stamped the sentiment (Stampin' Up!) in bubblegum pink (Marvy) and cut it out with a notched end to give it that banner look that I'm so fond of lately! I used a glue dot at the left and a big button with a twine bow, then I arched the sentiment panel away from the card base a bit to add dimension before adding another glue dot at the right end.
This card is my submission to
Stamping Sisters in Christ Challenge #23 - 1st Peter 1:23
:
"For you have been born again, not of perishable seed, but of imperishable, through the living and enduring word of God."
Since most seeds spring up in green shoots, the challenge is to use a touch of green on your card. Of course I have moved beyond seeds into fully grown paper flowers!
This card is also for
Flourishes Timeless Tuesday Challenge FTTC51
- Make something inspired by the letter "P" - and I chose PUNCHES!
Please leave a comment - that's what makes blogging worthwhile. I treasure every one!