ETA: Edited to add that this card won a blinkie award from Stamping Sisters in Christ! It was one of the three "Shining Star" winners from this week's challenge.
My brother-in-law's parents always invite me to stay with them for Christmas. Since losing my own mother, they have really adopted me into their family and I appreciate them so much; they are such a blessing to me! I wanted the thank you card to be a little gift of my time that they could enjoy. I also wanted to play with my new
Home Made
stamp set
(Papertrey Ink)
.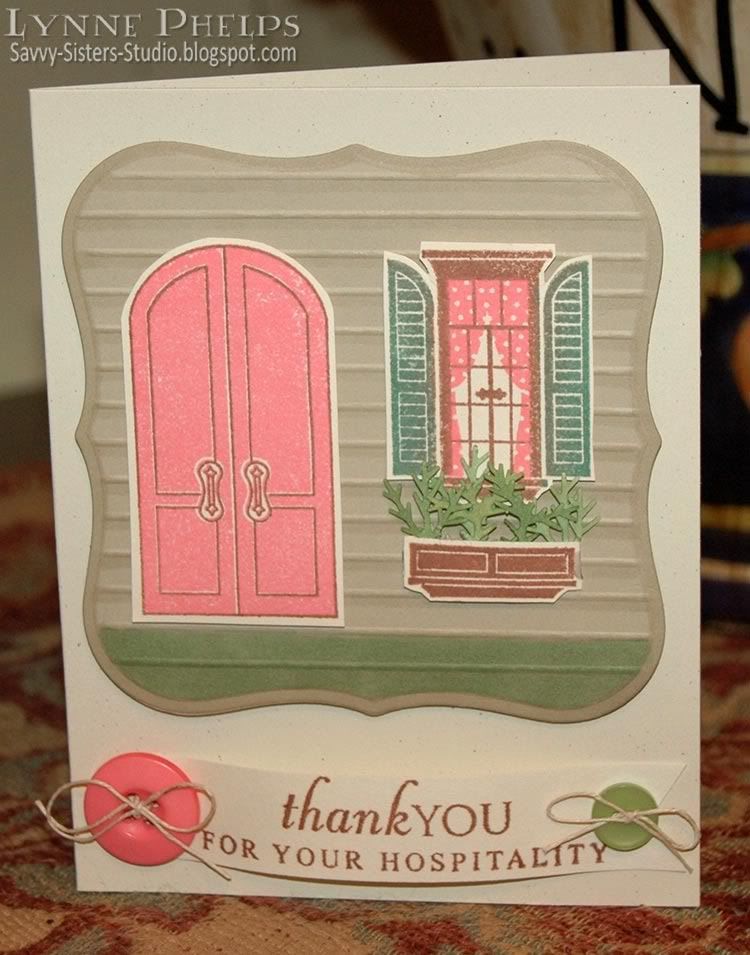 I enlarged on an idea I got from this
PTI blog post
. I started by cutting a Label One Nestability (Spellbinders) and scoring lines with my Scor-Pal to represent the siding, trying to stay out of the embossed edge area. I shaded underneath each score line with a warm grey Copic marker to add a shadow to enhance the clapboard effect. After I did that, I realized I should have left one line off near the bottom for my grassy area, but I just colored it all green with a Copic marker anyway, LOL!
On ivory cardstock, I stamped the door, window and window box. The images are all divided up - the lines are the door are one stamp, the solid color is another stamp. The curtains are separate from the window stamp. I only wish the shutters were separate; I had a hard time getting the color onto the right parts of the stamp as the shutters and window frame almost touch! LOVE this
Home Made
stamp set!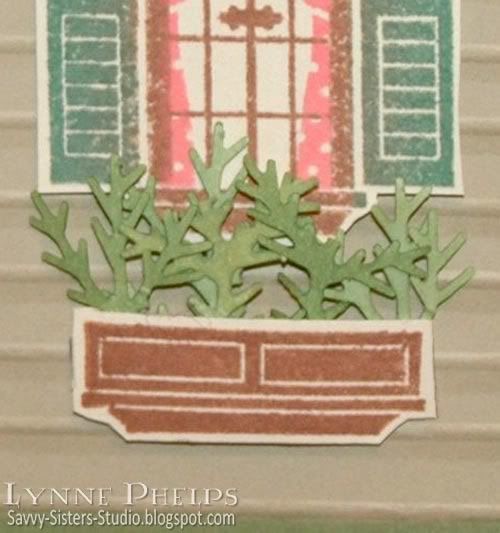 Of course I really got into the details! I punched several "plants" with the Branch punch
(Martha Stewart)
and added them to my litte window box!

I stamped the sentiment in Rich Cocoa (Memento) and notched one end to form a little banner, then added a button at each end with glue dots. I curved it so it has some dimension which really adds a lot of interest!
This card is for the
Stamping Sisters in Christ Challenge #22
: Joshua 24:15 - "As for me and my house, we will serve the Lord." You had to make a card that was house related or a home decor item. It is also for
Flourishes Timeless Tuesday Challenge #FTTC50
: Stamp a scene!
I hope you enjoyed the card. Please leave a comment, I'd love to hear from you!