I thought I would share with you what I go through to photograph these cards! I was never a cat person before. I have my first two cats, and they are both the boss of me! After dogs, it has been very humbling. You know what they say - Dogs have OWNERS; Cats have STAFF!!! May I present Beignet, my Siamese mix kitty, and a self-appointed photo-shoot assistant!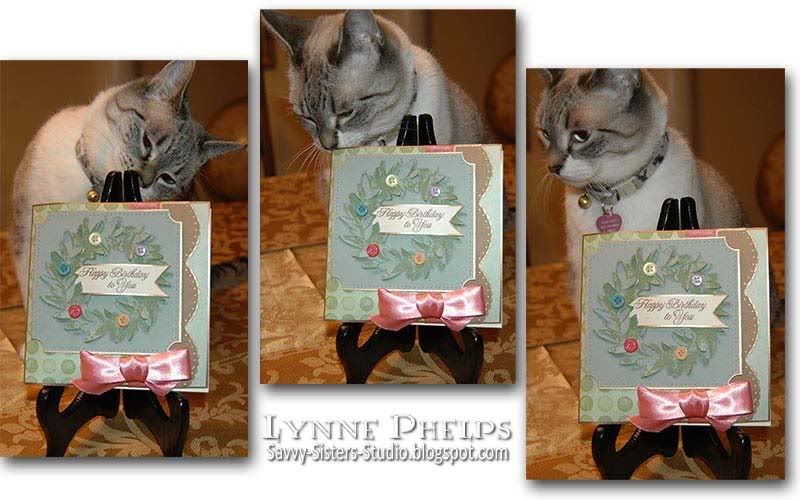 I have always loved this leafy wreath stamp and I like giving it some dimension by "lifting" some of the leaves. It occured to me that people place wreaths on their door year round, so I was not restricted to using it only at Christmas. I added some buttons and ribbon in Spring colors and made it into a birthday card!
The ivory card base was stamped with distressed polka-dots
(Dotted - Stampin' Up!)
in green
(Memento - Bamboo Leaves)
, leaving the right edge unstamped. I sponged it with pale aqua ink
(Adirondack - Ranger)
. On pale green cardstock
(SU)
I stamped the wreath
(Stampington)
in in green
(Memento - Bamboo Leaves)
. Then I trimmed around the ends of several leaves with an Xacto knife and lifted them up to add dimension. I wish you could see how much this adds, the photo does not really show the effect.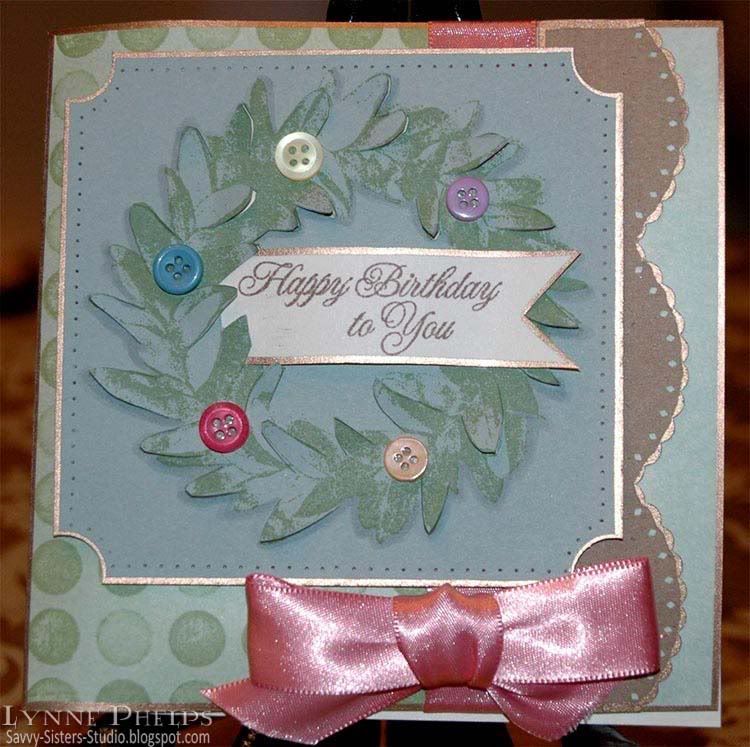 I cut the corners of the green panel with a 3/4 inch circle punch, and then used my Tim Holtz design ruler to pierce a border around the edge of the panel. A gold leafing pen
(Krylon)
was used to gild the edges. Buttons were applied with glue dots. I stamped the sentiment
(Damask Designs - Papertrey Ink)
on an ivory scrap, notched the end to make a banner look and gilded the edges. I edged punched a scrap of kraft cardstock with a large scallop
(EK Success)
and gilded the edge. I adhered the scallops to the card base, then wrapped a pink satin ribbon all the way around the card front. I tied a bow with the Bow-Easy and stuck it on with a glue dot.
I cut a slit along the left inside edge of the wreath and tucked the end of my banner in and secured it on the back. I curved the banner and secured it near the notch with a glue dot. The sentiment actually arches out from the surface a bit, adding more dimension! Then I mounted the wreath panel with pop dots.
In case you are wondering, Beignet is the word for the French donuts you get in New Orleans that have powdered sugar dumped on top. It is pronounced Ben-Yay
(rhymes with Ben-Gay, the ointment for aches and pains)
. When she was a little tiny kitten, only her face, ears and tail were gray and the rest of her was white. She looked like someone had dumped powdered sugar on her and just the gray parts escaped! She was starving when I got her - a stray kitten that would fit easily in the palm of one hand. A little handful of bones wrapped in fur covered in bugs, so weak she could barely meow. A week later after medicine and food I had a new boss, a bouncing bright-eyed kitty! Now she is my little French dumpling, she loves her food way too much.
Here is one last picture of my photographer's assistant! She "helps" me with ALL my pictures, LOL!!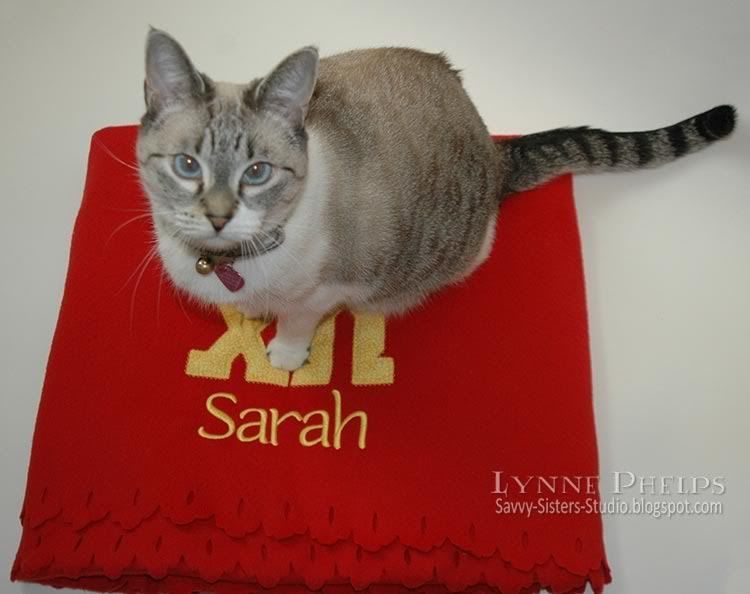 I hope you enjoyed my button birthday wreath! Please leave me a comment. Do your cats help you too?
:-)