Alice didn't dare to argue the point, but went on: `-- and I thought I'd try and find my way to the top of that hill -- '

`When you say "hill,"' the Queen interrupted, `I could show you hills, in comparison with which you'd call that a valley.'

`No, I shouldn't,' said Alice, surprised into contradicting her at last: `a hill can't be a valley, you know. That would be nonsense -- '

The Red Queen shook her head, `You may call it "nonsense" if you like,' she said, ` but I've heard nonsense, compared with which that would be as sensible as a dictionary!' -- Chapter 2, Through The Looking Glass and What Alice Found There
Using text as pattern is a trend right now that I really love.
Your challenge is to use text as nonsense - not to read but as pattern on your project!
Of course you can still have words or sentiments, but we also need to see text used in a non-reading way. I have a stack of old books and dictionaries that I use for this purpose.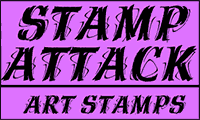 Our sponsor is Stamp Attack, a British company that is well known (among other things) for their fantastic Alice stamp plates which have sold to customers all over the world.
In fact, Helena Bonham Carter, the actress who played the Red Queen in the Tim Burton Alice movie, purchased sets of Alice stamps from Stamp Attack, which were then delivered to the studio! Enabler alert: Stamp Attack offers speedy worldwide shipping for only £1 on unmounted stamp orders, so go on and check out their beautiful stamps!
The winner will receive a Stamp Attack gift certificate for £13.50
, which is equivalent to one of the stamp plates that the design team will be using!
You have until Friday, September 23 to enter your creation at The Altered Alice
and the winner and honorable mentions will be announced on the last Sunday of the month, September 25.
All kinds of projects are welcome
, they do not have to be "altered art" and as always, entries that feature some aspect of Wonderland are given two chances instead of one in the random prize drawing. You may enter multiple times as long as each project is on a separate post.
My Project
My art journal page was inspired by this Stamp Attack image of Alice on the Queen's croquet ground.
The Scrabble tiles spelling Alice are another Stamp Attack stamp, cut apart and displayed on a banner of ribbon snippets, outlined with black or white. They are both from the
Stamp Attack Alice 2 plate
; it is a full-sized plate and the images are very deeply etched on thick red rubber. I'm working on another project with this stamp collection so stay tuned!
I am working in a
Strathmore Visual Journal - the mixed media version
. Love the heavy book board covers and the paper is great. The background of my page is a
Hero Arts cling stamp called Word Pops
; I had to have this stamp! The text circles were stamped and then the whole page was colored in using
PanPastels
(love them!). I applied the color using the
Sofft Tool palette knives
; this product is a unique cross between a soft pastel and a fluid medium. The black strip on the bottom was punched with a fun EK edger punch with scallops and huge dots, then backed with dictionary paper colored with oil pastels. That takes care of the "text as pattern" required by the challenge; all the circles make me think of colorful painted croquet balls, although I know Alice will be using hedgehogs instead!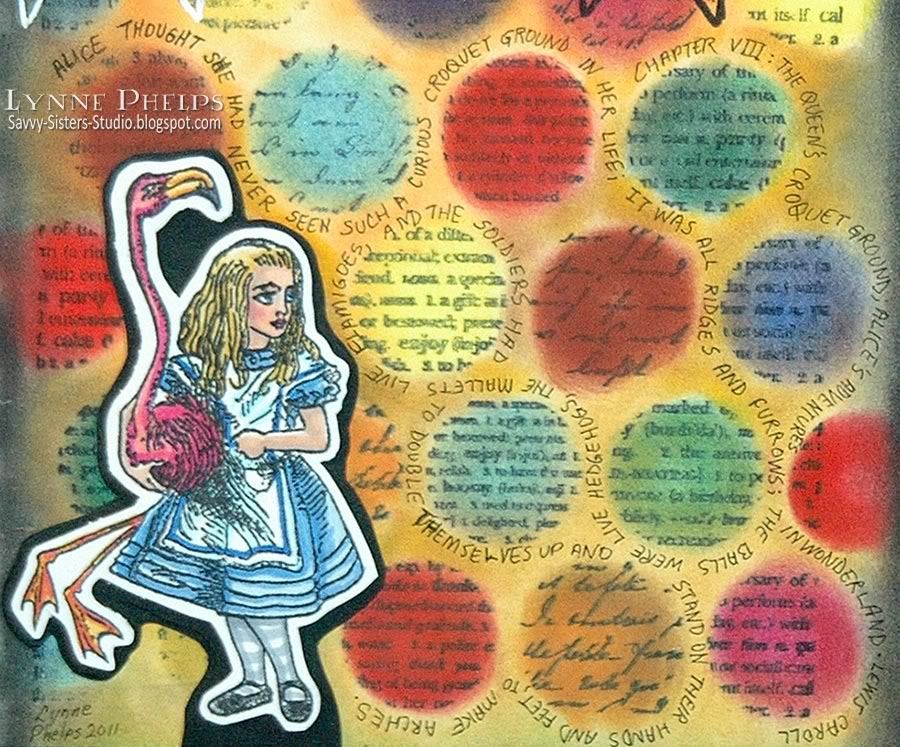 It is a journal so I decided to include some writing. I had fun wrapping a quote from the story describing the croquet game around all the text polka dots! I used a
Copic 0.2 Multiliner SP
to scribble in this fine print. I love how this turned out. If you click the image above you can enlarge it enough to read the story. Please visit me at Savvy Sisters Studio and leave a comment, I love it when you do!
I hope you are inspired to make something and play along with The Altered Alice!

NOTE: If you decide to buy some of the products mentioned above, please consider using the links above to do so. I will get a tiny referral fee and you will get the same great price. It is a small way you can help to support this blog and The Altered Alice. Eventually it might cover my Linky Tools and professional Photobucket subscriptions, LOL!!! Thanks!