Well, I have been bitten hard by the art journal bug and now I offer you page number two in my 40 cent composition book! The circus is a hot trend right now, and rather than buying a bunch of new stuff, I remembered my old, classic (pre-Tim Holtz) Stampers' Anonymous circus stamps!
I began by drawing a pennant border on a dictionary page using a fine
Sharpie marker
- love those! Then I painted it in with my Maimeri Venezia watercolors, which proved to be risky as it ran when covered with gel medium. Next, I ran some book pages through a
Fiskars crimper
several times to soften the fibers, and pleated them into curtains! I glued down the outside edges but left the rest loose.
Then I stamped the 7-League Express in the center of the background. I painted black over the top area of the stamp except for the elephant in his seven-league boots. It is a busy stamp and I wanted him to stand out. I outlined him with a
white Sakura Gelly Roll pen
and a
black ultra-fine point Sharpie
. I stamped it again below but painted over it with brown for the circus ring surface, so it just acts as a visual texture.
Next I glued down the curtains and also some folded paper tie-backs. This was done with
Aleene's Fast Grab Tacky Glue
, a personal favorite. I used
Liquitex heavy matte gel medium
both under and over the circus pennant border to glue it down. I used the heavy gel as I was gluing it to such a lumpy surface. The watercolor ran, but I decided I liked the subtle streaks of color going down my bookish curtains!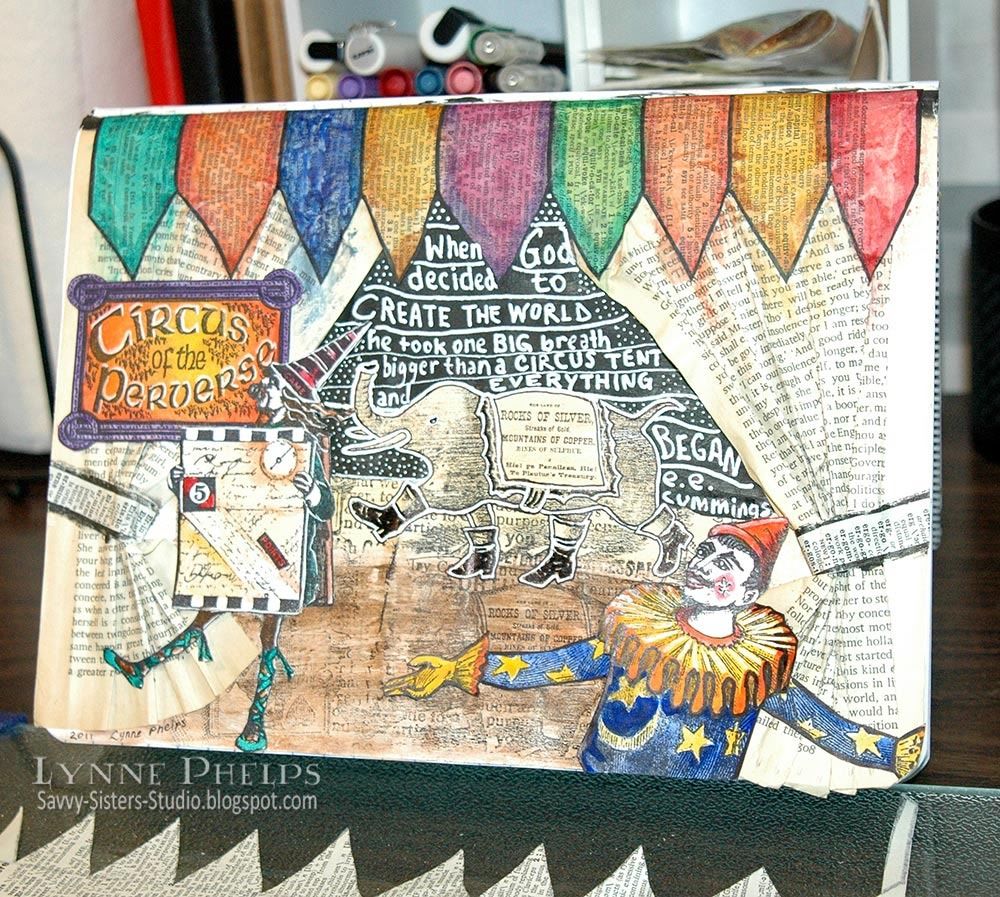 Then I glued down the Stampers Anonymous characters that I had already watercolored and cut out, plus the "Circus of the Perverse" sign. They are all attached with the
Fast Grab Tacky Glue
. The clown is actually a doll stamp with separate torso, arms and legs, so I could position his arms however I wanted. Love the sign board carrier, he is so quirky!
Then I used a white Posca Pen to write in the quote from poet e.e. cummings (who always wrote in lower case as I recall):
"when god decided to create the world he took one big breath as big as a circus tent and everything began." -- e.e. cummings
So who is the circus of the perverse? That's all of us of course, living our contrary lives in this huge creation!
I have decided to enter this into the
Carnival of Curiosities challenge
(HDH103) over at the
Haunted Design House
, as in retrospect and though it was not the intended effect, these Stampers' Anonymous characters have a bit of the macabre to them, or maybe a Ray Bradbury touch. What do you think? I have also entered it into the
Bah, Humbuggers' Challenge 33: Something New
. This whole art journaling gig is so completely new I still can't believe I am trying it! My gosh, my first Moleskine sketchbooks just arrived in the mail and I'm using gesso for goodness' sake!
I hope you have enjoyed my second journaling attempt; I think I have really found myself with this art form. I love quotes and poetry, and I love applying my stamping, coloring and painting skills to this different form. I make all these cards and they sit in boxes in my craft room because I don't actually correspond with people via snail mail as I'm way too disorganized! I think I may put a For Sale page on The Altered Alice and see if anyone wants to buy some lovingly created Alice cards, LOL! I'm running out of room!
Please leave a comment
, I would love to hear what you think of my Circus of the Perverse, clowns, tents, watercolors, Ray Bradbury, selling my cards, e.e. cummings, or anything else you'd like to say!