Last week I visited my friend Molly and showed her some of the fun things you can do with PanPastels. I quickly created this vivid background in a
Strathmore Mixed Media Visual Journal
using the
Sofft Tools oval sponge
and the
20 painting colors set
. They are completely erasable, so after I used a
fine black Sharpie
to draw my checkerboard border, I just erased the pastel and brought it back to a bright white page! The eraser was not the best, sure wish I'd had my kneaded eraser handy!
Click to enlarge
Molly had just received a Zettiology order, and I could not resist stamping this cool
Teesha Moore
image in the center! I used the eraser to create highlights in her face, legs, and striped sleeve. Then I used a fixative so I could add more layers without smearing.
There are three really good quotes worked into this stamped image, but they are so tiny you can hardly read them. I decided to write them larger on my page AND site the sources. I am fanatic about listing the authors of things, and I like to list dates also when that adds interest.
Can you see all the quotes? One is on her chest, another down the left sleeve, and the third is writing tiny, tiny, tiny around the whole figure: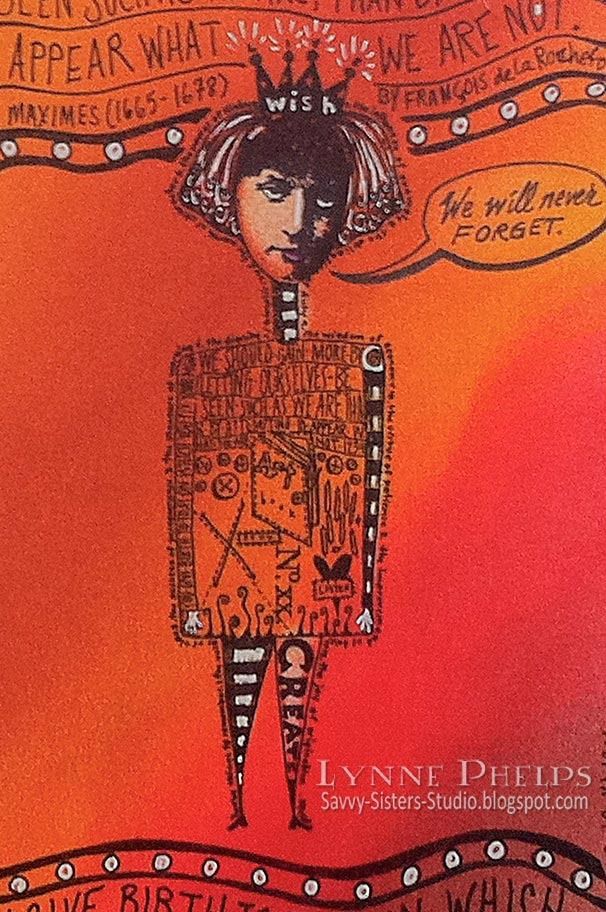 Click to enlarge
I added white gel pen highlights to the figure with a
Sakura white Gelly Roll pen
. A little shine on her nose, highlights in her curls, and gleams in the whites of her eyes, white gloves, a dazzle on her tiara, it all really brought her to life!
Click to enlarge
The quote on her chest reads
"We should gain more by letting ourselves be seen such as we are, than by attempting to appear what we are not."
was in the "Maximes" of François de La Rochefoucauld which began in 1665 and reached their final form in 1678. Isn't it fascinating how human nature doesn't change? This advice sounds as fresh today as it did in the seventeenth century! I wrote it in at the top with various black
Copic Multiliner SP pens
, then I doodled lines and added some white dots and outlined them as well.
Click to enlarge
All around the checkerboard border, I wrote in "Twelve Things to Remember" by Marshall Fields, the great Chicago retailer. It echoes the way it is written all around the edge of the figure. They are also sometimes called "Twelve Priceless Qualities of Success."
Twelve Things to Remember:
The value of time
The success of perserverence
The pleasure of working
The dignity of simplicity
The worth of character
The power of kindness
The influence of example
The obligation of duty
The wisdom of economy
The virtue of patience
The improvment of talent
The joy of origination
All things worth remembering, worth valuing, worth preserving.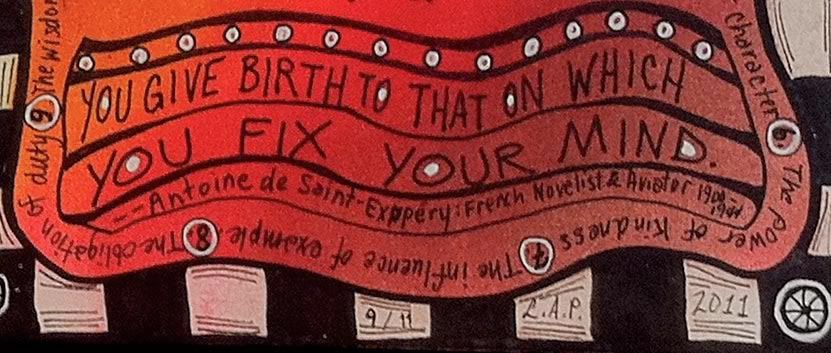 Click to enlarge
The quote down the left sleeve says "You give birth to that on which you fix your mind." by Antoine de Saint-Expupéry, a French novelist and aviator who lived from 1900-1944. Another quote that is as fresh now as it was then. Of course the point of the quote is to fix your mind on good things, lofty goals, to dream great dreams. But it also works in reverse. Serial killers dream terrible dreams and fix their mind in directions they should never go and give birth to atrocities. Terrorists in some cave or compound fixed their minds on how to devastate America and gave birth to the destruction of World Trade Center, the Pentagon, the high-jacked plane of heroes. We all need to exercise some mental discipline to maintain decency, kindness, and civilization. We need to strive to fix our minds towards the good and so give birth to creativity, to joy and not to tragedy.

I still remember the day it happened. I was at work in a 50-story skyscraper in New Orleans. A friend called and said, "Get out of there! If the planes come to New Orleans it is your building they will hit!" I said what are you talking about and she said "Find a TV!" We all watched in horror in the conference room. Not one face without tears. Just the beginning. . . .
This page did not start off having anything to do with 9/11, but I finished it on the tenth anniversary of the tragedy and it seemed to apply. It was certainly on my mind as I researched all the quotes and added all the text. So I added the speech bubble to the figure. "We will never forget."