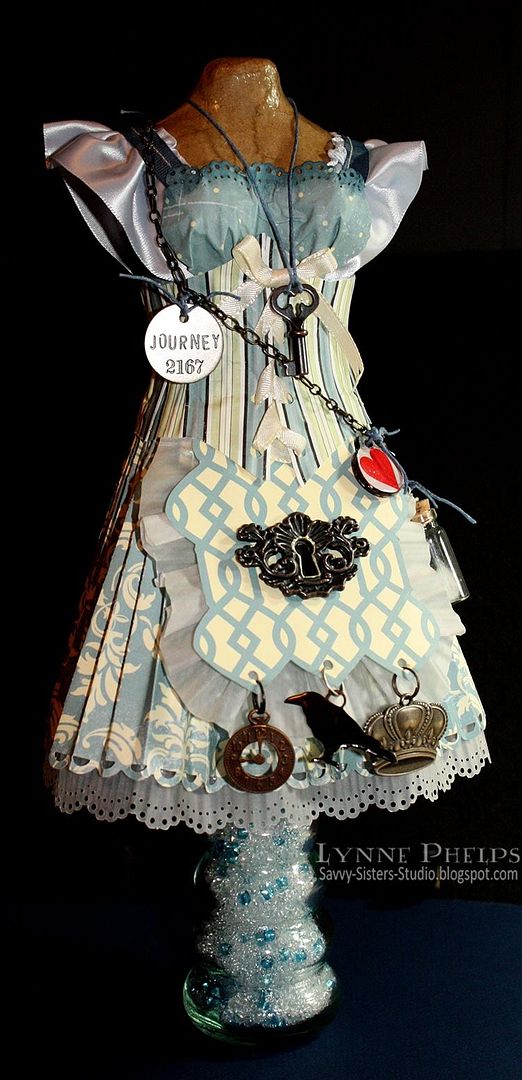 "Alice crouched down among the trees as well as she could, for her neck kept getting entangled among the branches, and every now and then she had to stop and untwist it. After a while she remembered that she still held the pieces of mushroom in her hands, and she set to work very carefully, nibbling first at one and then at the other, and growing sometimes taller and sometimes shorter, until she had succeeded in bringing herself down to her usual height.
It was so long since she had been anything near the right size, that it felt quite strange at first; but she got used to it in a few minutes, and began talking to herself, as usual. `Come, there's half my plan done now! How puzzling all these changes are! I'm never sure what I'm going to be, from one minute to another!"

-- Chapter 5, Alice's Adventures in Wonderland
Like Alice we have been through some changes in both location and form (from weekly to monthly), but the challenge chapters remain familiar despite all these puzzling changes!
To reflect all these puzzling changes, the Altered Alice Challenge is to make something that features a dress form, OR to make something that changes in form!
While it is not required that your project include Alice in Wonderland, we do encourage it. If your project does feature Wonderland you will get two chances in the prize drawing instead of one!
And now for the big news -
STAMPOTIQUE ORIGINALS
is sponsoring our first challenge with a
$30 gift certificate
for one lucky winner, and their
design team
is going to play along! Be sure to visit their
Stampotique Designer's Challenge blog
where you can play every week! They are famous for artist Daniel Torrente's quirky characters, but they actually have many artists and quite a few different styles.
Jo Capper-Sandon
is my favorite with her wonderful mushrooms, and other lines include
Janet Klein's flower characters
(click next a few times to see them)
that remind me of the garden of living flowers! There is something to please everyone at Stampotique Originals!
My Alice Dress Form: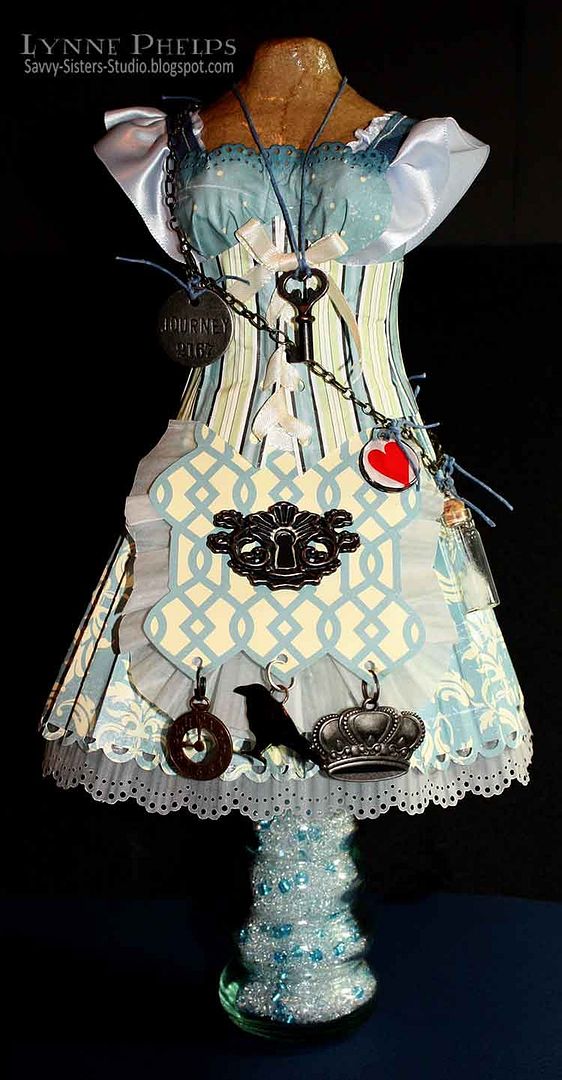 Inspiration credit for this project goes to
The Altered Alice design team
member Donna of
Meme's Art Place
. She makes the most
fantastic altered dress forms
; in fact Tim Holtz loved one so much that it now lives in his studio!
I started with a little glass bottle; it's shape reminded me of the Caterpillar! It was not heavy enough to act as a base, so I filled it with glass seed beeds in various sizes then glued the cork in the neck; I do NOT want this bottle opening accidently, LOL! I made cuts in the bottom of the papier-mâché dress form, criss-crossed in an asterisk shape, and pushed the flaps into the body and jammed it onto my bottle. It fit perfectly as it fits snuggly around one of the flared ridges of the bottle!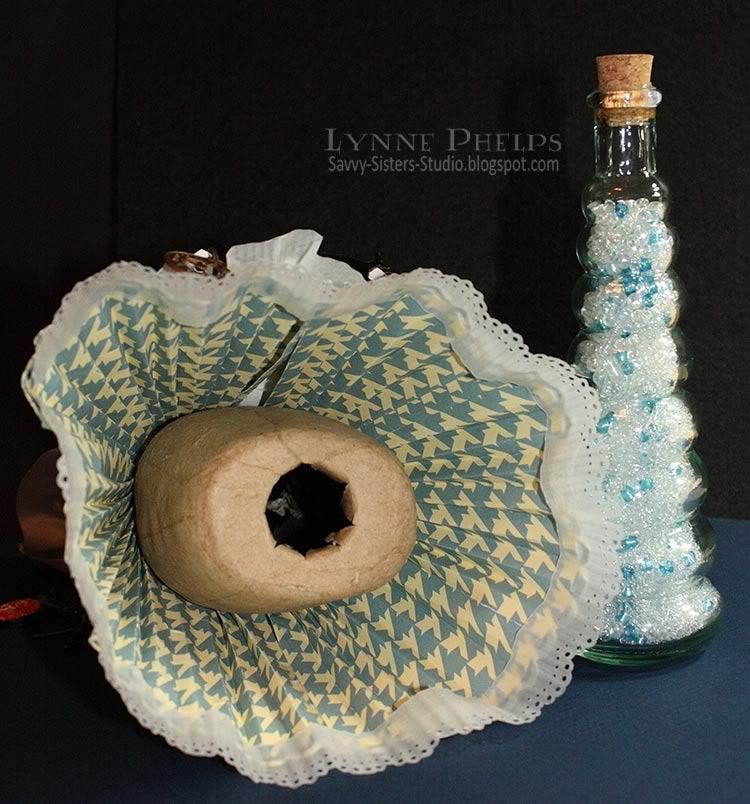 Then I cut strips of some Nikki Sivils "
Something for Everyone
" paper and border punched one side (Fiskars Apron Lace punch). I scored the strip every half-inch on my
Scor-Pal
, then I turned it over and scored in between the previous score lines. This allowed me to fan-fold the skirt into mountain-valley folds. I machine stitched the top of the pleats down to hold them in place, and glued this "skirt" around the hips of the dress form with
Aleene's Fast Grab Tacky Glue
. Later on I decided I wanted the skirt a little longer and to have more detail at the hem, so I border punched a strip of vellum
(Martha Stewart Doily Lace punch
)
and ran it through my
paper crimper
. I adhered this strip with the same Fast Grab Tacky Glue, one of my all-time favorite adhesives! I used this same adhesive throughout the project.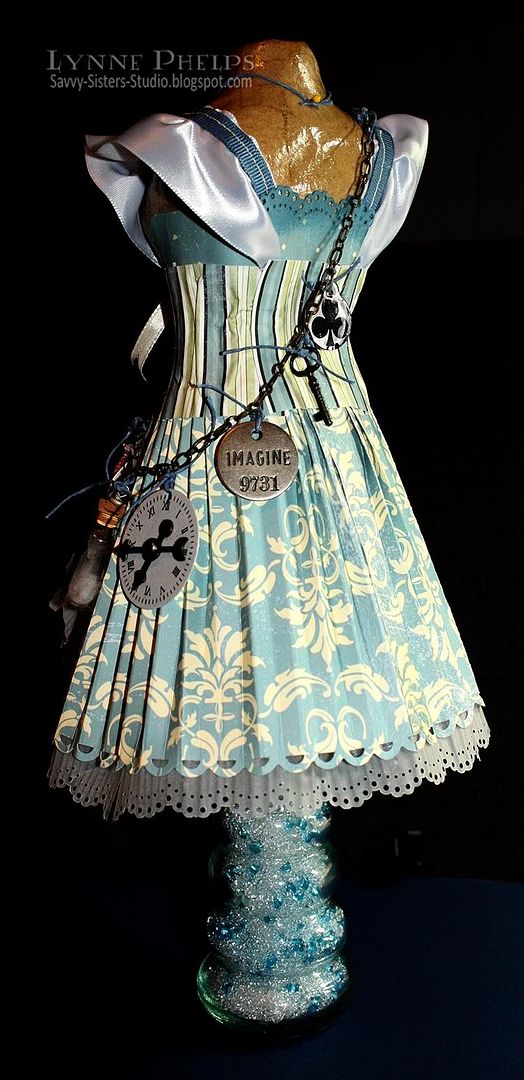 The next step was to gather some wide satin ribbon for the shoulders, then I stitched a strip of blue grosgrain ribbon on top to hold the gathers in place. I glued these to the form to form the pinafore-style sleeves. Then I punched and cut a piece of
dotted blue paper
for the bodice of the dress. To be able to form the paper to the figure in this highly contoured area, I used an old trick of running the card stock through the crimper in every direction several times, then smoothed the creases out with my fingers. This left the card stock very soft and pliable and I was able to easily mold it to the figure and pinch gathers where needed. I added pieces of the blue dotted paper under each arm and between the ribbon sleeves on the back.
Next was the corset and apron. My original idea had been to make a pinafore like the original Alice illustrations, however the mature shape of the torso made me revamp the concept to the older Alice of the Tim Burton movie!!! I cut the apron from the 6x6 version of
this wonderful pattern
and glued it to the front of the torso above the skirt. I could not resist the corset - remember near the beginning of the movie when Alice's mother is apalled as Alice is not wearing one? Sorry Alice! I cut the left and right front panels and punched holes and laced and tied the ribbon BEFORE I glued the front onto the torso. One of my moments of true genius, I can assure you, it could have easily happened differently, LOL! The stripe was from the 6x6 paper pad of the same collection. After all that, I decided the edges of the apron were too harsh, so I crimped more vellum strips and tucked them under the apron edges, ruffling it up as I glued it into place.
Now for all the embellishments, or maybe symbols would be a better word!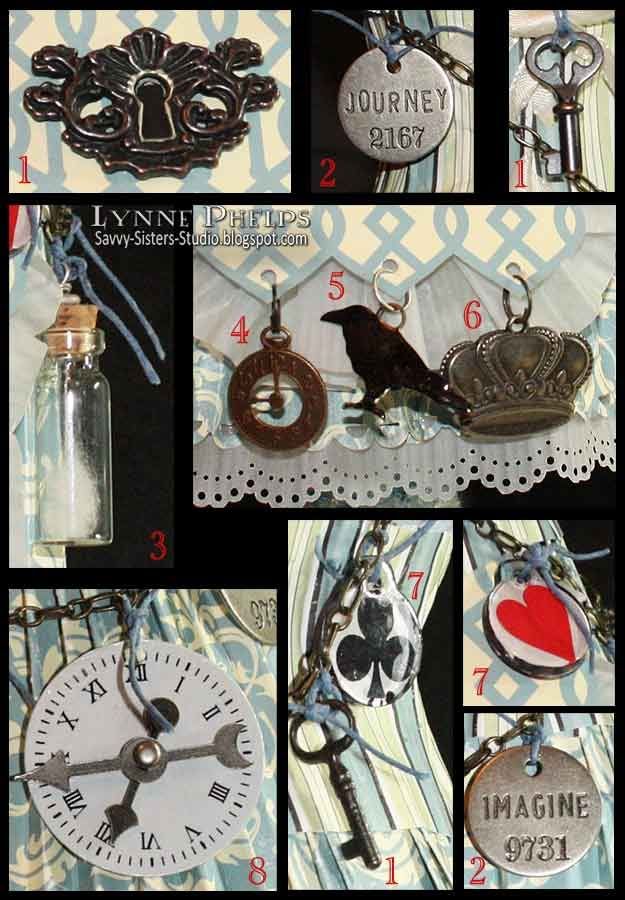 Key plate and keys to represent the hall of doors, where Alice arrived at the bottom of the rabbit hole! (Idea-ology key plate and key plus miscellaneous key)
Imagine and Journey to represent Alice's Wonderland experience. (Idea-ology Philosophy Tags)
Glass bottle charm - Drink Me! Represents bottle of shrinking potion in hall of doors.
The White Rabbit's pocket watch!
The Mad Hatter's riddle: "Why is a raven like a writing desk?" Found this charm at Michaels but it was yellow enamel over metal. Copics, gotta love them!
The Queen of Hearts' crown! (Idea-ology charms)
Cards were the Queen of Hearts' subjects, so I punched the pips from two playing cards and glued them to the back of a Fragment. Hearts for the Queen and King of Hearts of course. Clubs because the Clubs were the ones painting the white roses red so the Queen would not get mad. Also, in the final courtroom illustration, the Knave of Hearts is accused of stealing the tarts, but if you look closely it seems the Knave of Clubs is actually standing there! I edged each charm with black Copic but should have waited until the glue dried as some black wicked into the image. Maybe I should have said, I created a neat distressed edge effect by . . . . LOL! (Idea-ology Charm Fragments)
Mad Hatter's Tea Party! (Hah! You thought it was the White Rabbit again, didn't you?) Remember the Mad Hatter killed Time, so they were stuck in time, it was always time for tea! (Paper Studios Spare Parts Watch Faces, Idea-ology Game Spinners)
I hope you have enjoyed my lovely Alice dress form as much as I have enjoyed making it, and I hope it has inspired you to see how much FUN you can have with a whole month to make your challenge project!
Enter at The Altered Alice before 8 p.m. on Friday, February 25th,
and check there for weekly inspiration from the design team along the way. Plus there is a fabulous $30 gift certificate from Stampotique Originals for one lucky player!
Please leave me a comment and let me know what you think about my Alice dress form, the new challenge format, or anything at all! I LOVE getting your comments, it really makes my day when I hear from you!