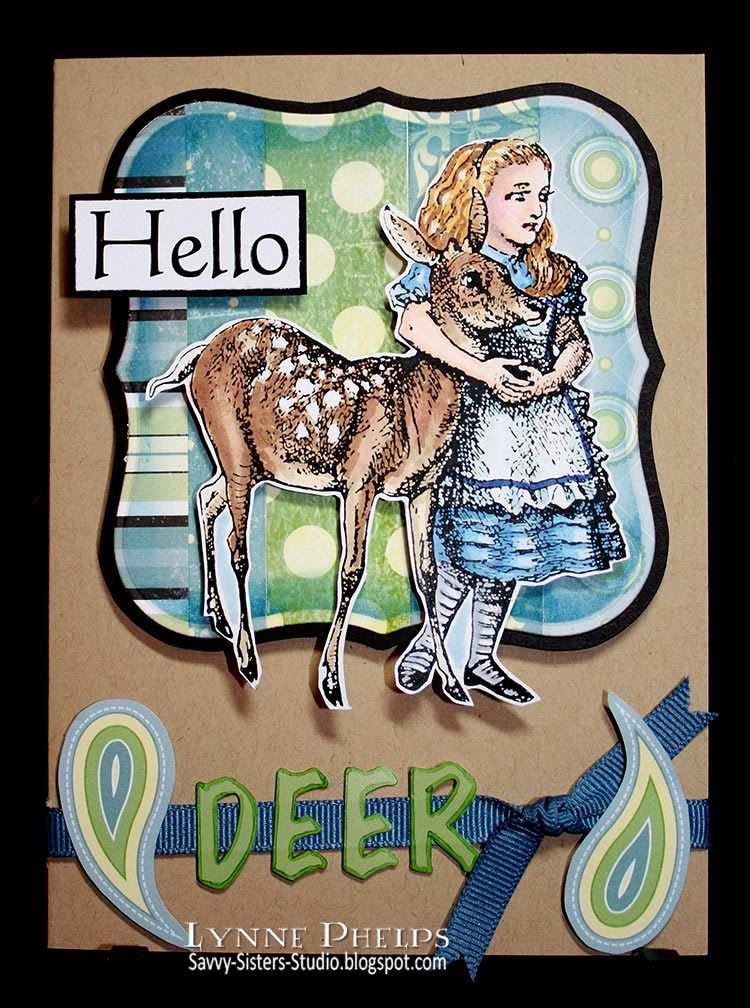 Today is a BITTERSWEET...although MOSTLY sweet post for
Oh, Alice
. It has been almost ONE YEAR since
Jess
got this crazy little idea one night to dedicate a blog, and a Saturday each week, to Alice in Wonderland because of her deep love of the characters, story, and mostly just Alice. Over the weeks to follow, she was blessed with an AMAZING "Twisted Team" of sisters, some who've gone on to other things, some who've stayed since the beginning, and some who have been with us for a while now-ALL of whom I think the world of...and here Jess thought she was the "only" one who was THAT crazy about all things Alice until she found out that well, there are LOTS of you out there just the same. How cool is THAT?!
All that considered, after careful deliberation many of the team decided that it was time to head back down the Rabbit hole; however, as some of us have done so, we found a lovely fork in the road!
Oh, Alice will be closing it's doors this week, but will return next week as
The Altered Alice
(an Alice in Wonderland artwork blog that I started a while ago) and the challenges will continue on from there. There is nothing to fear!
The Altered Alice
will still be bringing you FABULOUS challenges, lovely excerpts from our beloved chapters that tell us so much about Alice's world! The sponsors have been alerted about the change in challenge location and format, so hopefully you'll see some familiar faces VERY soon!
This week's mission is to travel "Back down the Rabbit Hole" challenge-back to the beginning-Create a HELLO card (for OR a "Goodbye" card-it's all about what it looks like on the other side of that Looking Glass, right?
The DT has once again been blessed with a WONDERFUL assortment of
Nikki Sivils
papers and embellishments to work with (and Nikki has graciously supplied the DT with), as well as a WONDERFUL prize pack for ONE lucky winner (winner will be announced next week on the Altered Alice challenge Blog and also you must link your creations THERE.
In addition to creating a HELLO or GOODBYE card and entering it over at
The Altered Alice
, the NEW Alice in Wonderland Challenge Blog, don't forget to "FOLLOW" the new "Altered Alice" blog where next week's challenge AND the winner of the last Nikki giveaway will be drawn!
My Card: Hello Deer!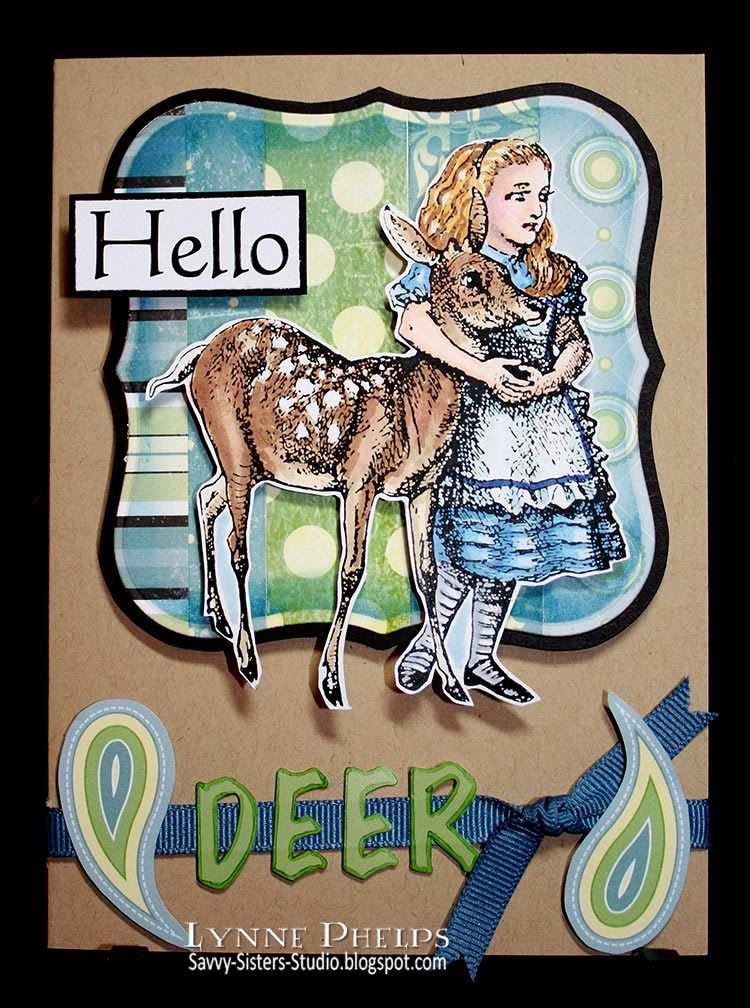 I have had such fun working with this fabulous Nikki Sivils paper and embellishments! The collection is called "Something for Everyone" and it delivers on its name! I printed a digi image, colored it in and cut it out. Then I cut strips of various widths from different patterns and glued them to a base piece of card stock. I cut this collection of strips with a Label One nestie and sponged some Faded Denim Distress Ink around the edges while it is still in the die. I then traced around the die itself on a piece of black card stock and cut it out with a scissors to create a 1/8th inch wide mat. The Hello was generated on the computer and matted on black card stock. All elements were adhered to the kraft card base with thick pop dots.
I cut a slit in the spine of the card to allow the grosgrain ribbon to pass though - it wraps all the way around the card front and is secured with a knot - no glue. This allowed me to slide it around until I decided where I wanted the knot. Then I used a darker green Copic to outline the green letter stickers that go with this collection and stuck "DEER" onto the ribbon. Then some paisley tear drops, trimmed from one of the lovely papers, were added at the bottom to act as quote marks around my pun - "Hello DEER!" Get it? ;-)
Credit goes to my friends Terri and Molly who really helped bring this card together. It turned into a joint effort and is the better for it! And Terri took a lovely photo of the finished card that really shows all the dimension!
This is a special post
- the last as a member of the Oh, Alice! design team. I am happy to be stepping up as the Mad Hatter in the next stage of the challenges and yet I am very sad to be leaving Oh, Alice! behind, and I know many of you will understand!
Please leave a comment, this is a big day!
Then go meet the new
Altered Alice
Design Team!