Most of you know that I am the "Mad Hatter" of The Altered Alice design team! The challenges now run on a monthly cycle with weekly doses of design team inspiration.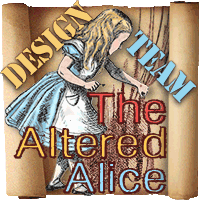 Please check out
week two
and
week three
for lots of fabulous Alice inspiration from the talented design team, and I'll be back next week with some Stampotique creations of my own!
Remember that
you have until 8 p.m. EST (GMT - 5) on Friday, February 25th
to enter your
Chapter 1 Challenge creation
on The Altered Alice! The February challenge is to make something featuring a dress form or something that changes in form.
Entering puts your name in the hat for a generous $30 gift certificate from
Stampotique Originals
, our February sponsor. While it is not required that you use Alice in Wonderland in your creations, we do encourage it, so submissions that feature some aspect of Wonderland get their name put in the hat twice!
Come play along with The Altered Alice!