I have had SUCH FUN during my month as a torch bearer for Amber INK's Blue Team! You can see all my Amber INK projects
here
. I have more creations planned, and I love Love LOVE the new
INKredible 21 Day Challenge Blog
, so you will continue to see projects from me in the future although my time as part of the Amber INK Th(INK) Tank has passed. Thanks again to Amber and Pam for such a fun month!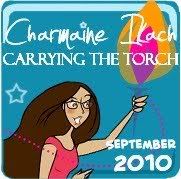 I am SO PROUD to tell you that the torch for Amber INK's Blue Team has been passed from me to the fabulous
Charmaine
, a.k.a. CharmWarm, of
Oodabug Alley
!!! Amber INK fans will recognize Charmaine from the Grand Opening Blog Frolic as well as being one of the competitors in the very first
Amber INK INKredible 21 Day Challenge
, and I hope you will continue to follow the Blue Team during Charmaine's lap with the torch! Go Blue! You can see all of Charmaine's Amber INK projects
here
, and the whole new Th(INK) Tank line up
here
.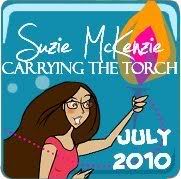 I would also like to thank
Suzi McKenzie
, from
The Manic World of Mrs. Weyremaster
, for passing the torch to me. Suzi was the very first person to carry the torch for the Blue Team and she set a high standard! She did the most amazing underwater scene using the spotlighting technique, which you can see
here
, and all of her Amber INK projects can be seen
here
. Thanks again Suzi for the torch and the inspiration!
I will have some more exciting
Amber INK
news tomorrow, so stay tuned!