This card is inspired by the beautiful Southwest Indian art and mission churches of New Mexico. It was made for a very special purpose which I will share below. I promised you a super-duper card and I think this fits the bill!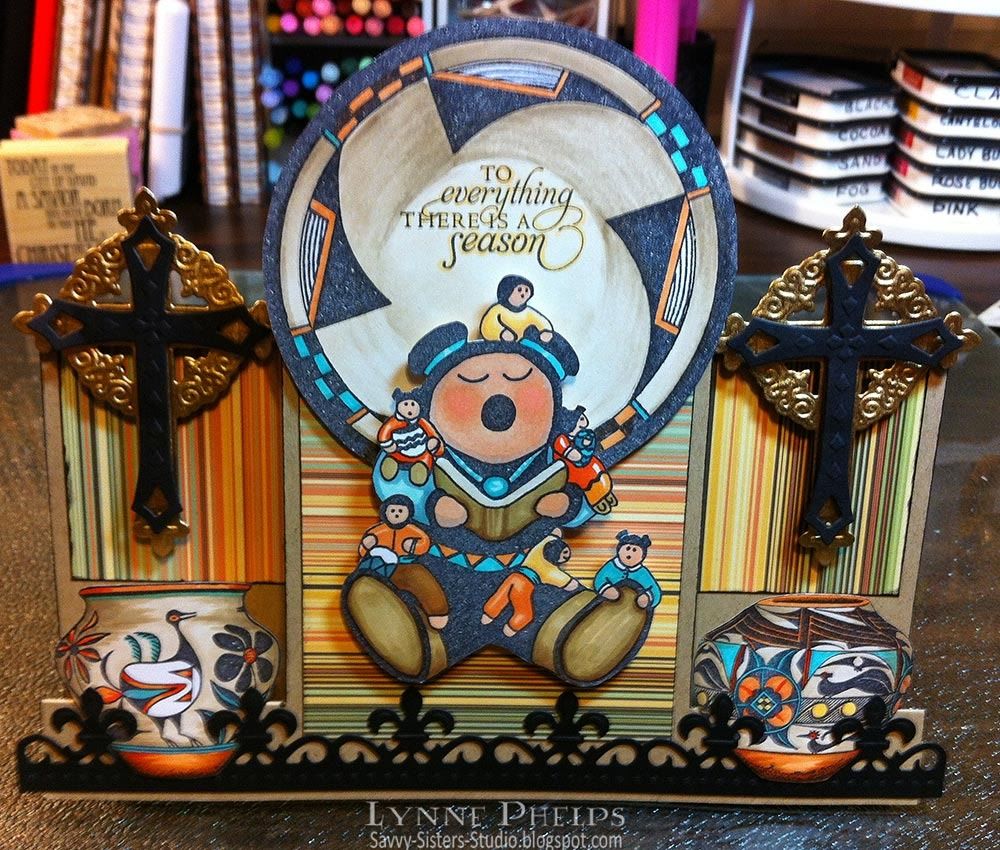 Front - click to enlarge
It is a center-step card; two cuts and a couple simple folds result in a really neat structure of card! There are a lot of pictures to show you all the angles and how it is constructed. I was inspired by this lovely card by
Beate
, and the tutorial links for a center-step card are on the same post:
Here is a picture of my card flattened out. I started with a letter-sized piece of kraft card stock. The center fold is at the halfway mark as normal, which is hidden behind the large stamped pottery bowl. But the two side pieces are separated from the center panel by a cut that begins one inch above the bottom front and ends one inch beyond the center fold. Then some mountain and valley folds create the side panels.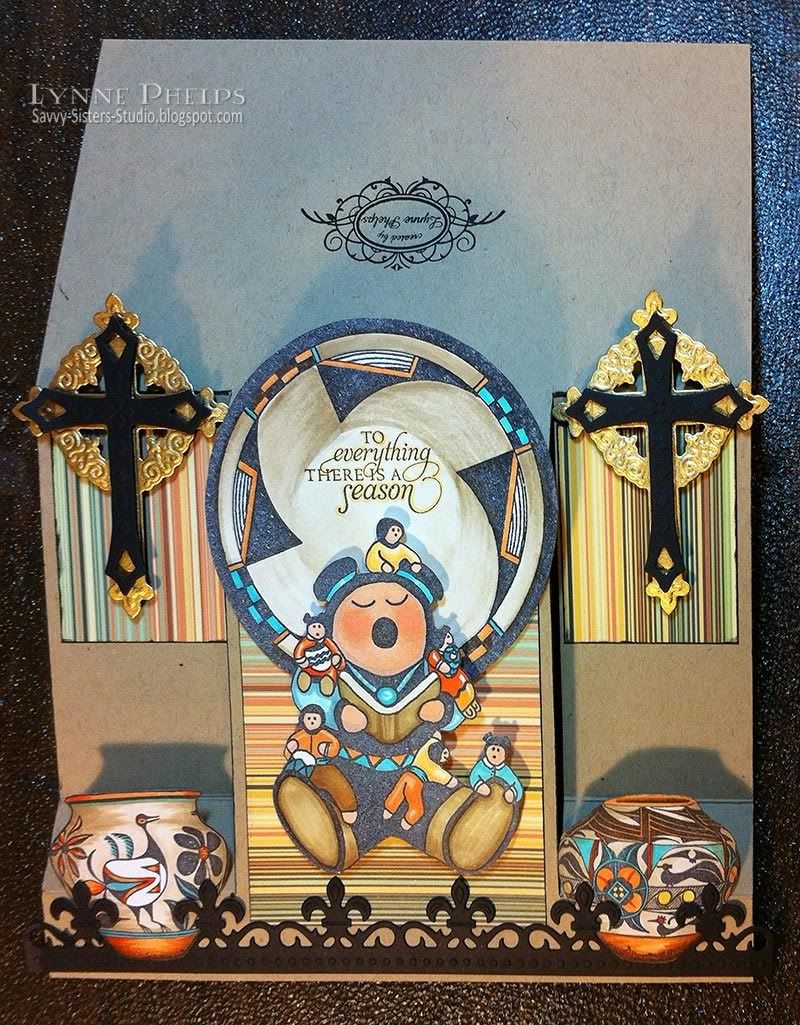 Flattened card - click to enlarge
And here is a side view so you can see how the folds work: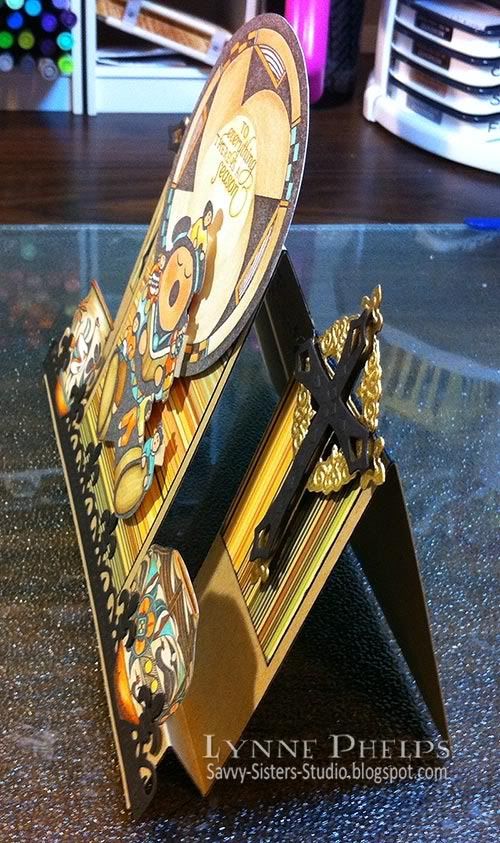 Side - click to enlarge
And the back - from the front, the crosses and the pottery bowl hide the top folds so it is hard to see the true profile:
Back - click to enlarge
This special card is now on its way to a very special lady. My aunt has been diagnosed with stage 4 lung cancer and I fear that she is fading fast. Prayers for my aunt and especially for her family would be wonderful if you are so inclined, I'd be grateful. I don't think I am going to get to see her again, and in a way that's a blessing because my memories are of her beautiful and healthy, always so generous and kind. It took me a couple years after my mother passed to be able to remember her without the image of her illness superimposed over my every thought of her. I know my mother did not want all the visitors; she knew she was loved and wanted people to remember her as she was before the illness. She endured all the visits because she knew others had the need to say goodbye but it made her so sad.
This card, which says "To everything there is a season" is the vehicle for a heartfelt letter telling my aunt how much I love her, how grateful I am that she is a part of my life. Sharing some special memories and assuring her that she she is loved and I will always remember her, that she is constantly in my thoughts and prayers. Illness may take a life but it does not kill LOVE.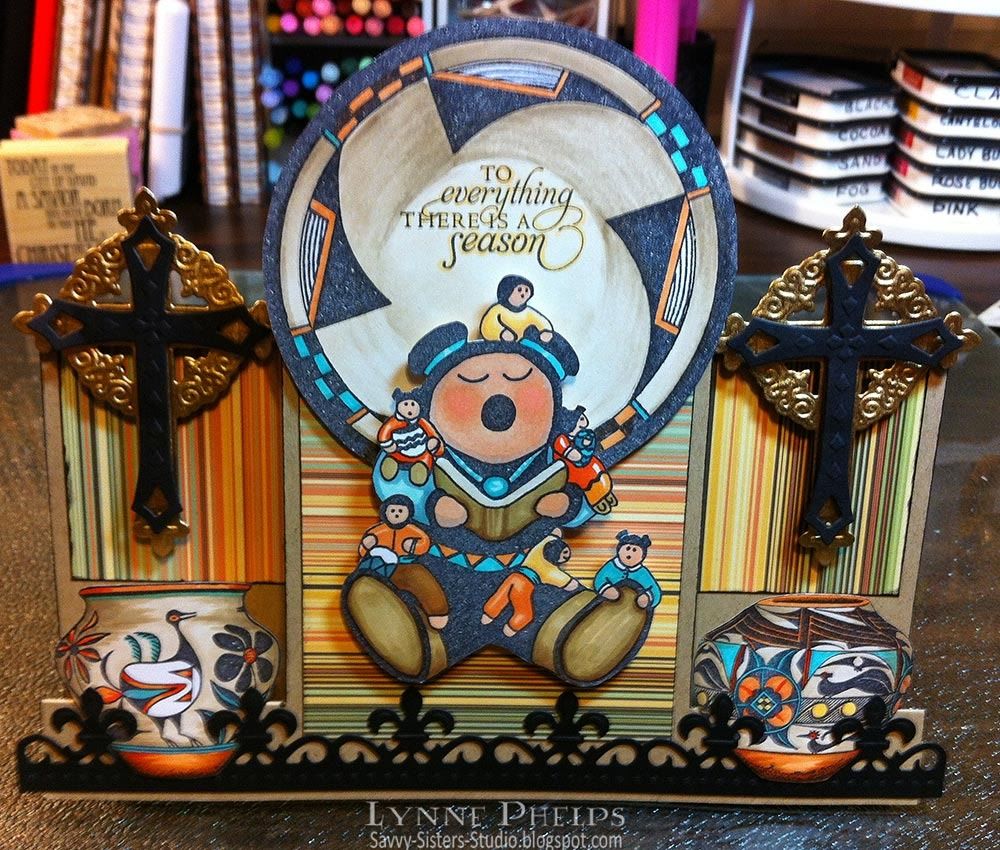 Front - click to enlarge
The
storyteller
and the large
Mimbres pottery design
are by
Stamp-a-mania
. When a storyteller's eyes are open, she is singing and when they are closed she is chanting. I thought this image was particularly suitable for my aunt! I colored it in Southwest shades with Copic Sketch markers. I shaded the large pottery to look like a bowl and give it some depth, then I added the sentiment from a set appropriately named "
Life Lines
" by
Flourishes
. The two Indian pots on either side are
Magenta
images; the bird pot on the left was the bottom pot in a
stack of three
.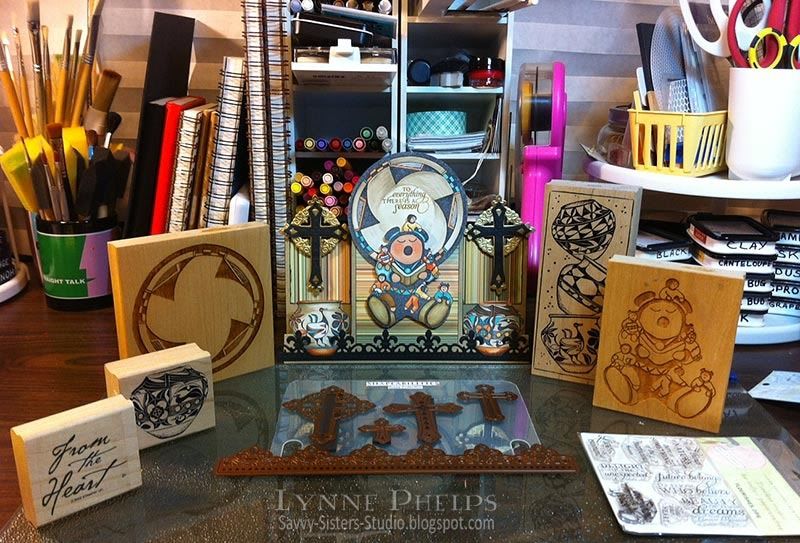 All the stuff - click to enlarge
I cut and embossed the crosses with a Spellbinders die set. The back crosses were colored with a Krylon gold leafing pen, I love how that turned out - my friend
Terri's
idea! The "wrought iron" railing across the front is cut and embossed with another Spellbinders die set: Fleur de Lis Accents. The "From the Heart" stamp used inside the card is a retired Stampin' Up! image. The striped paper is from the Earth Love 6x6 paper pad by Cosmo Cricket.
On a lighter note, I had a heck of a time taking photos of this card as one of my cats, Beignet, was determined to help! Here is my photographer's assistant, you can see that she is taking her job very seriously, lol!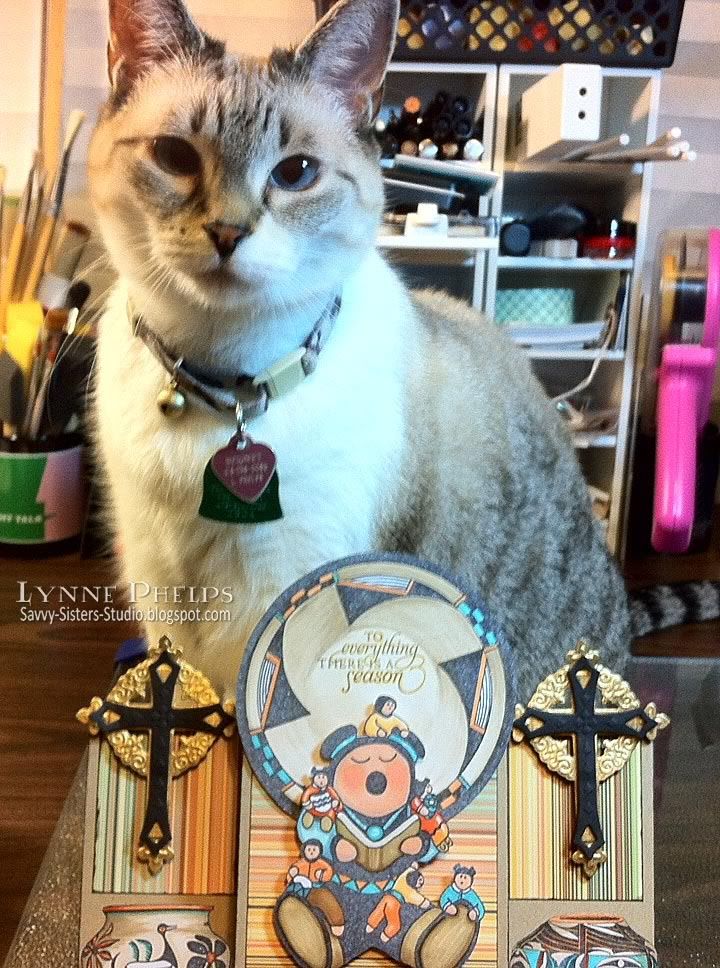 Click to enlarge
Please leave a comment! I am sure many of you are relieved to see a card again, thank you for sticking with me. I am afraid my foray into art journaling has driven away a lot of my long-time subscribers and I've gained some new ones. You have to follow your muse and I certainly understand that the change in my creative direction is not for everyone. But the main thing to remember is that
Cancer can't kill LOVE.