FYI: Be sure to stop by The Altered Alice; I've added another week of amazing design team projects made with IndigoBlu stamps!
I have quite a collection of angel stamps, and I love this Bible verse from Hebrews 13:2 about angels:
"Be not forgetful to entertain strangers, for thereby some have entertained angels unawares."
That's one of those quotes that just doesn't sound right to me unless it is the good old King James version! I know when I reflect on my life there have been definite turning points and people who seem to have been placed in my way for a reason; without those influences my life would have been on a very different course.
Click to enlarge
This page started off as a technique exploration. I wanted to try using Liquitex Clear Gesso on the page instead of regular. Clear gesso is very different as it seals the surface AND gives the surface a lot of tooth to hold pencil or charcoal; it almost feels like the fine side of an emory board. I painted it on with a foam brush, first in one direction then another, which resulted in a linen finish.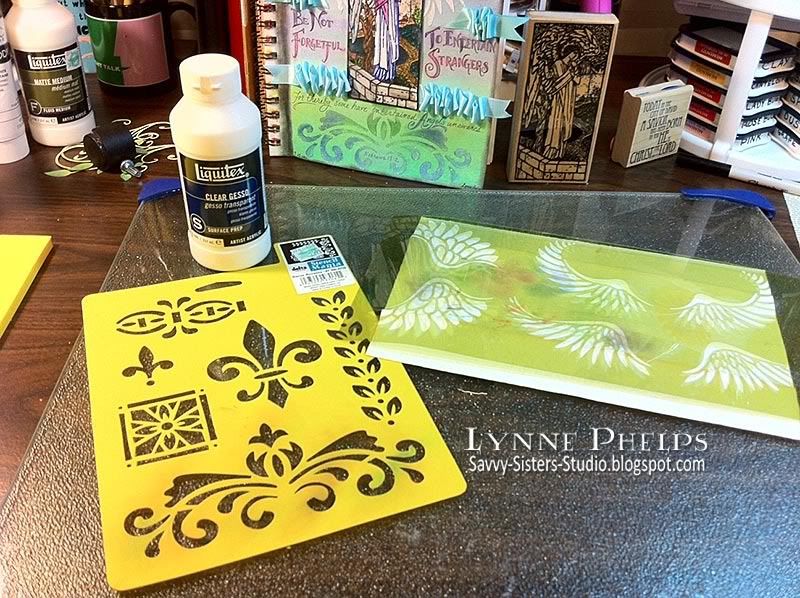 Click to enlarge
Then I sponged on PanPastels in a beautiful gradient. The aqua shade in the center is actually more vibrant than it appears. Then I sponged various colors of PanPastels through a stencil at the top and bottom and outlined the areas with a clear Gelly Roll Stardust pen. I was hoping that the extra tooth of the surface meant that I would not need to fix the pastels, but I still needed to spray the surface with a fixative to prevent smearing.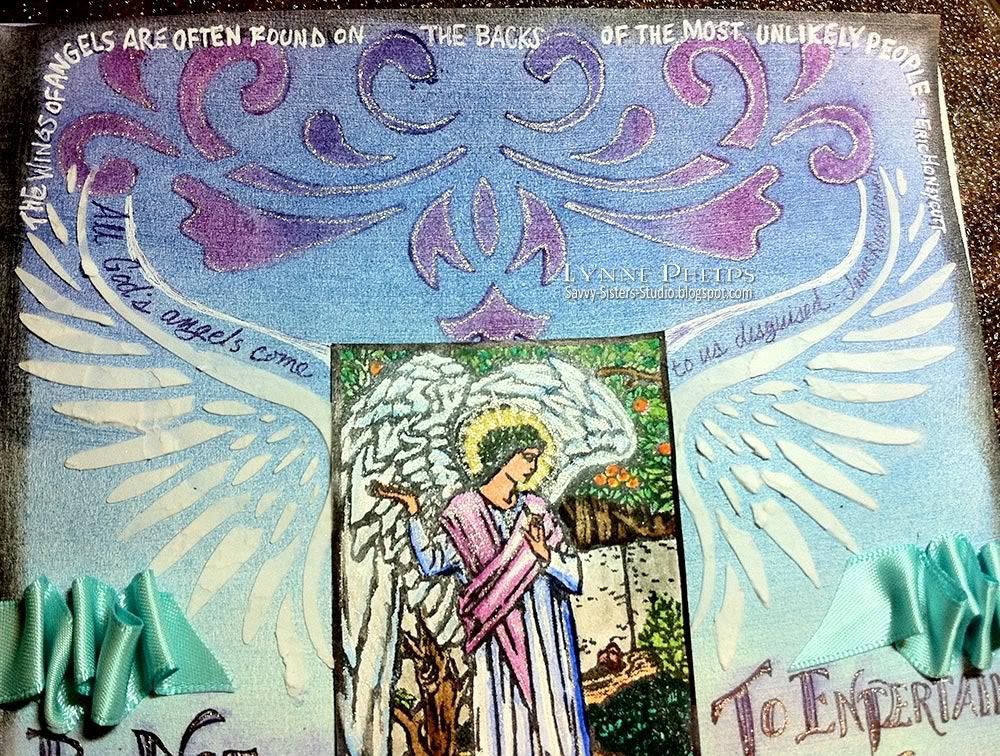 Click to enlarge
Next I used a wing stencil with a product I now LOVE - Delta Texture Magic. It gives so much dimension; I spread it through the stencil with an old credit card. It has a really different texture and is fairly low moisture. I was pleased at how quickly it dried compared to modeling paste, and it has a very interesting texture!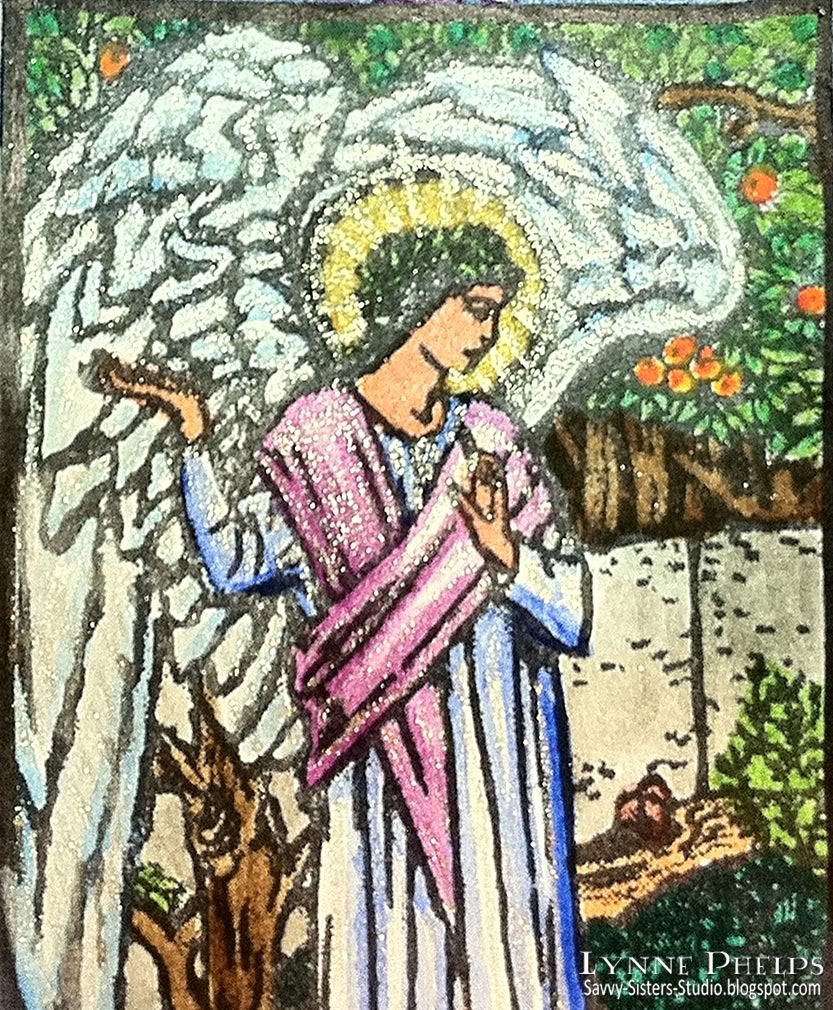 Click to enlarge
I stamped "Angel in a Garden" by Postmodern Design and painted it with watercolors. When dry, I went over the halo, wings, and robes of the angel with the clear Gelly Roll Stardust pen. I hope the above photo gives you some idea of how shimmery this is in real life! I trimmed it out and adhered it to my page.
Click to enlarge
I wrote in the Bible verse with a purple Copic Multiliner SP but the dark color was too harsh. I rubbed some PanPastel over the words and that really helped to soften the text. I highlighted some areas with the clear Stardust pen and other areas with a white Gelly Roll pen. The layout needed some horizontal elements, everything was so up and down, so I ruched some ribbon, adhering it to Scor-Tape as I ruffled it up. I love the ruched ribbon, it adds a lot of movement, which reminds me of angel wings, and the satin folds remind me of folds of the angel's robe.
It still wasn't right. it looked like an overgrown card, not a journal page. Then I realized it needed some journaling! I keep a lined journal where I write down poetry and quotes that I like, and I have quite a few angel quotes. I am much happier with the page now that it tells more of the story. Click on the photos above to see the details!
Around the top I wrote this quote that I love by Eric Honeycutt:
"The wings of angels are often found on the backs of the most unlikely people."
Above the angel wings I drew another white line with a white gel pen. In between I wrote a quote by James Russell Lowell:
"All God's angels come to us disguised."
At the bottom, I could not fit the entire passage I wanted to use, so I just used the last part of this quote by George Eliot:
"The golden moments in the stream of life rush past us and we see nothing but sand; the angels come to visit us, and we only know them when they are gone."
I do have a pretty amazing card to share with you, I just haven't had a chance to get good pictures. That will be up next!
Supplies:
(you may not see the list in a reader or email; click on the title of this post to go to the blog)
Please leave a comment and let me know what you think about angels, influences on your life, or any of the techniques used. Your comments are what makes this effort worthwhile!