I am an avid reader. I have thousands of books; I am afraid to be more specific than that, lol! We moved all the time when I was a kid, and being quiet, chubby and wearing glasses pretty much ensured I was not at the top of any popularity list. Books were my friends, and they were friends who could come along with me no matter where we lived. When I found this quote by Heinrich Mann I knew I wanted to build an art journal page around it:
"A house without books is like a room without windows."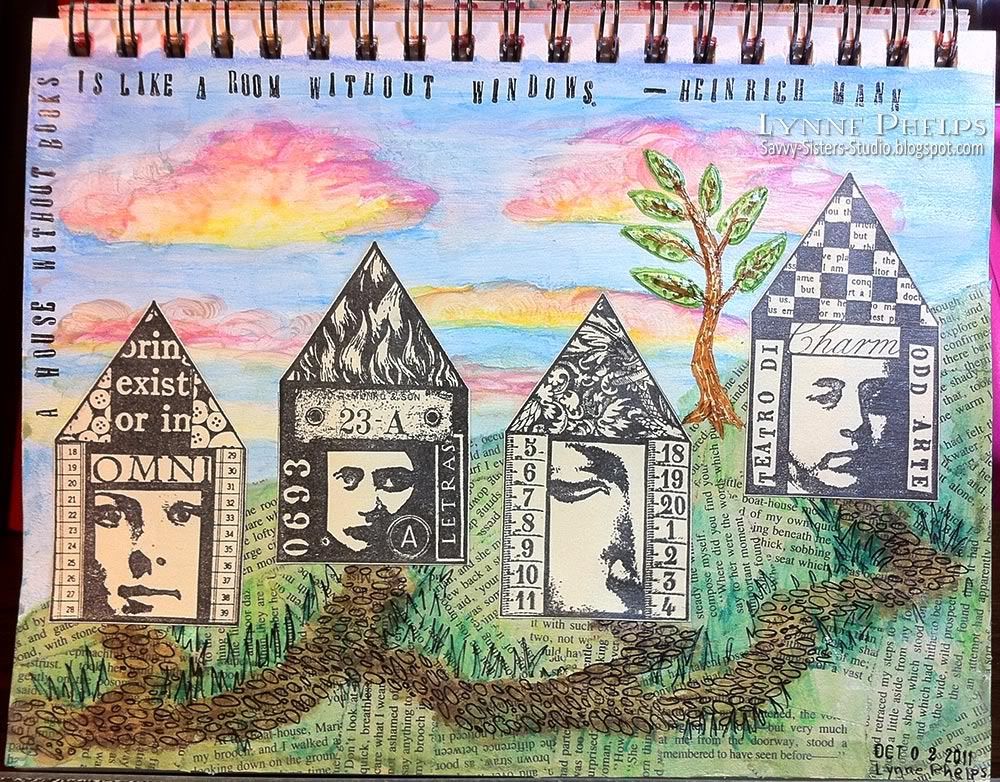 Click to enlarge
I started by sealing the page in my 7x10 inch journal with gesso. Then I tore up book pages and decoupaged them onto the page with matte multi medium. Then I scribbled Neocolor II watercolor crayons in various shades of green, but instead of activating them with water, I used more of the multi-medium. It worked like a dream and had the benefit of making the watercolor impervious to subsequent applications as it was now sealed with acrylic! This allowed me to then paint in a brown path over the greeen without mixing the green into it. I used an ultra-fine Sharpie to sketch in cobblestones and clumps of grass.
Click to enlarge
Then I turned my attention to the sky. I scribbled in a sunrise sky with all different colors of watercolor crayons, then wet my brush with matte medium instead of water. I LOVE this technique. The medium is wet so it activates the watercolor, but it is like mixing up an acrylic glaze in all different colors right on the page! Heaven! I stamped the quote with a little Studio G wooden letter stamp set that I found in the dollar bin at Michaels. I did not even try to keep them straight; I prefer the crooked look. I used black Stazon to ensure it would stick to the acrylic medium.
Click to enlarge
I love this set of Zettiology house stamps by Teesha Moore. Each one looks like it has its own story inside! I really like the way they all have faces and text inside. I stamped them with Versafine on cream cardstock and glued them down with the matte medium. It still needed something, so I added this tree with a leaf stencil by troweling gesso through the stencil using an old credit card. When it dried the white looked too stark, so I colored it with Copic markers! Love the way this turned out.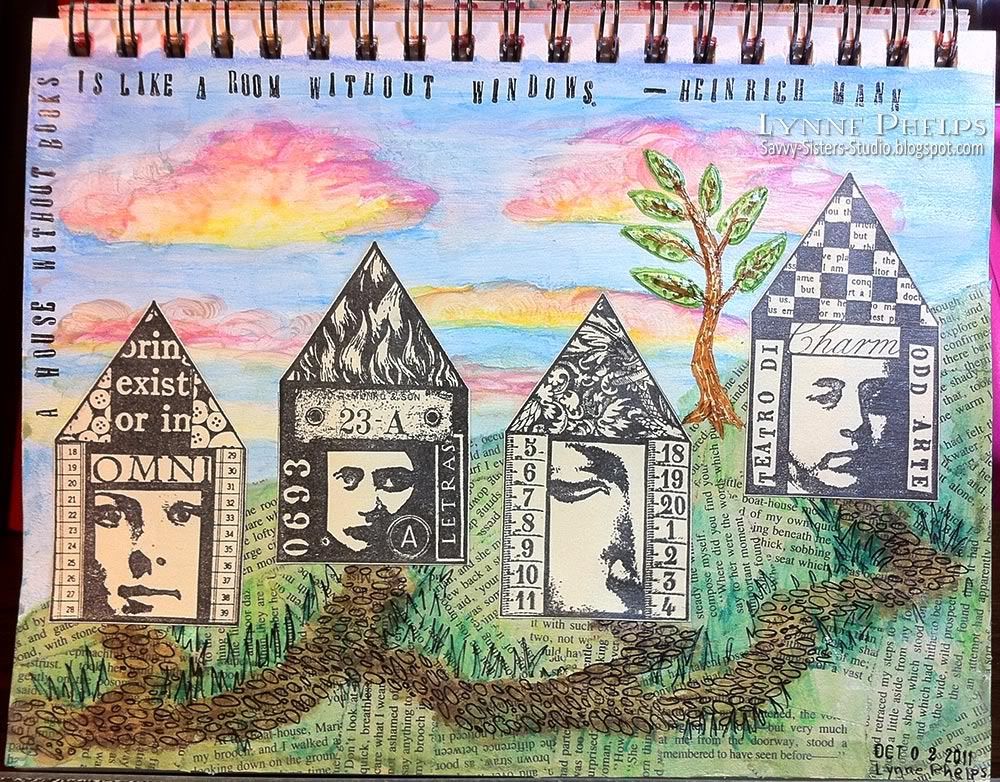 Click to enlarge
Supplies:
(Note - if you are reading this in email or a reader, you may have to go to the blog to view the supplies; just click the title of this post.)
I would love to hear your comments on my page! Thanks so much for stopping by. I'll have a pretty incredible card to show you next time, back to my roots!