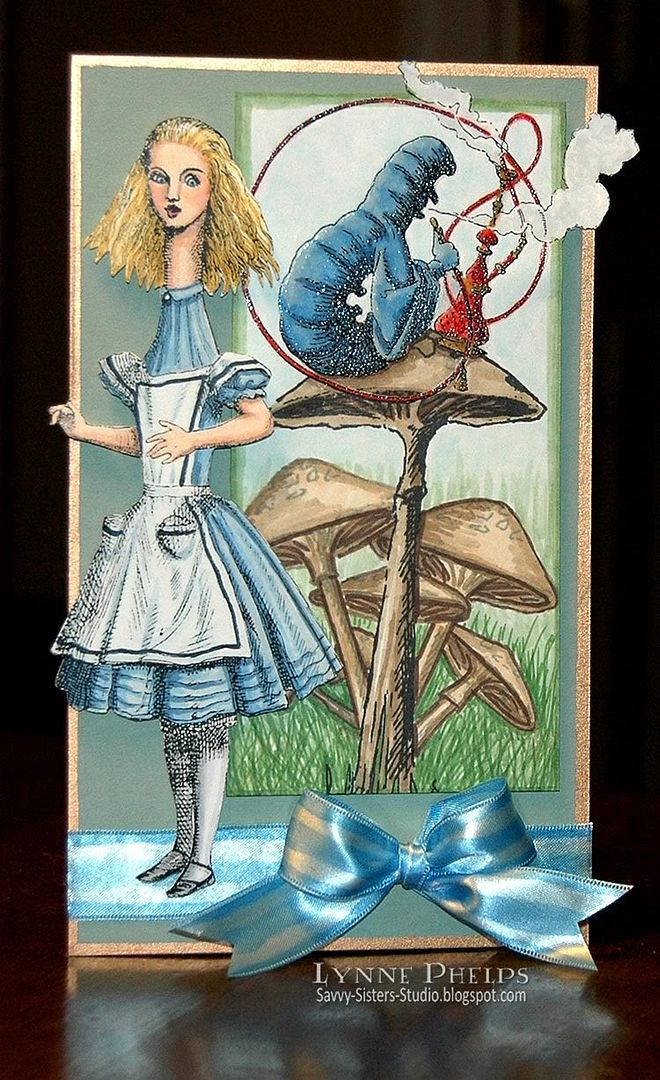 This is my final bit of inspiration for
The Altered Alice Chapter 1 challenge
! You can see more design team inspiration and the winner and honorable mentions
here
. I hope you will
leave a comment
there for the design team, and one here for me!
I was really intrigued by the idea of putting the classic Tenniel Caterpillar on top of the Stampotique
Giant Shroom
! I used the free digi images from
Lenny's Alice in Wonderland site
and carefully edited away everything except the caterpillar, hookah and smoke. I printed this on a B&W laser printer (best for Copic coloring) near the top of a piece of HP color laser printer paper. It is thicker and much smoother than regular laser printer paper and colors beautifully with Copics, and at a fraction of the cost of Copic-friendly card stock. After I colored the caterpillar image, I carefully went over the entire colored area with a Versamarker and heat embossed it with clear detail powder. This effectively masked the image, so it would resist the ink when I stamped the Giant Shroom in black Memento ink.
I use these mushrooms together so often that I have created masks for them out of
Tim Holtz Idea-ology Mask Sheets
. I by far prefer this masking material to any other. The sheets are the same super tough film that his precut image masks are made of, and unlike other brands of masking material it is very resistant to tearing. I know I will be using these mushrooms again and again so it was worth making some sturdy masks.
This allowed me to easily put two of the Stampotique
Mushroom Group
behind the Giant Shroom. I wanted to give it some depth, so I stamped them in London Fog gray Memento, which makes the black-stamped Giant Shroom to seem much closer. I colored them with Copics, added some grass, moving to lighter colors as I moved up the page which also adds to the illusion of depth. I cut out the panel, edged it in green Copic, and let the smoke drift out beyond the box. I love the energy it gives to a composition when you let things break out of their boundaries!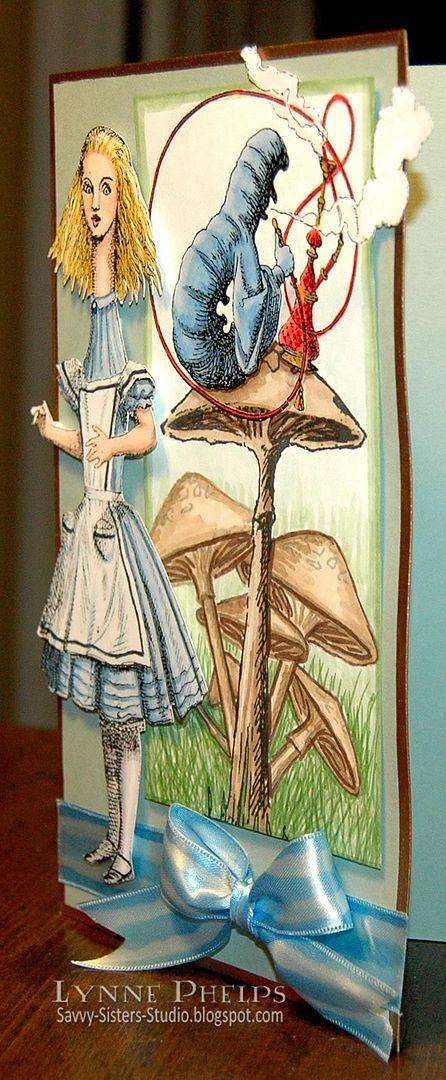 I used a free program called
SmillaEnlarger
to pump up the resolution in the tall Alice image. It would have printed with jaggy pixels showing if I had not enlarged it first. I carefully erased everything except the Alice figure and removed a lot of the sketchy shading on her face. I colored her in with Copics. Then I used a glue stick to adhere both colored images to card stock and cut them out. The card based was edged with a
pale gold Krylon leafing pen
. Then I used 1/16 inch thick foam mounting tape to pop-up the caterpillar image. The Alice image is popped up higher on 1/8 inch thick mounting foam after I adhered the ribbon with Alene's Fast Grab Tacky Glue. This glue works perfectly with ribbon as it does not saturate through the ribbon at all and holds on like iron! I added the fun stripes on the ribbon with a Copic marker. It actually matches the dress very closely, but the camera picks up the shiny surface differently than the colored matte paper.
This is a large card. The base is 5 inches wide and it is 8.5 inches tall. This means it is 5 1/2 inches wide with the smoke and her hand extending, so it will still fit in a standard greeting sized envelope!
Thanks SO MUCH to Carol at Stampotique Originals for supplying me with the two mushroom stamps for this challenge, in addition to the generous prize for the challenge winner!
Remember to
go to this post
to see who won the $30 Stampotique gift certificate!
Please leave me a comment, I would love to know what you think about my card!