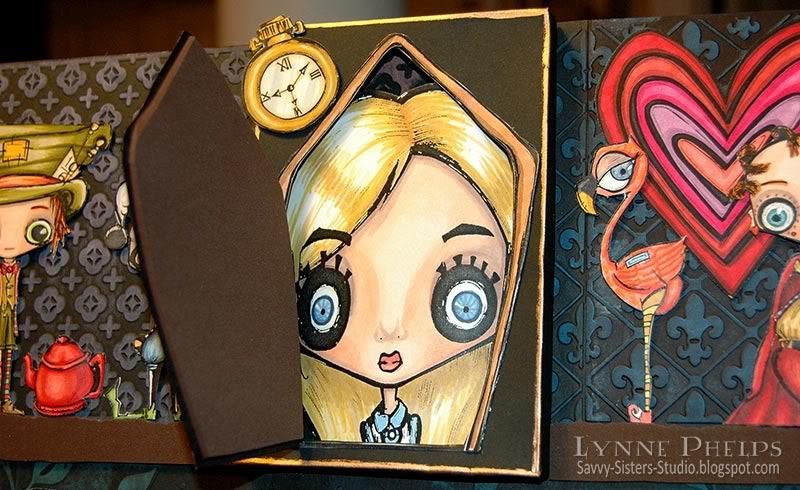 "There was not a moment to be lost: away went Alice like the wind, and was just in time to hear it say, as it turned a corner, `Oh my ears and whiskers, how late it's getting!' She was close behind it when she turned the corner, but the Rabbit was no longer to be seen: she found herself in a long, low hall, which was lit up by a row of lamps hanging from the roof.





There were doors all round the hall, but they were all locked; and when Alice had been all the way down one side and up the other, trying every door, she walked sadly down the middle, wondering how she was ever to get out again."




-- Chapter 1, Alice's Adventures in Wonderland
This month's challenge is to use a door or doors, and preferably for the door or doors to open and close so we can see what lays beyond!
While it is not required that your project include Alice in Wonderland, we do encourage it. If your project features Wonderland you will get two chances in the prize drawing instead of one!
HURRY UP and get you entry in! You have until this Friday
and our winner will be announced next Sunday! You can make it as simple or complex as you like, just feature a door and link it on the
Week 1 post
for this challenge!
The Octopode Factory is our March sponsor!
We are celebrating because Lily has moved into the world of rubber! That's right -
RUBBER STAMPS
! Most of the digital images we will be using are those that are now available in rubber,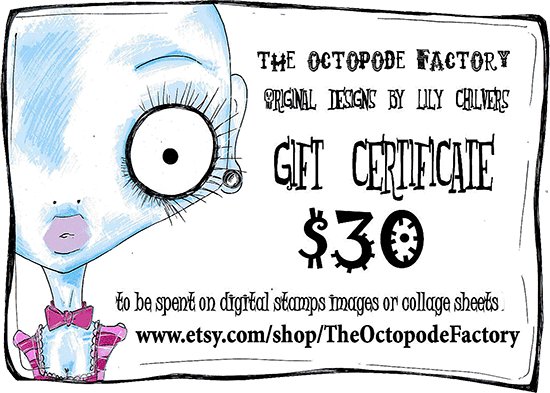 One lucky winner will win a $30 gift certificate for digital images from
The Octopode Factory's Etsy store
! Enter by Friday, March 25 at 8 p.m. Eastern time (GMT -5:00) and a winner will be announced on Sunday, March 27. While we'd love to see your Octopode, you can use stamps from any company on your creations, so show us your DOORS!

And now for my mad Octopode Wonderland!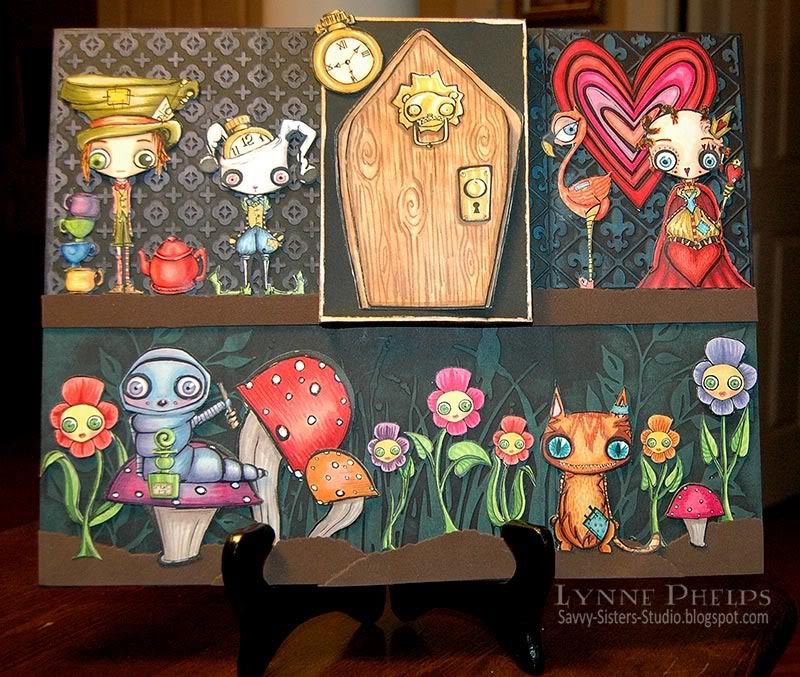 I started with an 11 x 14 inch canvas panel to create this fantasy scene with both the Alice in Wonderland set plus the new Alice Elements. All the elements were printed using a black and white laser on color laser printer paper. They were colored with Copics, adhered to inexpensive cardstock and then carefully trimmed out. The canvas board was covered with panels of black paper that I embossed with my Cuttlebug and then brushed over the high spots with fluid chalk ink pads. All images are Ocotopode, including the brand new door that Lily created in honor of our challenge. I love the Teddy bear door knocker! The Rainbow Heart is a freebie from Lily's blog!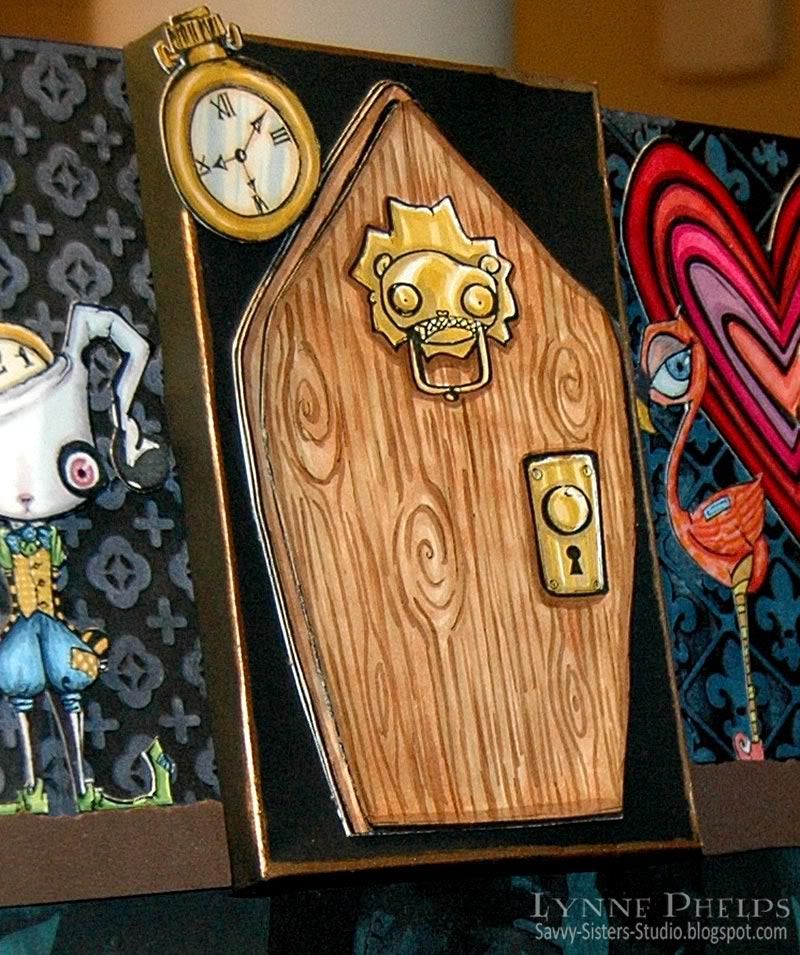 I made a shallow box, a half-inch deep. I set the door into the lid of the box, trimming away the box lid beneath the door opening. I stretched the door image wider to accomodate the size of the Alice face I was putting inside.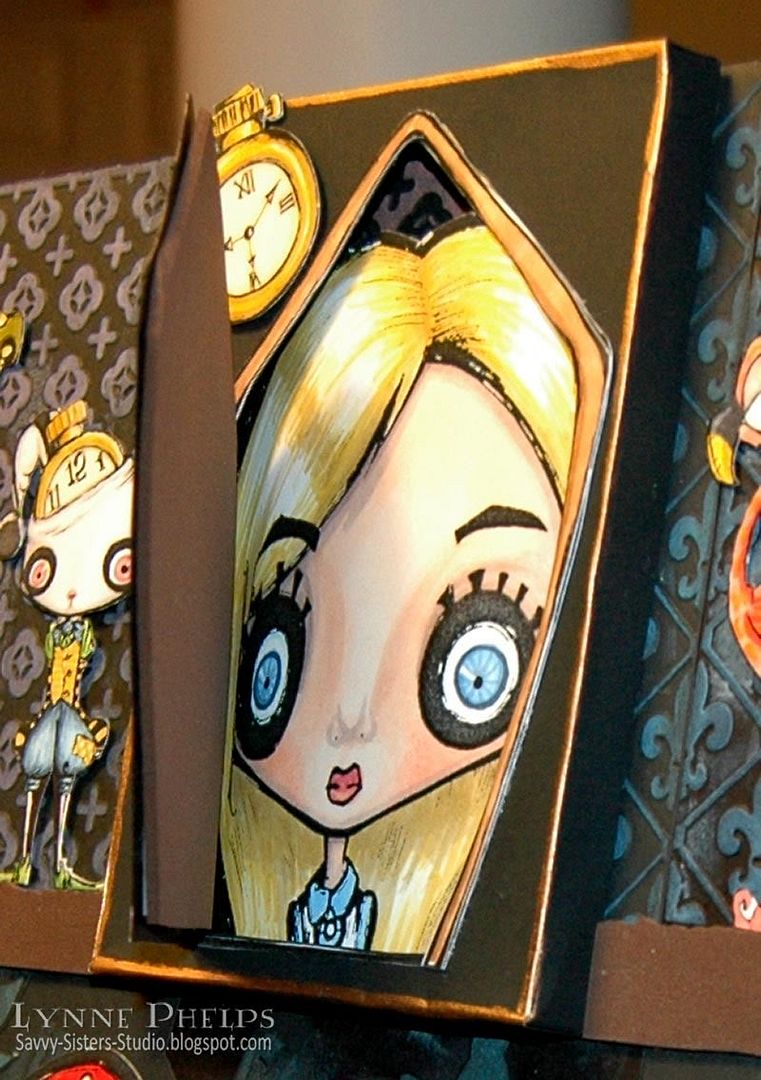 Alice is set into the base of the box, curved over a thick stack of mounting foam tape to give her some dimension. I added a little scrap of leftover embossed black paper in the bottom of the box. Then the lid with the door was glued on to seal it into place.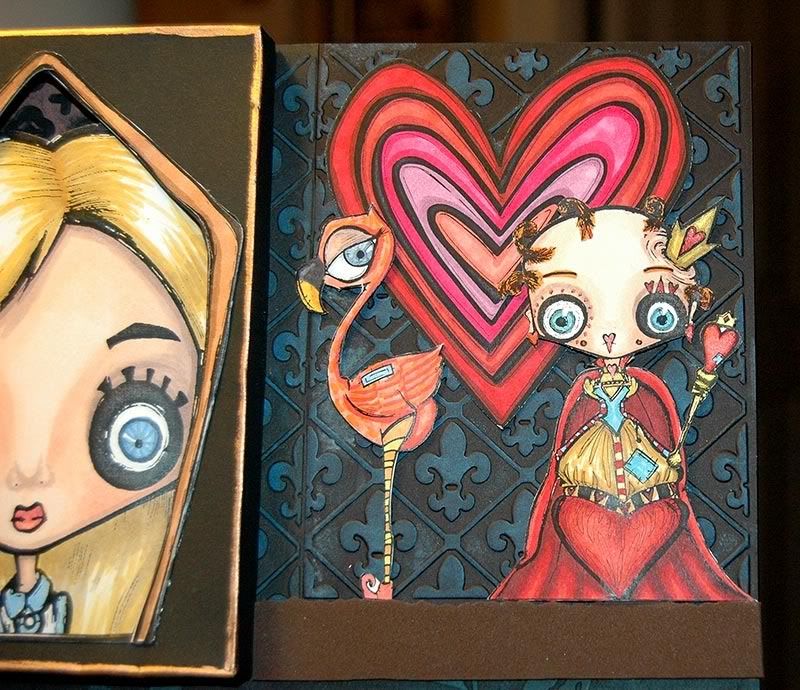 These crazy Octopode images are so much fun to color! The Queen of Hearts with her scepter (with Smooch accents), a flamingo (croquet anyone?) and the Rainbow Heart (blog freebie) are set against fleur-de-lis brushed with blue.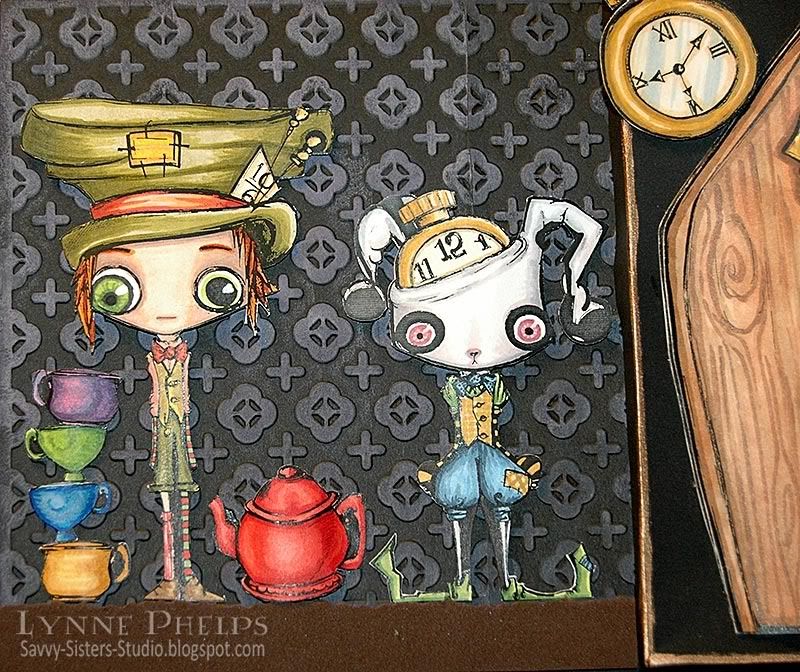 I love the Mad Hatter and White Rabbit! I love drawings that have the pin-dot eyes because it lets me color in the irises and highlights to make wonderful eyeballs, LOL! Look carefully at they way I colored all the eyes, it gives a whole different feeling to their little faces! :-)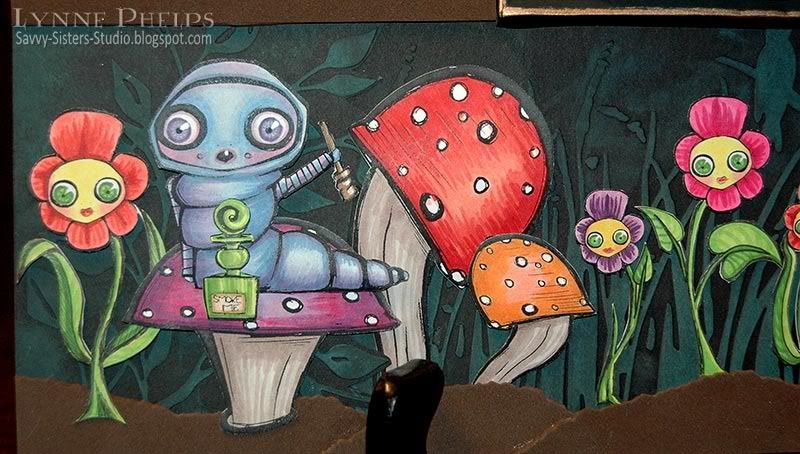 The Caterpillar image along with his stash is why I HAD to get the Alice Elements set (which also includes flamingo, teapot and cups, pocket watch, mushrooms, flower face, etc.) I had great fun coloring his eyes, which are red and glazed from all that smoke, tee hee! Because they are digital images, I was able to flip and scale the two mushroom images to make many, including stretching one wide enough for the Caterpillar and his stash to sit on one!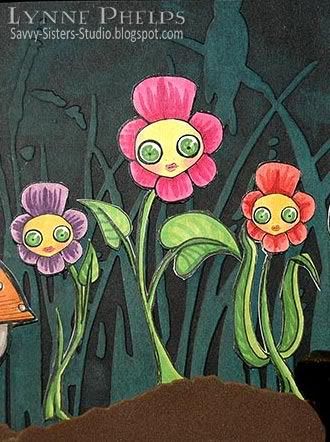 I had fun coloring in the flower faces with their leaf green eyes, and doodling in some leaves to give them a sassy attitude!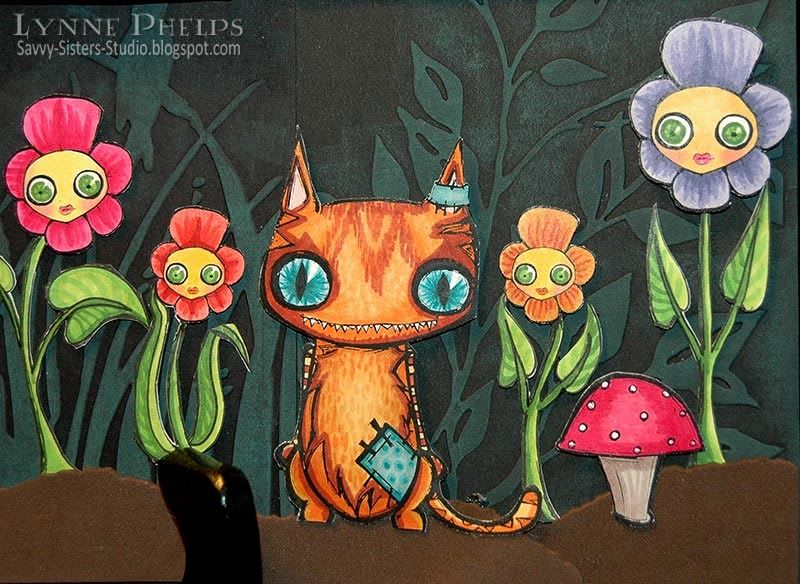 LOVE the Cheshire Cat! I doodled slitted pupils instead of the round pin-dot pupils to make it look more like my cats with their blue, blue eyes, LOL! I also had a lot of fun doodling in the fur.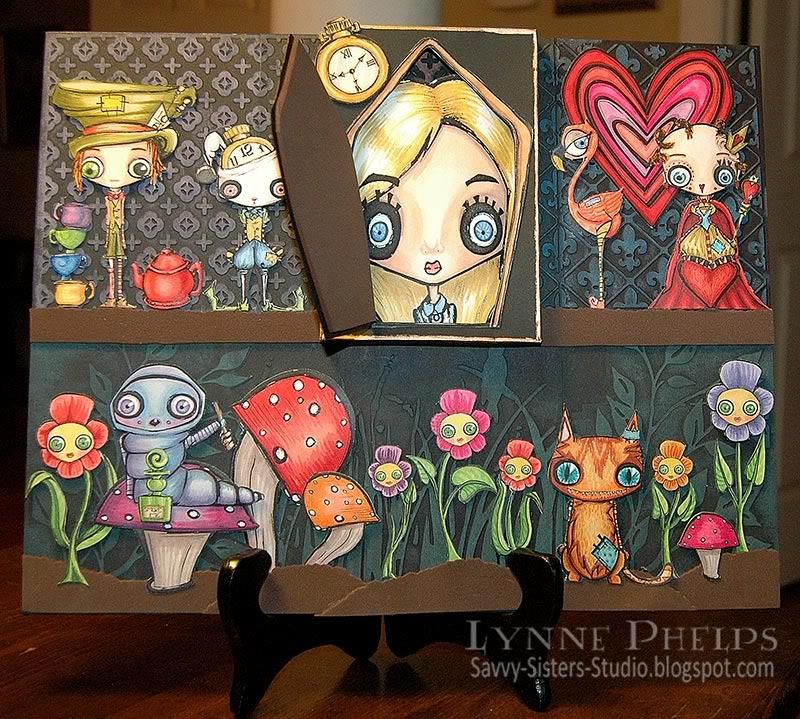 Please leave me a comment about my creation for The Altered Alice CHAPTER 2: Hall of Doors challenge!