As you may guess by the lack of snowmen and Santas around here, my very favorite kind of Christmas cards center around nativity scenes. The reason for the season, right? This card uses the "A Child is Born" set
(Stampin' Up!, retired)
which contains one of my favorite nativy scenes. Mary and Joseph look so happy and relieved and fascinated by the new baby, just like any new parents. I imagine Mary has just finished marveling at the tiny fingers and toes!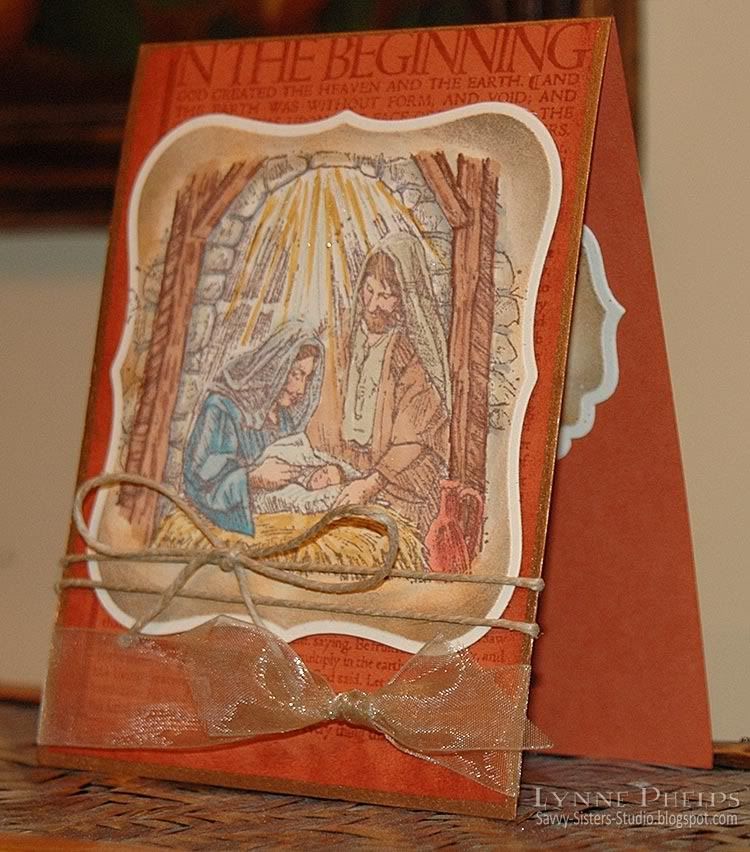 The base is Really Rust cardstock
(SU)
. I stamped "In The Beginning"
(Stamp Out Cute)
with Brown
(Marvy dye ink)
. This is an awesome stamp with the actual text from the beginning of Genesis. I sponged around the edges with the same ink, then I ran a Pale Gold leafing pen
(Krylon)
around the edges.
The image was stamped on Natural Ivory cardstock
(SU)
with Rich Cocoa ink
(Memento)
and cut and embossed in a Label One die
(Spellbinders)
and then colored with Copics. After coloring, I put the image back into the die to use it as a mask and sponged around the edges with Timeless Sepia and Ochre
(Marvy dye ink)
. It was mounted on the base with pop dots, then hemp twine was wrapped and tied in a bow and old gold organza ribbon was tied in a square knot.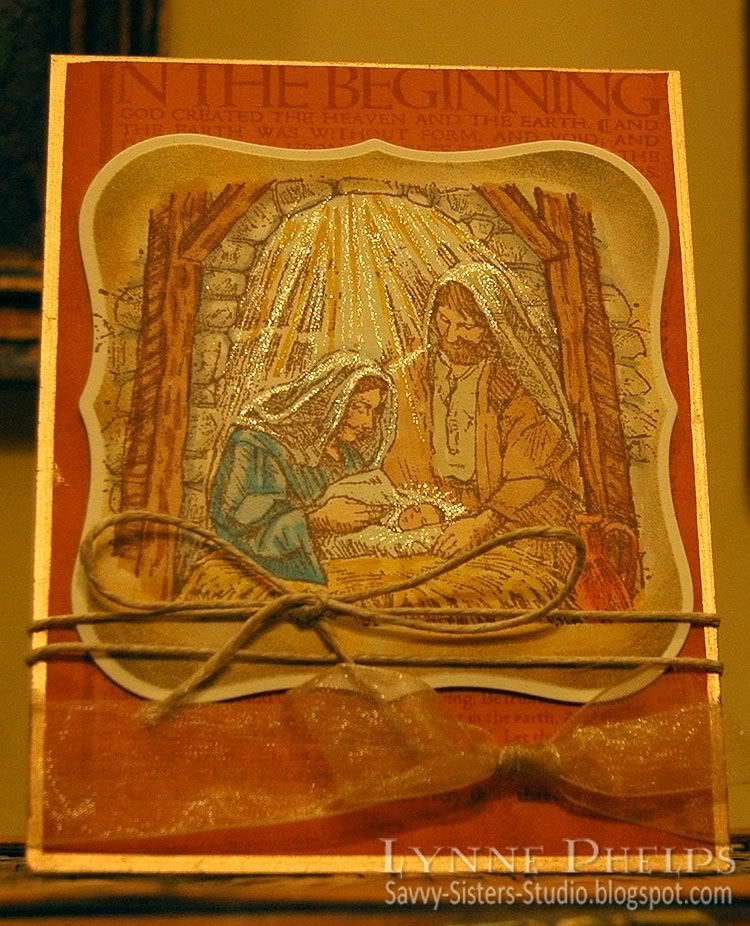 I shot this one without the flash to bring out the sparkle! I used a clear glitter pen (Sakura Stardust) to emphasize the rays of starlight pouring down, and also added the shimmer wherever the light touched their robes, and around the baby's face.
Inside, I stamped the sentiment that came with the set and cut it out with a Label Four die (Spellbinders). I sponged it with Ochre and Timeless Sepia (Marvy) before removing it from the die.
I think the contrast of rustic elements (color, twine, the sketchy style of the image) elegant lines (Label die cuts), and the shimmer (organza ribbon and glitter) are what make it work, in real life anyway. I wish the photgraph did it justice!
I love hearing from you - your comments are what makes blogging worthwhile!